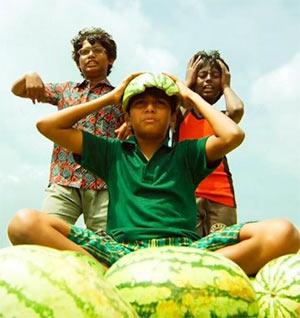 Director Halitha Shameem deserves credit for weaving an excellent suspense thriller like Poovarasam Peepee, writes S Saraswathi.
Halitha Shameem, who has previously worked with notable directors like Pushkar-Gayathri, Mysskin and Samuthirakani, makes her directorial debut with a children's adventure film called Poovarasam Peepee.
The film is produced by cinematographer Manoj Paramahamsa of Vinnaithandi Varuvaya and Eeeram fame under the banner, Baby Shoe Productions.
Poovarasam Peepee is a coming-of-age film revolving around a bunch of boys, who lose their innocence after witnessing a violent crime.
The story opens on the last day of school, with the students in a buoyant mood, having just completed their exams and anticipating the long summer holidays.
The vacation starts on an idyllic note with Harish (Pravin Kishore), Kapil Dev (Vasanth) and Venu Kanna (Gaurav Kalai) cycling lazily through the winding roads of the village, climbing trees, catching beetles, racing after kites, and diving into the sparking river for a quick swim.
But it soon turns into a dangerous adventure.
Frolicking in the river on a rainy day, the three happen to glance at the distant shore, where they notice four men, brutally raping a woman. Being young and innocent, they are not quite sure what is happening, but realise something is very wrong when the woman's body is washed ashore the next morning.
The villagers believe it to be an accident and the case is closed without an inquiry. But the boys feel guilty and decide to do their own investigation. Like a scene straight out of Enid Blyton's Famous Five, the three set out to the crime scene to hunt for clues. One thing leads to another and soon the boys are caught in a deadly game as the men they are hunting are extremely dangerous.
Their presence of mind and intelligence saves them on a couple of occasions and their identity continues to remain hidden. But can they collect enough evidence to prove the crime and nab the culprits, is what forms the rest of the story.
All the boys have given a good performance and there is a right balance of fun, suspense, and emotions.
Music by Aruldev is impressive. The film has some visually stunning scenes; Manoj Paramahamsa has woven his magic behind the camera once again.
Poovarasam Peepee has a coming-of-age feel, with director Halitha attempting to show how the innocence of these young boys is lost after witnessing a violent crime. The consistency, however, seems to be missing. At times, the boys appear childish and naïve, but some of the dialogues are quite explicit and mature and don't seem to go with their character.
Also, there are several scenes in the story depicting the puppy love between the different characters, which seem totally unnecessary, even ridiculous at times.
However, this is a totally different concept and newcomer Halitha Shameem, does deserve credit for weaving an excellent suspense thriller.
Rediff Rating: