Instead of being given a puppy love story treatment, Laila Majnu could have been handled as a mature love story, feels Sneha Chakrabarti.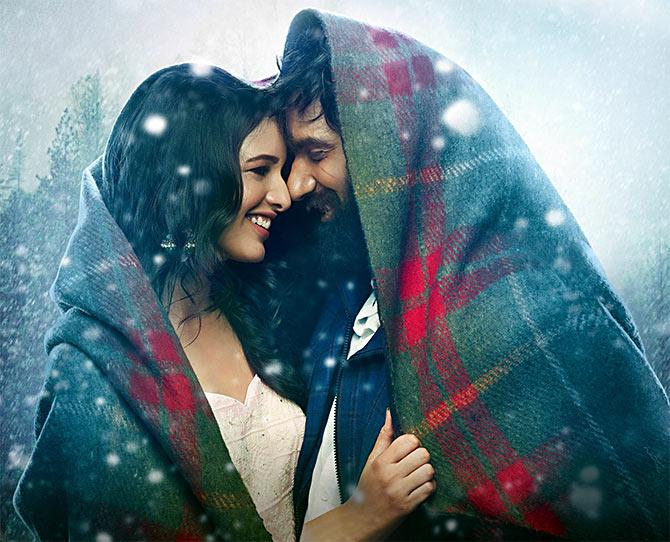 Epics do not expire.
Every time you think we have had enough of them, a new version comes up.
Someone, somewhere recreates it.
Laila Majnu is a classic example.
The latest version, which hits the screens this Friday, has been produced by Imtiaz Ali and Ekta Kapoor.
Ali, who has scripted the film as well, gives the age-old story a contemporary sheen.
The film begins with Laila and Qais' love story.
They keep the Srinagar gossipers busy, despite knowing that their fathers Masood (Parmeet Sethi) and Ghulam (Benjamin Gilani) are arch rivals.
Masood emotionally blackmails Laila into agreeing to marry a politician, Ibban (Sumit Kaul).
Qais, who has gone to London, discovers this when he returns home after four years.
This is when the real story begins.
The potential of the film is seen post-interval, when you get engrossed in Qais's metamorphosis to Majnu.
Avinash Tiwary as Qais/Majnu is a great discovery. His expression and body language are excellent as he transforms from the happy-go-lucky Qais to the obsessed Majnu.
Tripti Dimri looks pretty, which is all you can say about her really.
The supporting cast -- Sumit Kaul as Laila's cruel husband, Abrar Qazi as Kais's brother, Zaid, and the Kashmiri locals -- add a nice flavour to the film.
Imtiaz Ali's music and cinematography have always been praiseworthy, whether it was in Jab We Met or Rockstar. Laila Majnu's music has the same charm.
Niladri Kumar and Joi Barua's music is one of the highlights of the film, which has 10 songs.
Cinematographer Sayak Bhattacharya does full justice to the beautiful valley of Kashmir.
Sajid Ali as a debutant director (his first film Banana has not released) has potential.
Yet, instead of giving the film a puppy love story treatment, it could have been handled as a mature love story.
Go for Laila Majnu if you want to watch a romantic film but be prepared for a flawed script.
Rediff Rating: