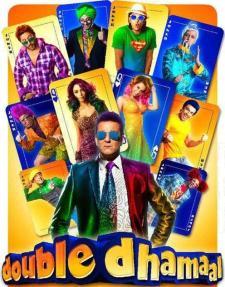 Preeti Arora feels Double Dhamaal is devoid of taste, flavour and jokes. Post YOUR reviews here!
One more Friday and yet another sequel gets unleashed on an unsuspecting audience.
Double Dhamaal
, follows four years after the original hit the screens; a quirky comedy made on a low budget,
Dhamaal
was loaded with crisp, clean humor and minimal vulgarity. Optimism levels are high, director Indra Kumar has a great track record for delivering hits and the plot is already in place. The foundation has already been laid. A clever scriptwriter just needed to build on it. 
Comic capers built on gags tickle the funny bone, when they rely on vulgarity and crass over-the-top humor; it's like skating on thin ice. The cast doesn't fall on their butts, but they don't succeed in carrying the film forward effortlessly either.
For those who missed the first one, it was all about the crazy antics of Ritesh Deshmukh (Roy), Aashish Chaudhary (Boman), Arshad Warsi (Adi) and his dithering moronic brother Jaaved Jaffery (Manav). Sanjay Dutt is the crooked ex-cop who has now turned into a smooth con. Let the antics begin…
Even as this foursome of idle losers is desperately trying to think up innovative ways to turn millionaires overnight, they run into their old foe Sanjay Dutt. Dutt roams around in snazzy cars, sports the gorgeous arm candy Mallika Sherawat (Kamini), and even has a loving younger sister Kiya (Kangana Ranaut). What more could a man ask for? Time to get even…
But the losers seem to be having a hard time. Every prank seems to backfire on them. Will their luck ever change? Or is that material which producers Ashok Thakeria and Indra Kumar are squirreling away for the third part. We sincerely hope not.
Double Dhamaal
suffers from a malaise commonly found in almost all sequels. It's an overdose. Our characters don't talk, they shriek at each other. Or they yell
at the top of their voices. The cuss words are there in every sentence. Double-meaning dialogues, jokes with ill-concealed sexual innuendos, and from the first scene itself, our protagonists in a state of hype. They slap, they punch, they kick. Obviously the director believes one can never have too much of slapstick
The first half of the film has been shot in Mumbai and has the usual underworld 'types' which includes a gargantuan Satish Kaushik playing a don called Batabhai. Midway through the film the dusty streets of Mumbai are replaced with Macau. Nothing else changes!
Just when one feels all hope is lost, the film picks up pace. The story twists and turns and the last twenty minutes of the film managed to evoke a few laughs.
Sanjay Dutt plays his usual goofy self .His clumsy stagger, poker-faced dialogue delivery and wicked smirks provide a much needed break from the endless hysteria, a trademark characteristic of Double Dhamaal. And there are the insider jokes on hit films such as
DDLJ
,
Guzaarish
and
Peepli Live
. The one on
Taare Zameen Par
though is in really bad taste. There's a fine line between being snide, or being crude. Director Indra Kumar obviously doesn't think so.
After many veiled references to Munni and Sheila, Mallika Sherawat is seen gyrating to '
Jalebi Bai
'. Despite the sensous pout, the toned body and an adequate skin show this item number fails to titillate. Mallika Sherawat needs to re-invent herself real soon.
Kangana Ranaut doesn't flaunt much skin and has really worked hard on her dialogue delivery. But there's precious little for her to do apart from being inane and coyly flirtatious. Which comes naturally to her!
The director in true Rohit Shetty tradition makes it clear he intends to make Dhamaal 3. While we hope equally fervently, better sense will prevail.
Double Dhamaal
is a huge disappointment. Especially for those who've seen the first part. And even for those who haven't. Watch it at your own risk.
Rediff Rating: