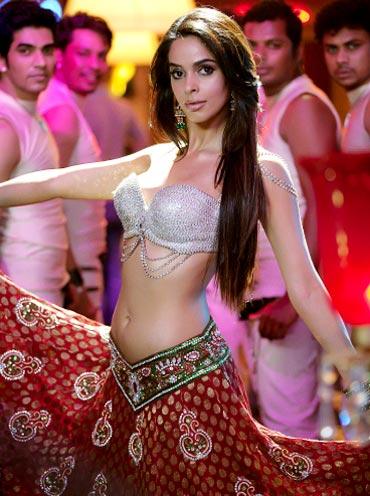 Munni
and
Sheila
have chalked up a new Bollywood trend, making at least one sizzling item number mandatory in every release!
Surprisingly though, it is not the original
Munni
(Malaika Arora) or
Sheila
(Katrina Kaif) who are much in demand, but it is the sassy and sizzling Mallika Sherawat who is in demand.
She is already heating up the charts with
Razia Gundon Mein Phas Gayi
, from Anees Bamzee's
Thank You
. And now, Mallika fans can look forward to another scorching number in Inder Kumar's
Double Dhamaal
, where the actress has grooved to sexy, steamy
Jalebi Bai
.
The song was shot at Mumbai's Mehboob studio in Bandra, a suburb in Mumbai on
a lavishly mounted casino set. It was choreographed by Ganesh Acharya and composed by Anand Raaj Anand.
While
Thank You
is slated to release in April,
Double Dhamaal
is expected to release in June.
And, knowing Mallika Sherawat,
Jalebi Bai
will give both Mallika and Sheila a good run for their money!