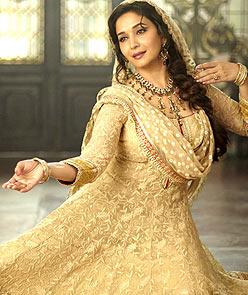 Unlike Ishqiya's hit soundtrack, Dedh Ishqiya falls way short, writes Joginder Tuteja.

You don't expect a chartbuster of a soundtrack out of Dedh Ishqiya. That movie genre doesn't allow for the kind of peppy numbers that make one hum them or flaunt them as a caller tune.

However, what you do expect is a quality score, courtesy Vishal Bhardwaj and Gulzar, with some newness in the offering.

Expectedly, the soundtrack has a Sufi feel to it with Dil Ka Mizaaj Ishqiya beginning the proceedings. In trademark Vishal Bhardwaj style, it has a slow start with Rahat Fateh Ali Khan's silky voice coming into play.

The song is slow moving right through its six-minute duration. While the lyrics are poetic, one misses the kind of kick-start that Dedh Ishqiya could have possibly got. What one hears is way too solemn in its presentation and in turn way too laidback in its appeal.

Rekha Bhardwaj is the voice of Madhuri Dixit for Hamari Atariya. The sound of ghunghroo and tabla accompanies this number which is earthy in its appeal and reminds one of the soundtrack in Kangna Ranaut's Rajjo.

The result is only marginally better in Hamari Atariya, which is best appreciated by those with a taste for this kind of music.

A flavour of Indian classical music comes into play with Jagaave Saari Raina, which has a musical arrangement in the beginning that lasts a good 45
seconds. Then Rekha Bhardwaj breaks into a love song that has the coming together of '
naina'
and '
raina
'. This one has a retro feel of the 1960s.
Rahat Fateh Ali Khan returns to the scene with
Zabaan Jale Hai,
which is reminiscent of the ghazals that Pankaj Udhas used to render in the 1980s and 1990s.
The singing, arrangements, pace, composing style - just about everything in this Vishal-Gulzar combo is set in a similar style. One can't see listeners humming this one in isolation. However, as a part of the film's narrative, it may fit in well.
Last to arrive is an all-male number,
Kya Hoga
, rendered by Jazim Sharma, Master Saleem and Shahid Mallya.
Beginning with the sound of the classical alaap, this eight-minute-long piece should have been placed at the start of the album.
Boasting of some good energy, this qawalli has ingredients that come with the territory. Yet again, the audience for this outing is niche but in the overall scheme of things, it works to some extent.
For the music of
Dedh Ishqiya
, Vishal Bhardwaj keeps it all honest without getting carried away by the temptation of bringing on something that is designed as a hardcore commercial mainstream number.
However, unlike
Ishqiya,
which had popular tracks such as
Dil Toh Bachcha Hai Ji
and
Ibn-e-Batuta,
this one falls way short.
Rediff Rating: