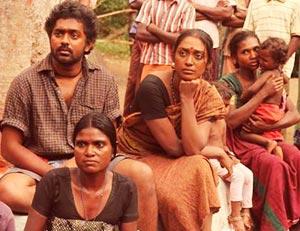 D Company is just average writes Paresh C Palicha

In D Company three directors, M Padmakumar, Diphan and Vinod Vijayan have come together to make short films on the subject of crime and violence with the tag line 'crime is back'.

In Oru Bolivian Diary directed by M Padmakumar, with Samuthirakani and Asif Ali in the lead, Chaukidaar (Samuthirakani), a Maoist leader, attempts to awaken the tribals against the atrocities committed by the State.

Chinnan (Asif Ali) is responsible for protecting Chaukidaar from the police even if it means losing his own life. He is captured and tortured by the police but does not reveal Chaukidaar's hiding place.

The second film in the anthology, Gangs of Vadakumnathan, directed by Diphan and written by Anoop Menon, is about hawala
money, gang wars and gold smuggling. The treatment and the execution of the plot seem to be heavily inspired by Hollywood movies, giving a lopsided view of organised crime.
Jayasurya plays a gang leader and Anoop Menon, a corrupt cop spouting philosophical dialogues peppered with English.
In
Day of Judgment,
Fahadh Faasil plays a doctor whose mentally ill wife Bhama has committed suicide by jumping from the balcony of their house. This is the most interesting story of the three. Tanushree Ghosh plays the police officer investigating the death of Bhama. The interrogation of the doctor becomes a game of hide and seek.
D Company
is just average.
Rediff Rating: