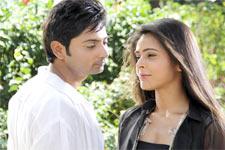 Cigarette Ki Tarah is so bad, it doesn't deserve any stars, writes Ankur Pathak.
At the press screening of this half-heartedly created music video, which tries to convince itself that it is an actual film, the producer abruptly emerged from his seat during the interval and declared, "I give this film four out of five stars."
Another member of the team chose to go all jingoistic even though the film doesn't even remotely tread the patriotic path and chanted, "Jai Hind! Jai Hind! Jai Hind!" to some sporadic applause.
The press was dumb-struck by this show of astonishing self-flattery.
The occasion was the screening of
Cigarette Ki Tarah,
an unintelligent title for a film that makes its characters speak out the disclaimer as an actual dialogue!
Yes, you have scenes where the characters, who invariably have to smoke, say, "Cigarette smoking can be injurious to health" to each other!
The film spans across the grainy lands of Kanpur to the exotica of Goan beaches, even as you have difficulty in comprehending who reaches where, when and why.
The hero's (one Bhoop Yaduvanshi -- think Sachhin Joshi of Azaan without all the chutzpah) screen-presence is repulsive and that's the boldest understatement of 2012.
But he's the hero -- and the most remarkable aspect of his personality is that he cannot be killed.
Try it. I saw him get hit in the chest by a fatal bullet twice. He survived.
Then, another time, Prashant Narayanan (the terrifying, terrifying killer from Murder 2) stabs viciously at his stomach. Hero pauses for a few minutes, throws Narayanan upside-down, shattering a glass table, and goes on with his life as if he's only got a minor cut after an awry shave.
Okay, so we have seen far more unrealistic violent scenes in the past, but there is something called art direction and aesthetic sense, which helps in making such scenes believable and attractive to watch.
Let us pardon these sequences for the reason that they may be difficult to execute and move on to other things. Our hero's idea of romance will freak the living daylights of the most schmaltz-tolerant girls.
He gets drunk on Date No. 1 and starts behaving like a ballistic truck-driver from a remote town. He grabs the microphone and sings (and I present it here for you)
"Ek ladki ko dekha to aisa laga … jaise mandir ki ghanti, jaise bubbly ka bunty… jaise…"
All this while, the heroine, Yuvika Chaudhry, laughs like Archana Puran Singh who's been possessed by two ghosts at the same time.
While making love to his girl, instead of gently seducing her, our man starts to violently hug her. Phew!
I could go on and on… but let us look at the plot.
But hey, there isn't one!
The film is supposed to be a suspense drama but there isn't any suspense nor is there any drama.
Just like in an Altaf Raja music video which is over-wrought and finds the designated time insufficient to explain whatever is happening, CKT faces the very same crisis and, unsurprisingly, suffers from the very same (mis)treatment.
There are random sequences of kidnapping, double-crossing, adultery, a melodramatic father (who you know will die in three scenes), jilted lover, Russians picked from Colaba who speak Marathi and abuse in Konkani, Goans who look like they were abducted from the sets of a Bhojpuri-movie. The list goes on….
The photography of this film resembles that of a low-budget music video gone horribly haywire. The dialogues are crass and at times offensive or simply disgusting.
"Tum ek dum kekde (crab) ki tarah ho. Bahar se sakt, undar se naram." Well, a fisherman could come up with a more impressive line to woo his lady.
The women in the film particularly are given disrespectful treatment -- almost all the female characters have either been mistreated at some point, or are manipulative adulterers. They have either been taken advantage of at the workplace, or sadistically abused in the bedroom.
At one point, one of the two ladies gets so annoyed by this stalker of a hero (who eventually will become the lover and get stabbed and then dumped and then reincarnated) that she says, "You are an authentic bona fide idiot."
She got it. That's the most relevant line in the film, because it is not only valid for the homeless-man-posing-as-hero but also for the entire team behind this inconsequential exercise pretending to be a movie.