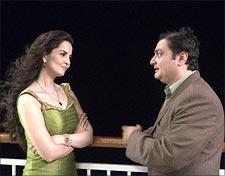 Ankur Pathak feels Bheja Fry 2 is just a recycled version of its predecessor. Post YOUR reviews here!
Bheja Fry 2
-- the sequel to 2007's
sleeper hit
by the same name is a labouring effort at taking the madcap protagonist's story forward. Vinay Pathak's Bharat Bhushan reprises the role of a middle-aged simpleton idiot, mostly a screwball, who ends up doing well. His intentions often unclear, his actions are misleading.
Where the film required an overall evolution, it remains a recycled version of its predecessor, barely going anywhere relying hands-off on Pathak's poorly timed futility.
On winning some reality show, he gets a couple of days on a sprawling cruise as attractive bonanza.
He is also an income tax scribe, which doesn't come as terrific news to fraudulent business tycoon Ajit Talwar (K K Menon) who's cruising away from the teething troubles of being a duplicitous multi-company owner. A sketchy plan of his, aided by caricature allies involves dumping the supposed tax-inspector into the sea and breath the ocean-air easy.
However, Talwar throws himself out, and cracked up Bhushan follows suit. The duo gets cast away on a marooned island. And a host of mortifying mishaps follow, where a deserted emotion called humour is expected.
Alas, it never boarded the ship at first.
If the first half leads you in believing some faithful insane hilarity is about to show up, the second half flounders drearily swimming away into unending boredom. Bharat Bhushan's endearing eccentricity from the first film gets replaced by irritating foolhardiness here, causing a massive puncture in this ambitious voyage.
Add to it, it really is not many people's idea of pleasure to witness a couple of not-very-attractive men abandoned on a serene island, where one spots the other's flashy red underwear and demands it be removed, for it is a potential device to draw attention for their rescue. Hu, Hu, Hu.
It is incomprehensible how the screen-writers even thought of the two-men-lost-on-an-island operation to be even remotely comical when the entire crew on-board in first half couldn't inspire too many chuckles.
Bharat Bhushan being alienated with worldly mannerisms is still excusable, for it being the characters' rub. But strolling down the forsaken island crooning Rafi songs, without showing any dashes of panic, asks for an urgent medical help reflecting mental disability.
It entirely invalidates his job profile of being a tax supervisor. Witnessing his insanity escalate to such preposterous statures qualifies him to be entirely incapable of handling any kind of job, leave alone being an IT sleuth.
It is exclusively separate what a rock star of an actor Vinay Pathak is. Although he tries his best not to lose his uniquely crafted identity, it goes beyond his best efforts when he is drafted scenes like showing his radium-watch to a freaking Talwar.
More so, as it ends up in an overdose of Pathak's uniform zaniness, even his peculiar accent of over-stressing on punches, and of excitement surging in his voice surrenders to monotony. It falls horizontal lacking any kind of variations.
KK Menon's Ajit Talwar is a stressfully written character. A casually suited-up corporate, he is got a wife, girlfriends', darlings' and yet finds Minissha Lamba irresistible and comes to a sensual proximity only to be shown the door. Now, this guy might be an egocentric upscale personality, but he also is entirely unexciting and plain boring.
The otherwise proficient actor gets restricted with two-three expressions to display. He is mostly alarmed or frustrated, and mostly couriers his angst without any aggression. So less that it is polite.
Where you would rupture a coconut tree and violently thrash Pathak's Bhushan, KK Menon's Talwar remains calmly irritated. Ho-Hum.
Amol Gupte enacts a song-fixated Raghu Burman. He lives in a grounded tree-house armed with a gun like the one you see with a bank guard. The writers show immense laziness with him. He's got zero dimensions; he is hysterical, misses his mother and also his only love.
Eh, whatever.
Irrespective of his state, it only asserts that
Bheja Fry 2
relies on forced material which defies logic making the story mind-numbing. Apart from being pathetically foreseeable, the story even reaches stagnation at one point.
Suresh Menon as the actual investigating IT guy fills up for Ranveer Shorey's absence and there are many childish quarrels added between him and Bhushan over the North -- South culture divide. They call each other kutte ki tatti  (dog shit) and some other crap -- flavoured abuses.
Minissha Lamba is more prominent in news-space for other reasons than she is in the movie. Reduced to an executive-type role, she appears adorable but speaks her lines with clenched teeth, as if secretly frowning at her producer. There's an attempt at a romantic inclination between Bumpkin Bhushan and Lady Lamba which ends up awkward and trivial.
Misidentifying
Bheja Fry 2
's seductive wrapping to contain a bustling firecracker would be inviting dissatisfaction. The packaging can never re-arrange dynamics of a film that is essentially shallow in content, monotonous in performances and lethargic in its story-telling.  
The first one was fittingly lifted from French film
Le Dinner De Cons
-- and survived with the engaging plot and Bharat Bhushan's contagious inanity.
However, when it has come down on director Ballary and debutante producer Mukul Deora to shoulder a film wholly on originality, they simply and quite blandly have bubbled-out.
At its best,
Bheja Fry 2
is an unexceptional monsoon mad-caper attempting to entertain with its witlessness and idiocy posing as heroic and humorous. At times, the film appears like a forcefully enacted stage play with annoying characters.
While the makers would want to believe they have an intelligent product centring on bizarre and daft protagonists', it ironically lands their film being inadvertently resembling the very same people -- brainless bummers. 
Rediff Rating: