Home > Movies > Reviews

Vinay almost makes Bheja Fry work

Raja Sen | April 13, 2007 14:16 IST


| | |
| --- | --- |
| A still from Bheja Fry | |
| | |
| | |
| | |
| | |
| | |
| | |
Let's start off with the definitions.
Bheja Fry n. 1. Chopped and scrambled cow/goat-brain, served piping hot. Goes well with most kinds of breads. Not for the queasy.
2. A first-time director's attempt at remaking a great French farce. Largely unfunny, almost salvaged by the leading man. Only for the cheesy.
It's always tragic when young directors start off their careers with scripts originating out of foreign DVDs. It's not a smart move, inviting comparison and critical condescension, while just trying to make a movie they assume few have seen.
I haven't yet watched Le Diner De Cons (The Dinner Game), but the delightful premise lifted onto this film makes me want to, and soon. It's the story of a group of smug urbanites who invite an idiot for dinner every week, laughing up the evening at his expense. Of course, the idiot turns the tables.
Sagar Ballary's directorial debut blatantly borrows most aspects of the French film -- evident from any googled summary -- yet is clearly soaked in curry, thick and very desi gravy aimed to make you want to watch it, on its own merit. His characters are familiar and steeped in Indian pop-culture references, and so he admittedly gives his Fry flavour.
It's just that the masala is most inconsistent. While there are localised bits that play well on their own, they're outweighed by the obviously filched parts, directly translated bits of script that could have done with some adaptation instead. And maybe the film should have been completely in Hindi.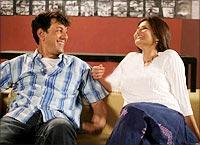 Rajat Kapoor is a fine actor, but this is him at his absolute worst, groan-provoking in his affected portrayal of a music industry scoundrel, condescending yet clueless, and with a mistress angle that really doesn't make as much sense in India. Not as casually, anyway. Kapoor's English sounds suprisingly stilted, as does Sarika's, but lets assume that's the result of a painful dubbing job.
Milind Soman is interesting, the actor visibly having a blast laughing it up in the film -- it is convenient that his affable character keeps getting cause to crack up. Still, it's a warm performance, reminding us why we miss Soman on screen.
Bhairavi Goswami isn't bad in her limited role, her basic histrionics coming off more natural than Sarika's. The senior actress, who plays Rajat's singer wife, suffers from an awfully written character, one expected to randomly hop to another man's house the night she's left her husband. Ah, and Ballary strikes a valiant, inexplicable blow for the women-shouldn't-drive movement.
The film, of course, is not about these castmembers, however interesting they could have been. The reason anyone wants to watch this film is because of the VJ-boys fast proving to be India's sharpest comic acts, the lads who shone in last year's magnificent Khosla Ka Ghosla. Tragically, Ranvir Sheorey is almost wasted here, the actor spectacularly believable even enacting a complete caricature, and eliciting laughs on an irresistible level, even without the punchlines. This is a fascinating actor, but some extremely limited screentime in this film doesn't do him justice.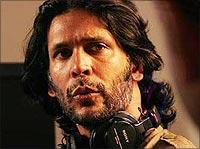 Thankfully, Bheja Fry does however act as a showcase for the utterly remarkable Vinay Pathak. Pathak, the film's leading idiot, plays taxman and aspiring singer Bharat Bhushan, the sort of government officer who swears loudly while discussing a cricket match -- his colleagues at work are used to it -- and who doesn't share much fondness for music director Ravindra Jain. The man, ladies and gents, is an absolute riot, head and shoulders above the rest of this film as he takes on your funny bone with great panache.
He could have done without the decidedly put on 'ha-ha-ha' laugh, but Vinay's eager-to-please character is irresistible on all counts, often making you laugh despite yourself. There's a natural spontaneity to the way he approaches dialogue, and his timing is brilliant. His physical comedy, while understated -- there is very little slapstick here -- is something to marvel at, and the film is almost redeemed purely the meticulous way he wraps and unwraps his all-important scrapbook.
You don't expect a great film, but at least a warm, nicely made film. Bheja Fry unfortunately disappoints on almost every count, the film desperately needing several coats of polish. It plays more like a television production than a movie, and there's really no reason to head to the theatres.
Still, go. Despite everything, see this film. Watch it for Vinay.
Rediff Rating:

Want to see this movie? Check out Rediff Movie Tickets!