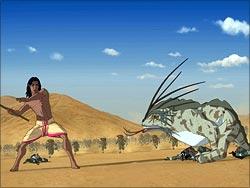 Arjun: The Warrior Prince is the best Indian animated venture so far. And it has a great story to tell as well, writes Preeti Arora.

Religious connotations aside, the Mahabharata is one helluva story, as anyone with or without religious tendencies will say. And great stories make brilliant films.

As for Arjun: The Warrior Prince, it isn't the first film to be made about the Mahabharata. It won't be the last, either. It also isn't India's first animated film, but it is certainly one of Bollywood's better (maybe even best) animated ventures.

There is no kind way to say this, so here is the truth about the Indian animation industry: it's lazy.

Yes, we've had films like Hanuman and My Friend Ganesha show some success at the box office, but that hardly redeems the poor quality of visual and technical detail found in them.

It's the same predicament with every Indian animated film imaginable -- Bal Ganesh, Roadside Romeo, Toonpur Ka Superhero to name a few.
In that respect, Arnab Chuadhuri's Arjun is significant because it has begun to pave the way for reform, or so we hope.
The first-look of Arjun was released in 2008, showcasing the scene of Draupadi's swayamvar, which also happens to be the most breathtaking scene in the film. There is a lesson to be learnt here for Indian animators, which is: you might not have the resources to make another Toy Story, but take your time with whatever you do.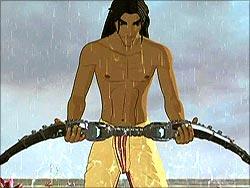 Four years in the making, and the effort shines through with Arjun. There are still flaws to be found in the animation of course, but they mean nothing when you consider the huge improvement that this film is for Indian animation.

 

Arjun has

the traditional, earthy yet vast and immense feeling of an epic. And since so much of Indian animation stems from our mythology, it would serve other projects well to adopt the classical characteristics of Arnab Chaudhuri's film. In many ways, one might even compare this film to Yimou Zhang's Curse of the Golden Flower or Wolfgang Peterson's Troy. There is a strong sense of majesty that Arjun commands from its audience, which most Indian animated features crucially lack.

 

Everyone knows the story of Arjun from the Mahabharata. We've watched it on Doordarshan, we've seen it in cartoons, we've seen it on stage and we've read it in the comics of Amar Chitra Katha.

 

Big question: Is there really anything new that can be done with the narrative? But of course. As the title suggests, the film  is more about Arjun than the Mahabharata itself, and the director has quite a twist in store for us towards the end of the film which is not worth revealing at this point.

 

It would've been easy to let this plot go stale, for the simple reason that it has been explored so much, but hats off to the director for bringing something new to the platter.

 

Being an animated film, Arjun is sure to find a connect with kids. It is also a great outing for someone who wishes to walk down nostalgia lane with their favourite tales of the good old days.

 

Rediff Review: