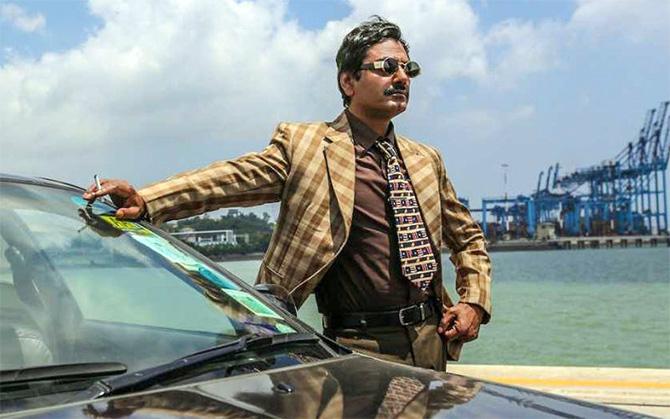 You may love it or hate it but you certainly cannot ignore it.
Like the first season, Sacred Games 2 has become a talking point once again, getting its share of love and flak from viewers.
We asked readers what they thought about the Web Series, we got a lot of responses.
We present some of them:
Proneet Dutta
The first question that comes to my mind is, will there be a third season of Sacred Games?

Sacred Games 2 is more plot than the first season, which focused on the development of its main characters.
This allows the viewer to immerse into the world of Gaitonde and Sartaj and the whole mystery element around it.
Anurag Kashyap is brilliant in the Gaitonde portions. There are some wow moments in these portions especially with the introduction of the brilliant Pankaj Tripathi as Guruji. He shares great chemistry with Nawaz and the two actors feed off each other.
These are the portions where there are no inhibitions with director Anurag Kashyap experimenting a lot. Because of this, certain scenes seem silly or unintentionally funny.
The big scary reveal is also in these portions which Anurag handles skillfully.
Nawaz is still the best thing in the series. His is a performance of a lifetime as we see Gaitonde becoming the pawn in the larger scheme of things rather than the demi god he was in season 1. His relationship with the brilliant Surveen Chawla as Jojo firms the emotional subtext of these portions.
Jatin Sarna provides comic relief as Bunty.
Director Neeraj Ghaywan is a welcome addition to this series. He shows some rare craft especially (as opposed to Anurag whose portions seem improvised) in a chase sequence featuring Saif. Also, his portions in the ashram.
The most disturbing scene is the lynching of a Muslim boy. This scene will shock your senses. The scenes showcasing a destroyed Mumbai city is also scary.
There are some boring parts, especially some of Saif's scenes with his ex-wife.
But Saif is quite good as Sartaj showcasing Sartaj's inner turmoil with his expressive eyes.
Aamir Bashir is superb as the tough cop while Neeraj Kabi as DCP Parulkar gets the ending he deserved -- though Kabi plays him so well that you feel sympathy for him.
Kalki gets the accent right and delivers a creepy performance.
Editor Arti Bajaj once again is the real star of the series, as she keeps the proceedings intact, in spite of two simultaneous stories and lots of twisty flashbacks.
The art direction, especially the sets of Guruji's ashram, is so beautiful and futuristic.
Sacred Games has to be one of the best-written series in the world.
The characters are superbly fleshed out by Varun Grover and his team of writers.
Surveen Chawla as Jojo and Kalki Koechlin as Batya Abelman are the best additions to the series. Even Amruta Subash and Ranvir Shorey, in smaller roles, get an arc.
The dialogues are top notch.
My favourite is when Tiwari tells Gaitonde, 'idhar ka Juhi beach.' He irritatingly replies, 'Jaa jake doob jaa.'
Sacred Games 2 is quite good after a really popular first season.
Dr Aniruddha Kulkarni
Everyone was eagerly waiting for Sacred Games 2.
I watched entire series in one go with my friend Dr Sharad, an equally avid movie and Web Series lover.
But both of us were terribly disappointed with it.
I know expectations were very high after the first season but the story line and and continuity of storytelling were missing completely.
Every now and then, we were forced to recognise the links to the previous series.
The character connect to the story and the last series was missing.
The glorification of Guruji character was absolutely not needed.
Gaitonde, Dilbagh and Sartaj getting sucked into Guruji's ashram was completely avoidable.
The director's individual character treatment approach (Anurag Kashyap and Vikramaditya Motwane) made an immense novelty impact in the first season but the same thing is a mess this time.
The silver lining is Amruta Subhash as the RAW agent. Brilliantly done.
Ranvir Shorey is a complete waste of talent.
It deserves not more than two stars. Could have been far better.
Arpit Agarwal
Okay, so like everyone, I was also excited for the season 2 of Scared Games, which undoubtedly, is the biggest product to come out of any streaming platform in India.
In terms of production values, storytelling and acting, this series is right up there with the best international shows.
While I found the first episode to be a letdown and slow, the show catches up later.
The gags and spoofs are cleverly done and the commentary on the current social and political scenario is bang on.
The cast is top notch and all the key players give stellar performances -- from Saif and Nawaz to new faces like Kalki and Amruta Subhash.
Pankaj Tripathy is the show-stealer with his restrained performance.
Sacred Games 2 is not to be missed.

Ramesh Ramakrishnan
When you put two independent tracks into one, it could be called an innovative approach. But in the case of Sacred Games 2, it looks as if these are actually two different tracks.
The message from the Guruji is a mix of so many cults and lacks depth.
Its racy but lacks the surprise element of Sacred Games 1.
In terms of acting, all the actors are brilliant, especially Gaitonde.
Sartaj seems to lose interest and steam in the second version.
Also, they have not exploited the acting talents of Kalki and Pankaj. They almost look wooden.
Overall, the expectations were high and it disappoints.
Sanjay Jain
The second season of Sacred Games was really pathetic -- a lot of confusing twists, which made it complicated to relate to. The end was pretty predictable too.
After you watch Sacred Games 2, please send your review to moviesdesk@rediff.co.in (subject: My Sacred Games 2 review) along with your NAME, AGE, LOCATION.
We'll publish the best ones right here on Rediff.com.