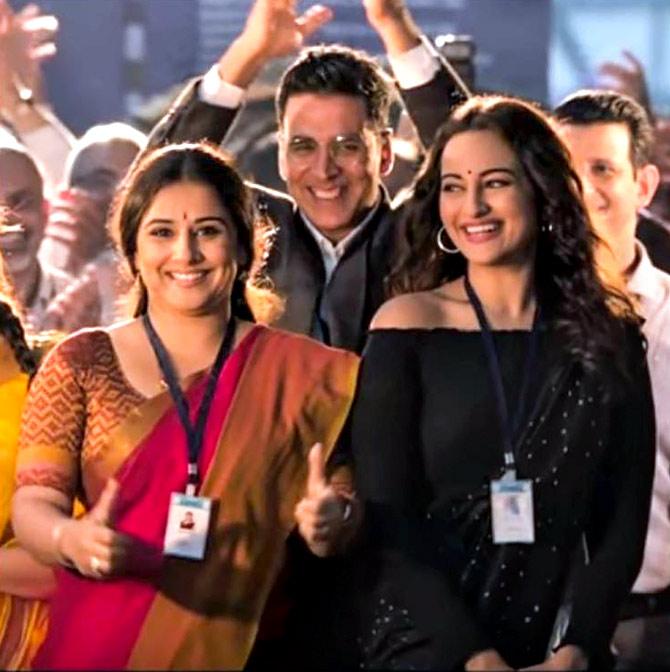 Jagan Shakti's Mission Mangal starring Akshay Kumar, Vidya Balan, Sonakshi Sinha, Taapsee Pannu, Nithya Menen, Sharman Joshi, Kirti Kulhari and Vikram Gokhale has been getting rave reviews from film critics and audiences alike.
We asked readers to send in their reviews of the film.
Here's what our readers had to say...
Dr Raju Rathod
Mission Mangal truly begins Renaissance in Bollywood.
First, we saw struggle in Mother India. Then, Rajesh Khanna became famous for songs, Amitabh for Angry Man's Action and SRK for Romance and after 2010 we could see age of Biopic movies and now beyond biopic new genre of movies such as Uri: The Surgical Strike, Parmanu and now Mission Mangal are the need of the day.
In last 72 years of Independent India, generations of '70s, '80s, '90s watched only stereotype movies. But now Bollywood sharpens its learning curve to dramatise such kind of achievements of our country which truly inspire audiences.
Just like Mars Orbiter Mission of Indian Space Research Organisation was not easy, to make movie on such topic is also not very easy.
There was time in Bollywood when directors never took risk to make movie without less than 5 melodious songs with overdose of emotions or not less than 10 fights with strong villain but here in movie Mission Mangal, there is no villain and extra item songs but still tell you story with passion and patience.
It takes some dramatic liberty to give you cinematic feel and thrill of science related subject in simple yet engaging style.
We are fortunate generation who can watch such movies which are not so far from reality.
Movies which not totally based on fantasy but just in recent past it was reality.
Parents should not only go and watch along with their children but they should also feel and make them feel that What India Could Do and They can do for India and in India.
Archana Sanil
The movie is just not about science and rocket but a feeling, an emotion and true patriotism. We have been watching a lot of movies on patriotism where war and attacks are a part of patriotism.
But when you are a true Indian anything which brings a crown to the nation is patriotism.
This movie carried this emotion in a light way by our superstar Akshayji.
Life has so many up and down and when a lady steps out for work, whether it is space centre or a normal office, she has dual duties to be handled.
How to balance life is greatly enacted by Vidyaji.
Also the challenges each women has to face, whether Hindu or Muslim and how they believe beyond science on the GREATEST power -- GOD is nicely enacted in this movie.
Lastly meeting Akshayji made us realise that fitness is most important thing and gift one can give to yourself and how person has to behave though you may reach to Mars or be a Super Star (down to earth).
What did YOU think about Mission Mangal?
We give you *your* space to share your review.
Please send your review to moviesdesk@rediff.co.in (Subject: My Review) along with your NAME, AGE, LOCATION.
We'll publish the best ones on Rediff.com.