Pokkiri is the remake of Maheshbabu's Telugu superhit by the same name. With this Vijay-Asin starrer, Prabhudeva makes his directorial foray into Tamil cinema. When jigs-expert Vijay and dance guru Prabhudeva join together what else can it be but incendiary stuff? That is exactly what music director Manisharma has created for Pokkiri.
The songs are tailor-made for Vijay (and his fans) to jive around. It is fireworks all through -- fast beats, racy tunes, heavy percussion and what not. Most of the tracks are a combo of hip-hop and rap. Surprisingly, the composer has woven a slender thread of melody running through most of the numbers. But some of the songs generate an 'already heard' feeling.
The album starts with Aadungada ennai suthi , a self-introduction by the hero. Brisk rhythm and fast beats predominate. Though the percussion is heavy, it never drowns the lyrics. Naveen has done full justice to Kabilan's lyrics which paint a clear picture of the 'pokkiri's devil-may-care attitude, his valour, his recipe for his brand of 'pongal"etc. Metaphors used are rural. There are light melodious two-liners in between the fast couplets.
Dol dol by Ranjith and Suchithra is a fast duet in hip-hop style. The melodious touch of sitar creates a soothing effect. The swara passage in between adds a classical touch. Suchithra's tonal modulation is superb and she very well matches Ranjith's effervescence.
Vasantha mullai polae is the remix of the T M Soundararajan hit from the old film Sarangadhara. Only the lyrics are different after the opening line. The same has been replicated towards the end of this number in a gramophone record tone. It might create nostalgia in old-timers. A racy piece with lyrics by Muthukumar, and rendered energetically by Rahul Nambiar and Krishnamurthy.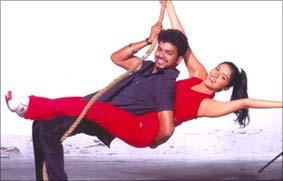 The remixed version of Nee muthamonnu koduthaal is a foot-tapping number interspersed with rap. Swetha's lilting voice is a perfect foil to Ranjith's ebullient one. Lyrics are by Pa Vijay.
The soaring high-pitched Yuthamae is the theme song with hardly any lyrics. Orchestration is sizzling jazz ensemble revealing signs of A R Rahman's influence.
En sellappaeru apple by A V Ramanan and Suchitra has some erotic lyrics. The style is fusion of hip-hop and Rap spiced with Hindi words. Suchitra with her seductive voice dominates in her dazzling manner.
The melodious version of the earlier remix of Nee muthamonnu koduthaal is repeated. The beats are fast and orchestration is a mixture of Indian and western. The sitar interludes are so enticing that you will yearn for more.
Mambazhamam mambazham is a hot duet with rustic flavour. Sankar Mahadevan in his typical full-throated style joins Ganga to render this fast-paced number. Percussion is mild and lavishly garnished with nadaswaram strains. Lyrics are by Snehan. Ending the number on a mournful note is a deft touch.
If you are addicted to racy music, you will enjoy this album. And if you are a Vijay fan, you will have a blast. But the album is of only fleeting interest. There is not a single tune that will go on ringing in your head after the album is over.
Rediff Rating: