Pati Patni Aur Woh can't decide whether it wants to be the climax of a Priyadarshan comedy or give the cad a dose of his own medicine brand of cheeky payback, writes Sukanya Verma.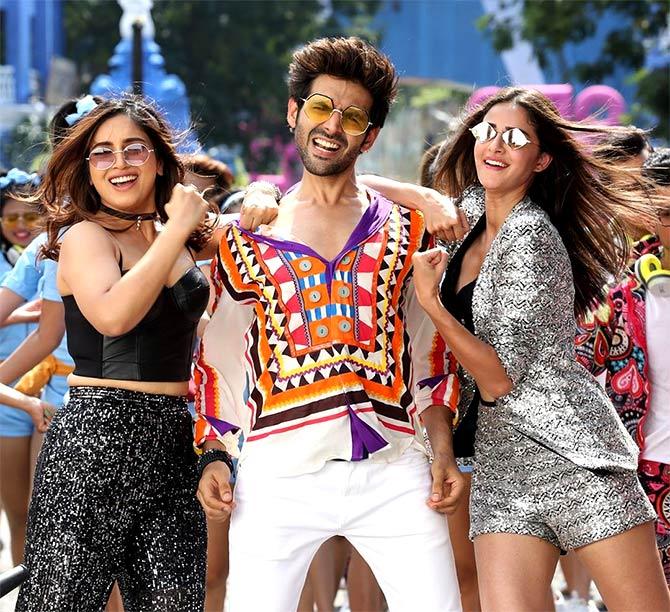 Alright, we are back in Kanpur/Lucknow/replace with any major city of Uttar Pradesh to endure yet another bumpy rom-com ride where Kartik Aaryan dresses up as Surinder Sahni sans the grace or ardour for his significant other like everybody's favourite employee at Punjab Power.
But no moustache or mea culpa repentance can change his position as Bollywood's poster boy for sexist messaging. A special appearance from his preferred partner-in-crime only reinforces this imagery.
Mudassar Aziz's remake of B R Chopra's 1978 Pati Patni Aur Woh retains the title and basic premise of a philanderer husband cheating on his devoted wife with his attractive secretary by feeding her falsehoods about the better half's frail health. This time he lies about her promiscuity.
I was never a fan of the original, but I liked how Sanjeev Kumar submitted to his compulsive rascality. The only other actor I can imagine to find entertainment in the politically incorrect is Govinda. Kartik Aaryan's calibre is limited to ranting misogynistic spiels about male victimhood.
Although the makers have changed some of the offensive dialogues that caused a furore after its unfortunate trailer, the contemporary take doesn't move too far from its 'men can't help it' narrative.
What it does well is create two sassy women conscious of their agency if not entirely in control of their emotionally foolish hearts.
Through his tellingly named Chintu Tyagi (Aaryan), Vedika (Bhumi Pednekar) and Tapasya (Ananya Panday), Aziz suggests the monotony of marital life, lack of excitement in small-town existence and, er, soft spot for strangely giggling men in its respective players has sparked off a need for hanky-panky.
Once again, arranged marriage between unsure youngsters pressurised into domesticity is sort of held responsible for the subsequent side-effects. There's a relevant story in that, which never goes beyond catalyst.
So Tanu's mom (Navni Parihar) and Manu's dad (K K Raina) pair up as Chintu Tyagi's parents and squash his dreams of a Spanish holiday to marry Vedika who looks at the prospect as an experiment.
'I've tried rebellion, now let's try restriction.'
But for someone who claims to enjoy sex so vocally, she shows little inclination for the deed post saat-pheras.
Equally coy is the attraction between Tyagi and Tapasya, a chic Delhi lass he falls for while helping to find a plot.
There are some other plot arcs too. Like the two sets of parents and a glutton uncle engaged in a tug of war over whose kid has looser character or Vedika's smitten student Rakesh Yadav with his Shah Rukh Khan fetish and Main Hoon Naa-esque fascination adding to the comic confusion.
All through this Aparshakti Khurrana shoots off some zingers one has come to expect out of him as Chintu's Muslim best friend and adultery aide fuelling his 'kapol-kalpana.' If Lukka Chuppi, also cast as Aaryan's Muslim best friend, accorded him at least one good line to shut up the right wingers, here he's at the receiving end of some cringeworthy police prejudice.
But it would be foolhardy to expect better from a movie whose idea of feminism is a woman thinking of herself as a spiteful 'kulta.' The only thing it does underscore is what do smart girls see in moron's syndrome.
Bhumi is an ace actress, can make steel out of thin air. This is practically a cake walk for her. She is always in command without being in your face about her sureness or sauciness. The most honest moment in the movie is her thoroughly unimpressed face while watching an episode of The Kapil Sharma show.
Ananya's smarts and easygoingness in a role that has a history of being buried under the weight of gullibility make for a nice change of pace.
Alternating between a farce and melodrama, thankfully none of it coming from the women, Pati Patni Aur Woh can't decide whether it wants to be the climax of a Priyadarshan comedy or give the cad a dose of his own medicine brand of cheeky payback.
What is certain is every straying male deserves sympathy. So did the devil.
Rediff Rating:

---
Sukanya Verma is the Principal Movie Reviewer for Rediff.com.
She can be contacted at mailto_sukanyaverma@rediffmail.com