'Relationships have changed so dynamically that the 'woh' doesn't have to be a person.'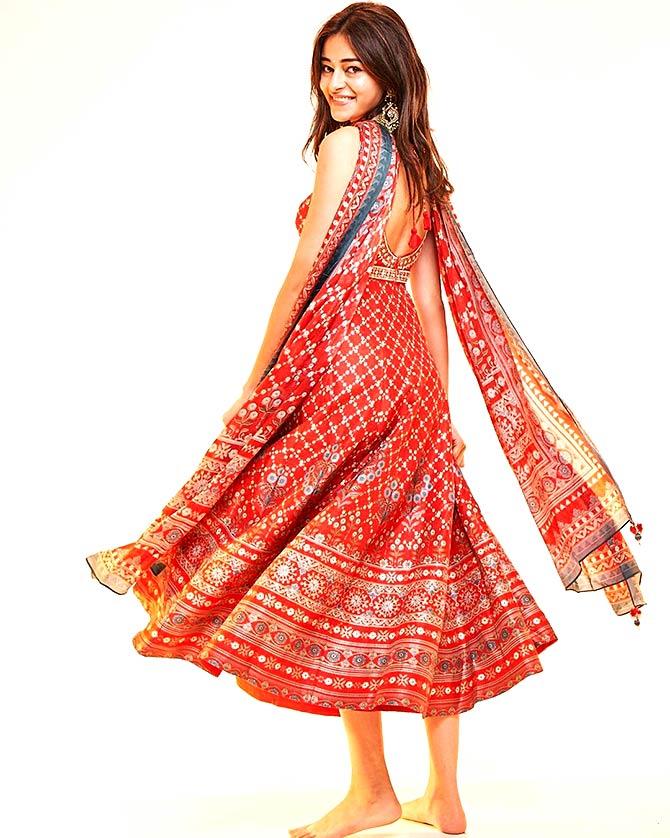 Ananya Panday goes from college girl in Student Of The Year 2 to mature businesswoman in Pati Patni Aur Woh.
A remake of B R Chopra's 1978 release, starring Sanjeev Kumar, Vidya Sinha and Ranjeeta Kaur, Ananya insists that her film is completely different.
"The 'woh' does not have to be a person all the time. It can be a phone, your best friend or even work," Ananya explains to Rediff.com Contributor Divya Solgama.
Your father Chunky Panday made a career in comedy. Now, you are venturing into comedy with Pati Patni Aur Woh.
Comedy and romance are my favourite genres.
My father featured in a lot of comedy films, so it's very exciting for me to do a movie in this genre.
But I would love to do a super-duper romantic film.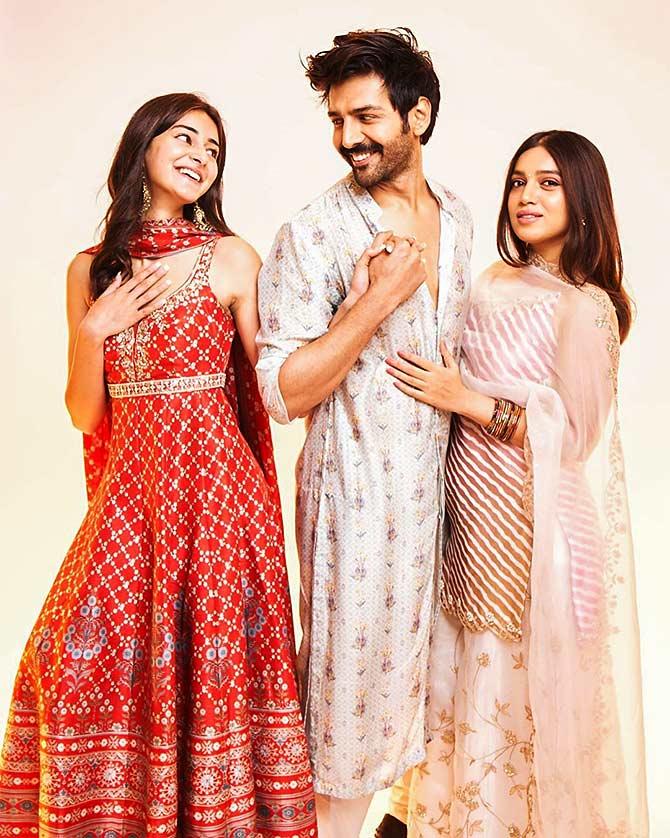 This is your first comedy. How did you prepare for it?
I had to speak very slowly in the film because generally, I speak very fast.
I am not childish, but I make a lot of expressions and use my hands a lot in real life.
I had to behave slightly older than my age in the film, as she is a businesswoman, and shifts her base to Kanpur for work.
So I had to be calmer, more womanly, as compared to my role in Student of the Year 2.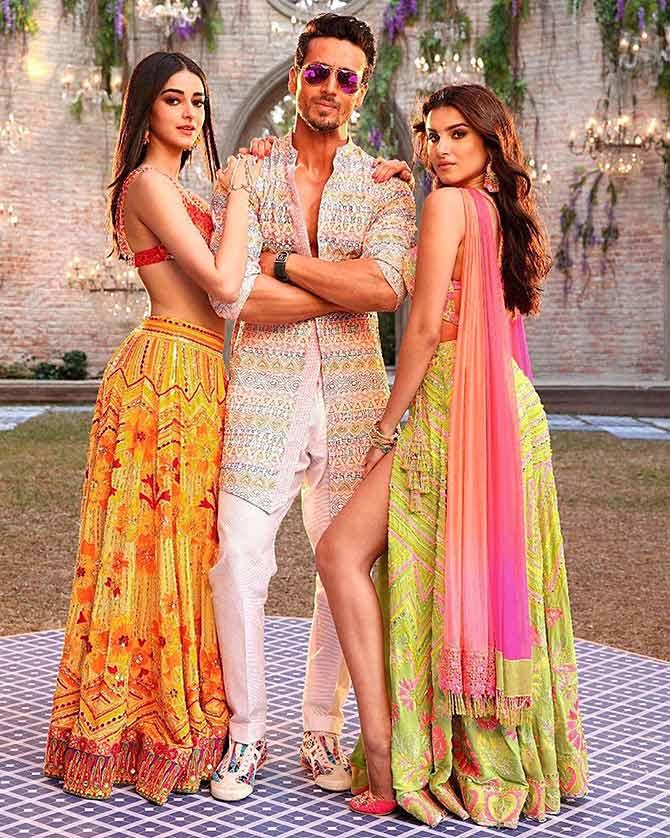 What sort of reactions did you get from SOTY 2?
I got a lot of love from kids and young girls.
That's a very nice feeling for me because I became such a strong and loyal fan of Alia Bhatt when I watched SOTY.
I hope I have garnered fans like that, who will grow up with me.
Alia inspires me because she has taught me not to be scared. She became a joke, but was the first person to laugh at herself.
Have you been getting any advice?
People are telling me to stick to the bubblegum, popcorn and princess kind of films, but I think there aren't enough scripts being made in that zone.
I believe SOTY 2 is a very rare film that has a fantasy world.
People should make such films because the primary focus of cinema is to entertain and give viewers the opportunity to detach from their reality.
We have so many problems in our real world. We want to disconnect from all that and live larger-than-life for some time.
I get a lot of advice to do such films, but as an actor, it's all about my first instinct when I read the script.
I do films that I want to watch as an audience.
My first reaction is always my last when it comes to scripts.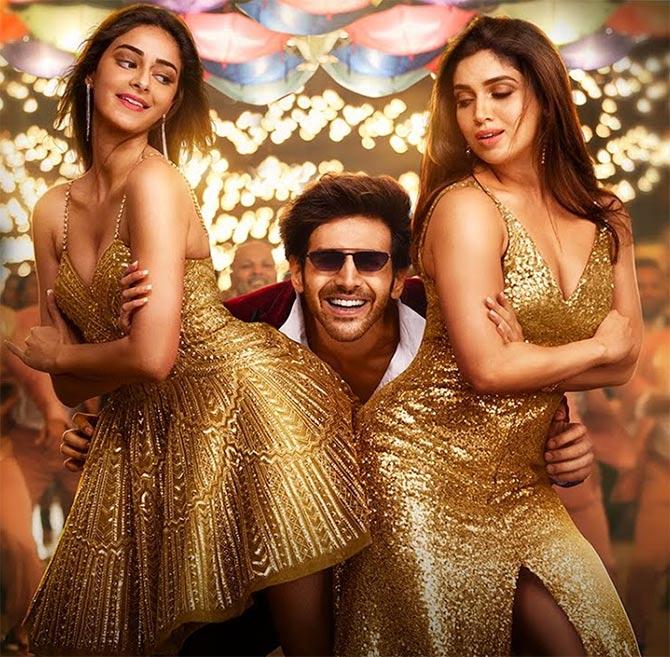 Your song Ankhiyon Se Goli Maare in Pati Patni Aur Woh was originally picturised on Govinda, your father's frequent co-star. Did you have any interactions with Govinda in your early days?
When we were younger, we almost never went on film sets.
Once we did go on a film set where Govinda sir was shooting, but unfortunately, I don't remember anything because I was barely two or three years old.
But there are a lot of pictures of us from then.
Recently, we went on the sets of Nach Baliye for our film promotions, and Govinda sir was judging.
As soon as we met, he said, my favourite has come.
I was really happy when he said that to me because he is a legend.
The fact that we are recreating his song in Pati Patni Aur Woh is actually a tribute to Govinda sir and Raveena (Tandon) ma'am.
We have grown up with this song.
Ankhiyon Se Goli Maare used to be there at every party.
Pati Patni Aur Woh is a remake of B R Chopra's film. Have you watched that?
I watched it twice.
I watched it a long time ago as my granny loves Sanjeev Kumar.
I found it very funny at that time.
I thought it would be interesting to make this kind of film today because love triangles never go out of fashion.
I watched it again when I read the script of Pati Patni Aur Woh because I wanted to see how different it would be.
It's completely different from the original.
What are your thoughts on the 'woh' in a couple's life?
The 'woh' does not have to be a person all the time.
It can be a phone, your best friend or even work.
Relationships have changed so dynamically that the 'woh' doesn't have to be a person.
There's always the one thing in a couple's life that causes problems in their relationships.
As a new actor, are you ever afraid that you may not be politically correct when you say certain things?
No. I tell everyone that it is okay to make mistakes and be normal.
If I don't know something, I will be honest enough to say I don't know rather than be cautious about it.
It is impossible to know everything in life.
If I have a voice and young girls are listening to me, I might use my voice for something worthwhile.
My parents have not stopped me from being myself.
They have always encouraged me to voice my opinions and express my feelings.
Karan (Johar) also advised me to be myself always.
I am happy that I inspire young girls out there to just be themselves.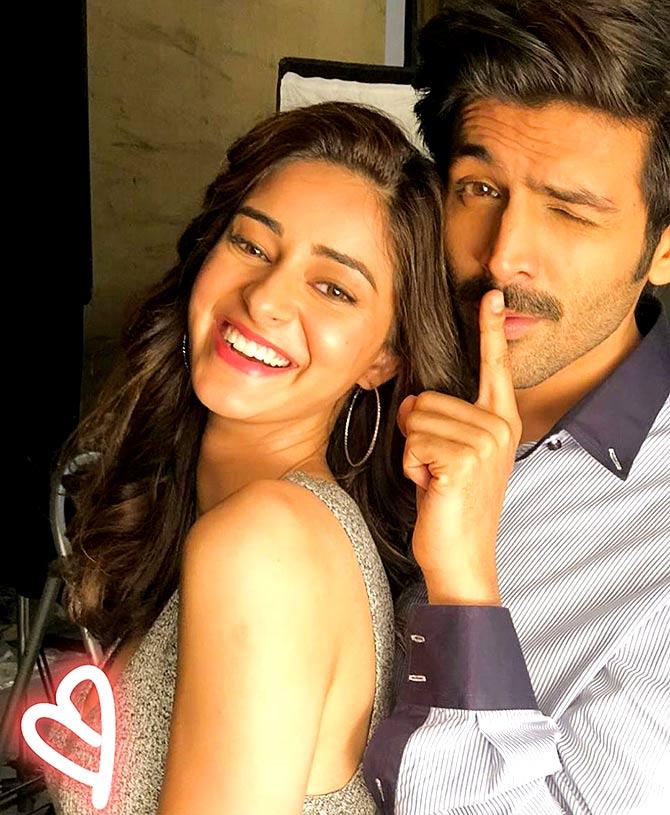 Do your responsibilities extend to the way you select your scripts?
I will not be attracted to a film if it is misogynistic or sexist or irresponsible.
Just because I play the 'woh' doesn't mean I encourage extra-marital affairs.
It's a character and when you make an entertaining film, it's not supposed to connect with real life.
If you are not hurtful, misogynistic and sexist, then everything is fine.
How was your off-screen chemistry with Kartik Aaryan?
It is much easier to have chemistry with a person you already know before you come together in a film.
Kartik is very selfless.
He always tries to make scenes better, not his performance alone.
He is also fun to be with.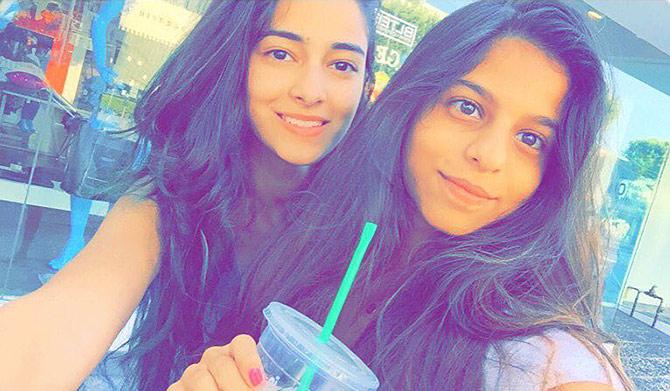 You share a close bond with Shah Rukh Khan's children, Suhana and Aryan.
Suhana and I were in the same school, so we have done a lot of acting-related things together.
We used to be in school plays together. She would be the main lead because she is a brilliant actor, and I would do something in the background.
We went to the New York Film Academy and did a course together.
Suhana is talented in every aspect. Apart from acting, she's also a great singer and dancer.
Actually, there are bigger things meant for Suhana.
Aryan is more inclined towards direction because he is a good writer.
He is very witty and smart.
He did Simba's voiceover so well that I would like to see him as an actor one day.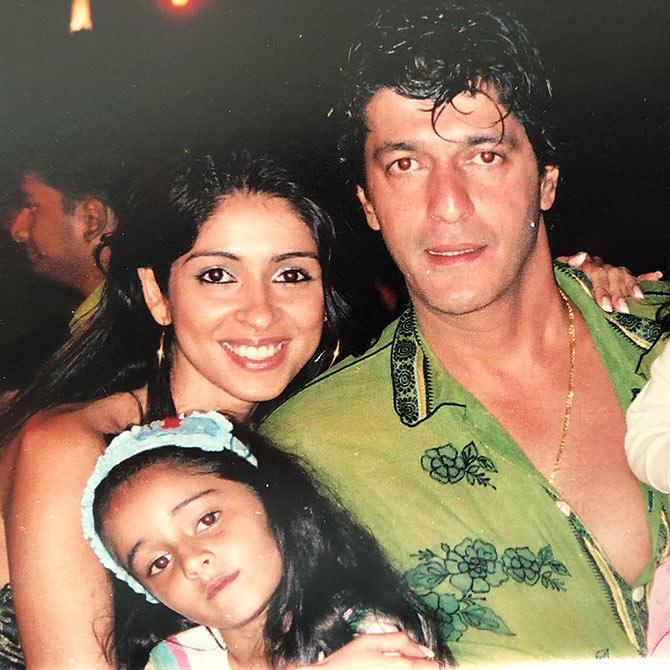 What's the best advice your dad gave you when you started working in films?
He told me it is not how you deal with failure, but how you deal with success. That shows the kind of person you are.
At such a young age, people generally get carried away with success.
You must deal with it by not getting carried away.
You have to be neutral, whether it is failure or success, because everything will change after a point.
Change is the only constant.
More than giving advice, I have seen him deal with so many situations in life.
Chunky saw huge success at the start of his career, but then, everything started going down. How did he deal with it?
He dealt with the situation in a good way.
I don't think we ever saw dark periods at home because he is such a light-hearted person.
Also, he realised that if one has to sustain for a long time in the industry, one does not have to be a typical hero. One can do so many things.
Content is most important, and that's why the audience will love you.
Even today, people recall his work in Lal duppate wali, So gaya yeh jahan...
Your next film is with Ishaan Khatter.
It is titled Khaali Peeli and is an intense romantic, action, film.
Ishaan is so much fun to work with.
Whenever he comes on set, it's like storm has entered.
If one thinks that I talk a lot, Ishaan is 10 times me!
I have a Bambaiya accent in the film, and I found this very interesting. I felt very uninhibited doing this film.
It's like I'm doing anything and getting away with it because I don't play myself here. It's just a character.
Also, the entire film is set at night.
I didn't do any night shoots while working in SOTY 2 because Tiger sleeps at 10 pm.
So Khaali Peeli was quite challenging for me.
Which movie characters would you like to explore?
Geet from Jab We Met is my all-time favourite because it's very close to who I am in real life.
I would love to explore the horror genre. I love watching horror films.
---
Divya Solgama loves masala entertainers as well as hard-core realistic films. Divya can be contacted at movies@rediff-inc.com
---