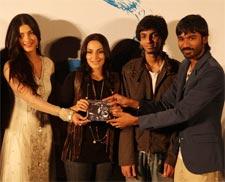 Pavithra Srinivasan feels composer Anirudh has come up with an interesting collection of songs in the Tamil film, 3.
The most eagerly anticipated music album of the year is probably R K Productions and Wunderbar Productions's
3
, the film directed by Aishwarya Dhanush, and starring her husband, National Award winner Dhanush, and Shruti Haasan.
If the coming together of these three stars was an accomplishment, yet another was the fact that one of its numbers --
Kolaveri Di
-- went viral and reached almost every corner of the world.
Here's the rest of the album with music composed by debutant Anirudh. Except for the first song which has lyrics by Aishwarya Dhanush, the rest have been penned by Dhanush himself.
Gentle humming starts
Idhazhin Oram (The Innocence of Love)
, which is rendered by Ajesh Ashok and Anirudh. It's the mandatory romantic number, infused with synthesised music. The lyrics themselves are predominantly Tamil and then there's a line in English, quite in keeping with the trend. The tune is familiar with an attractive instrumental arrangement.
Kannazhaga (The Kiss of Love)
begins with a beautiful violin piece before Shruthi Haasan and Dhanush begin. The melody of the violin and the flute that joins in later are captivating. There's a faint nostalgic air to the song, and the staccato beats actually add to the charm. You can almost smell the wind and rain in this captivating number.
Come on Girls (The Celebration of Love)
begins in a bizarre fashion, with what sounds like a rooster crowing, even as Anirudh, Nadisha Thomas and Maalavika Manoj take up the vocals. It's down-to-earth and refreshing. It takes a little time to adjust to the wedding music and modern beats, but it actually does work in a quirky way.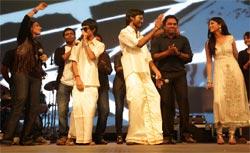 Notes from a guitar set the prelude for
Nee Partha Vizhigal (The Touch of Love)
; Vijay Yesudas and Swetha Mohan sing their way confidently through the gentle number. There's a touch of anguish here even though the lyrics are commonplace. As always, the instrumental arrangement adds poignancy to the song.
With gentle notes on a violin and shades of anguish that remind you a little of the theme music of
Braveheart
,
A Life Full of Love
, which is
3
's theme music, is simple and touching.
What can you say about a chartbuster that has made inroads throughout the country, been sung even in Japan and Greece, and modified in countries like Pakistan?
Why This Kolaveri Di?
has become a sort of anthem and Dhanush, with his completely natural charm, simply blasts ahead. It's the song of the season.
Navin Iyer and others perform the rousing
The Rhythm of Love
, a celebration of sound and fury that crashes through your ear-drums.
Yet another anguished number, Po Nee Po, sung by Mohit Chauhan, while Anirudh accompanying him is a pleasant listen. There's a re-mix version of the same, set to a faster rhythm, appropriately titled, The Scream of Love. Rendered by Sathya Prakash and Harish Swaminathan, it doesn't seem to work as well.

All the songs in 3 are good and come with appealing instrumental arrangements, even if the lyrics are a bit bland. Composer Anirudh has obviously taken pains to come up with an intriguing collection. Go for it!

Rediff Rating: