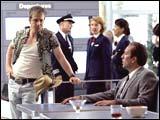 You could complain that the new Ridley Scott adventure Matchstick Men is too slick and clever.
It is easy to say the two halves of the film -- a father and daughter saga and the planning of what could be one grand heist -- do not embrace each other well. It is also not difficult to argue that the film is emotionally manipulative.
Yet, it is possible to come out of the movie theatre, well conned by Scott and his superlatively talented actors, admitting you have just seen a film that has given you plenty of guilty pleasure.
Some parts of Matchstick Men have been compared with sequences in Paper Moon and Sting, but this film is far darker than those two hits.


| | |
| --- | --- |
| | Don't miss! |
| | |
Eschewing the world of high tech in his films like 
Hannibal
,
Gladiator
and
Blade Runner
, and veering closer to the road movie
Thelma And Louise
, an excellent study of two unusual women, Scott has made an engrossing melodramatic thriller.
Scott is also capable, like many of his gifted peers, of going overboard as in the jingoistic Black Hawk Down, but in his new film, he is more focused. He knows the con game is the vital part of the story but he is also determined not to waste a single performance.

Though not as interesting as the neurotic screenwriter Charlie Kaufman (and his happy-go-lucky twin brother) in Adaptation, the character of Roy (Nicolas Cage) in Matchstick Men is quite compelling.

An agoraphobic, obsessive-compulsive, small-time con artist (matchstick man in the underground slang), Roy has to open a door several times before entering a room. Despite all his phobias, he cannot give up his scam plans, thanks mainly to his protégé Frank (Sam Rockwell).


Roy goes nuts when he accidentally spills his medication down the kitchen drain. Worse, he discovers his doctor has moved out of town.
Convinced by Frank to see a psychoanalyst (Bruce Altman), Roy admits he is still guilt-ridden that his ex-wife may have been pregnant when he left her.
He soon discovers that he has a teenage daughter, Angela, who is looking forward to meeting him.
Though their initial encounter is anything but heartfelt, a bond develops. But as the kid gets to know her old man, she also gets involved in the seemingly big scam Frank and Roy have been planning.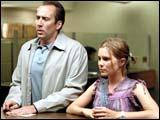 The second half of the film is more involved with unfolding the scam and is filled with plot twists that divert but do not wholly convince.
The big attraction for the film is Oscar-winner Cage's transformation from an anxiety-driven man to an adoring father. And the much younger Rockwell, who played the crazy television producer Chuck Barris in last year's
Confessions Of A Dangerous
Mind, offering yet another interesting performance.
But the real scene stealer is Alison Lohman, who won acclaim in last year's
White Oleander.
Playing a character several years younger than her real age, Lohman is many things in the film: endearing, sharp, manipulative and demanding.
The best interaction between the three main characters is seen in the second half of the film. Despite the many plot twists -- many highly intriguing though not always convincing -- one remembers the faces of the three artists most.
CREDITS
Cast: Nicolas Cage, Sam Rockwell, Alison Lohman, Bruce Altman
Director: Ridley Scott
Written by Nicholas Griffin, Ted Griffin, based on the book by Eric Garcia
Running time: 1 hour 56 minutes
Rating: PG-13