Nothing can salvage the Marjaavaan mess, declares Sukanya Verma.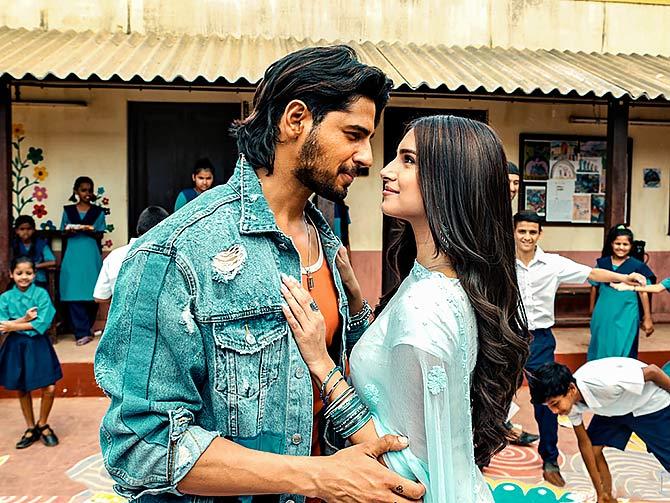 The world of Marjaavaan is ignorant of the word subtle.
The Hindu villain wears a striking tilak.
The Muslim sidekick sports a white skull cap.
The mute, angelic heroine stays pristine in pastels whereas the golden-hearted prostitute's business card is a navel and a nose-ring.
There's the hero in red and black, bandana and bombastic lines, et al, channelling Bollywood's veteran Biddu to a vertically challenged villain nobody cares to fight.
Dragging them forcibly into conflict, which can only happen on Dusshera day -- Bollywood's go-to festival for end of all evil events -- is the sole objective of this godawful slog.
Writer and Director Milap Zaveri's appetite for masala movies inspires yet another instance of outdated film-making that looks up to embarrassing clichés for sentiment and scares.
If the obvious nods to Hero, Aatish and a hoard of other action potboilers that made sense in the age of Deol, Dutt and Shetty isn't enough, Zaveri limply rehashes Babu's theme from Satte Pe Satta to give heft to Riteish Deshmukh's menace.
It's back to bygone days of basti life populated by Nirupa Roy clones lugging carts to bury dead sons, wannabe Rekhas offering unrequited salaam-e-ishq, Humare Bihar mein ek kahawat hai phrase-ready Dabangg cops and Salman fanboys forming the hero's BFF crew.
Zaveri's moronic masala is so far removed from reality -- its characters gush about 'mandir aur masjid dono milega' and music competitions in Kashmir -- there's no way to take it seriously.
Deafening chants of Hanuman Chalisa and Allah Allah fill its stilted sets to impose communal harmony while daredevilry wears the face of two dozen men flying mid-air in slow-motion.
But then the good-hearted goonda (Sidharth Malhotra) goes up against his father figure boss (Nassar) to support the girl (Tara Sutaria), who cannot speak and evokes the wrath of the boss's boy (Deshmukh), who won't shut up.
The latter is sore about his three feet stature, has daddy issues as complex as sponge cake and a terrible tendency to speak in riddles nobody cares to solve.
Ritiesh Deshmukh has pulled off his share of poorly written parts but in Marjaavaan, he plays a villain so staggeringly undermined and disregarded, the snarling and snigger only adds more salt to his wounds.
Sidharth Malhotra shares his propensity to speak in rhyming Zaverisms -- maroonga kanpati pe, mittega Ganpati pe -- but cannot sell the poor little gutter guy he's posturing as.
Tara Sutaria smiles and sobs on cue.
Rakul Preet swoons and sashays to remixes.
It's a melee of caricatures.
Nothing can salvage the Marjaavaan mess -- not religious symbols tattooed on Malhotra's knuckles, the two-and-a-half hours of hysterically hamming people, the boisterous background score, the stale imagination, the burly giants, the phony rain, the cheap blood, the microwave romance, the laboured hostility, the incessant babbling on mohabbat and ibadat, not Arjit Singh yowling in a loop.
Rediff Rating: