Mardaani 2 works best and better than its predecessor when it stays true to its slick catch-me-if-you-can potential, feels Sukanya Verma.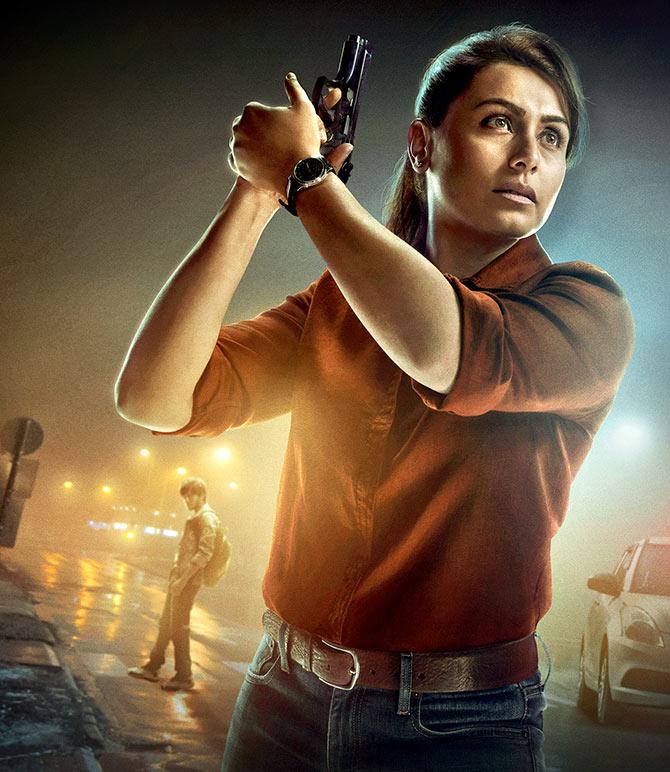 Once again Rani Mukerji's super stoic cop Shivani Shivaji Roy engages in a gripping game of cat and mouse to apprehend a boyish perpetrator and draw our attention to her skills.
What makes her significant is that she is good at the job.
What the movie makes it a point to tell you is that she is a woman good at the job.
Predictably then, the question of if a guy could have done it better has to arise.
There will be a pain-in-the-neck male subordinate making things difficult for her and a patronising boss insisting on playing by the rules.
Gender bias plays hugely on Mardaani 2's mind otherwise too, be it the hate crime it perpetuates or the culture of victim blaming.
Sometimes it is a bit too much on the nose -- heroine ko hero nahi banna chahiye.
At the same time, it's nice how Shivani exploits the very patriarchy that obstructs her path to use it as a tool to get her way.
When she does get to have a final say, she cuts to the chase in a desire that is fuelled more by pragmatism than passion -- barabari toh door ki baat hai, filhaal hissedari mil jaaye wohi bahut hai/
Mardaani 2 works best and better than its predecessor when it stays true to its slick catch-me-if-you-can potential.
The scene shifts from Mumbai to Kota where Director Gopi Puthran, and writer of the first one helmed by Pradeep Sarkar, creates an innocuous seeming demented antagonist called Sunny (Vishal Jethwa) -- the kind evokes a couple of misogynistic, misanthropic psychopaths from the British television show Luther. (In the 2014 film, Tahir Bhasin's character is a Breaking Bad fan and takes the name Walt after Walter White.)
What is unusual (and creepy) is how Sunny regularly breaks the fourth wall and lets us into the workings of his sick mind.
Imagine a Dhoom 2-like disguise changing chameleon adept at disappearing into the mundane yet teasing a face-off when he deems them worthy.
What distinguishes him is the degree of crime.
Sunny's deception isn't disposed to stealing.
Here's a baby-faced monster leaving behind a trail of brutally tortured and murdered women accompanied by a backstory that rejects any possibility of redemption.
Young Jethwa persuasively makes your skin crawl as he viciously alternates between theatrical and grisly.
If only all its 105 minutes were as shrewd as he and Shivani project.
Between spoon feeding motives and relying on too many contrivances to provide Sunny an easy escape, Mardaani 2 loses on nuance.
Rani Mukerji is where it scores.
Her perfect hair and eyelashes haven't budged an inch, but there's a serenity to her groomed, gritty policewoman.
She is not playing to the gallery.
Five years have passed and there is a sense of evolution and acceptance in her hawk-eyed persona.
Her instincts, even the most far-fetched ones where you have to grant she knows because she knows, are trustworthy because of how she wears her perceptiveness on a sleeve.
Rediff Rating:

---
Sukanya Verma is the Principal Movie Reviewer for Rediff.com.
She can be contacted at mailto_sukanyaverma@rediffmail.com
---