'Channelise your inner Durga -- you should roar so loud that the guy will run away from you.'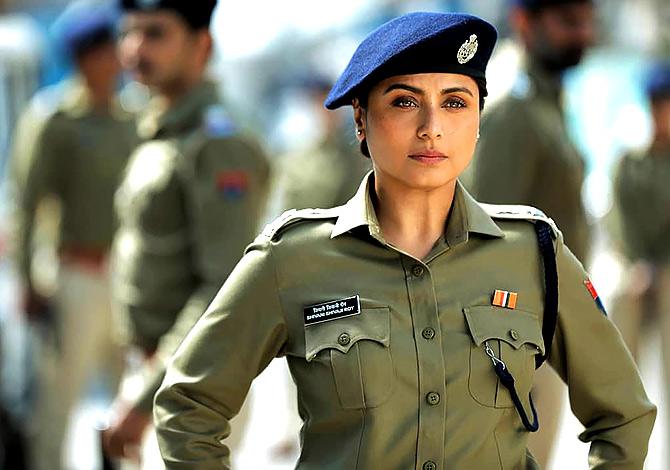 Rani Mukerji promises to make powerful cinema with her next release, Mardaani 2 where she reprises her role of the tough cop Shivani Shivaji Roy from the original.
Directed by Gopi Puthran, the sequel deals with a serial rapist.
"I truly believe that Durga resides in us, women," Rani tells Rediff.com Contributor Mohnish Singh. "If a woman believes that and she chanalises that energy, she will be able to ward off a lot of things."
You learnt swimming for a scene in Mardaani 2.
By God's favour, I didn't drown and am sitting in front of you right now!
I have hydrophobia.
I have had it since I was young.
But through Mardaani 2, I have mostly expelled that fear from my life.
As soon as I finished reading the story, I asked (writer-director) Gopi Puthran just what he was thinking when he wrote the scene with underwater action (smiles).
He insisted on that scene, so I told him that I did not know how to swim.
I suggested that we start shooting the film and when this scene would come, we would worry then.
I tried several times to coax him into changing the scene, but he was adamant.
So I met Anees Adenwala who taught me everything.
Through Mardaani 2, I learnt swimming, underwater action and sequence scene in 20 feet deep water.
Where did the fear of water come from?
When I was young, I was learning how to swim.
One day, maybe, I was going to drown and my mother, who was there with me, pulled me out of the swimming pool. She never took me back.
One of the funniest things happened when I was filming Chalte Chalte.
There was a scene when Shah Rukh Khan and I were in the water. My mother was there during the shoot.
She was so scared that I was in the water.
Shah Rukh had to console her.
What made you choose Mardaani 2?
When Gopi Puthran came to me with this script, I liked it very much.
The issue that the film tackles, the story it tells, the message it brings resonated with me.
How do you choose your films or roles?
As an actor, through the different stages of my life, I have reacted to film scripts and roles depending on what my head space was at that point of time.
Mardaani came when the Nirbhaya incident had happened and, as a country, we were all very angered, upset and shocked.
This was the first time the media got us the gory details of what had happened to that girl.
It was shocking how somebody could do this to someone.
We were all angry in some way or the other.
People had conversations about it.
Some people came on the road with candles to protest against this crime.
As an actor, I chose to channel my anger through a film, through a character called Shivani Shivaji Roy.
Was there any pressure doing the second installment of the franchise?
I think Mardaani is not a regular franchise.
Shivani Shivaji Roy embodies the spirit of women empowerment in its true form because women, when they watch a film like this, get inspired.
They feel empowered.
It's a different kind of subject we are dealing with.
So more than being pressurised about how the sequel would be, the more important aspect was that we were raising an important issue.
Are we able to talk about a serious crime our city or country is facing?
Is there an important message that we can give through this film?
That was the pressure.
Your character is very good at self-defence. Is this what women should embody?
I have always said that women must channelise their inner energy because I truly believe that Durga resides in us, women.
If a woman believes that and she chanalises that energy, she will be able to ward off a lot of things.
We are in a time where we need to learn self-defence.
There is no other way.
There is always time for discussions and conversations, but what do you do when you are in a situation like that?
You have to be aware at all times.
In Mardaani 2, I give this message again.
When you hear about the incident that took place yesterday, a lot of women won't like to hear about it because it disturbs them. They don't want to deal such things.
But now is the time to understand and be aware.
Either learn self-defence or channelise your inner Durga -- you should roar so loud that the guy will run away from you.
What do you expect your future roles to be like?
Today, as a mother, when I see my child -- she is heavily into singing and dancing -- she cannot watch my films because she is too attached (to me). She likes to see me in happy spaces, singing and dancing.
So my next film could be something where I am probably singing and dancing.
I don't know what will attract me because as an actor, I have to keep a balance between what I want to say through my characters and what I want to do as an actor.
So there might be times where I might not be doing films with a social cause.
It might be something that's just fun.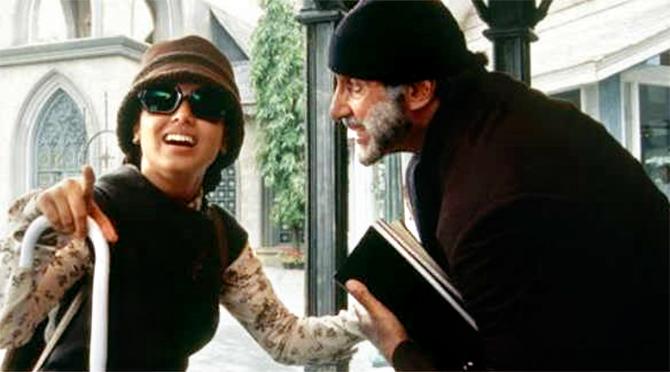 A film like Mardaani 2 also talks about mental fitness.
The biggest gift God has given us is our life.
When I did Black, I really started valuing my life because when you meet people who cannot hear, cannot see, cannot talk, you suddenly realise that it's a big thing that we can hear, see and talk.
When you use sign language, your arms start hurting because you have to communicate with your fingers and arms.
So there are certain things that we take for granted.
And the biggest gift is our life.
If you are going to get bogged down with certain things around us, that's not good.
We don't get a career, we get depressed.
We don't get the marks we want, we get depressed.
My parents passed away, we get depressed.
We don't achieve success, we get depressed.
My wife doesn't give me good food, we get depressed.
There are so many reasons why people are getting depressed.
But the most important thing is that God has given us our life and we must find ways of bringing happiness into it.
Everybody goes through problems, but you have to deal with it and understand that this is life.
The trailer of Mardaani 2 has been received very well.
For a small film like ours, when people notice the trailer and talk about it, it is very heartening because we are not big, mainstream films where it becomes an event and everyone is going to go and watch.
But the final result is on Friday, when people decide what they think after watching the film.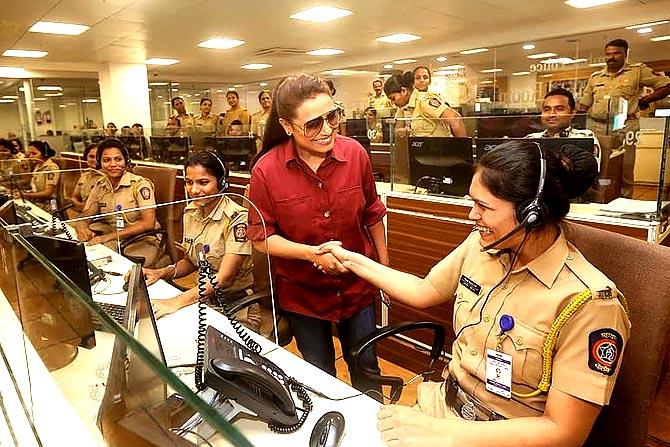 What was the best part about making this film?
What I am really happy about is the kind of female officers I met through the making of Mardaani and Mardaani 2.
I am so happy to get to put their bravery and courage in a mainstream film because normally when you talk of cops, people think of male officers.
When we talk of pilots, we think of male pilots.
When we talk of doctors, we think of male doctors.
But these professions are genderless; there are female pilots and doctors.
Now, with the Mardaani franchise, when you think of an officer, you will think of a female officer.
---
Mohnish Singh dabbled as a copywriter before making a transition into entertainment journalism. You can contact him at movies@rediff-inc.com
---