'If everybody knows your name, that's success. Isn't that what society tells us?'
'I experienced all that at a very young age.'
'So how come I wasn't happy?'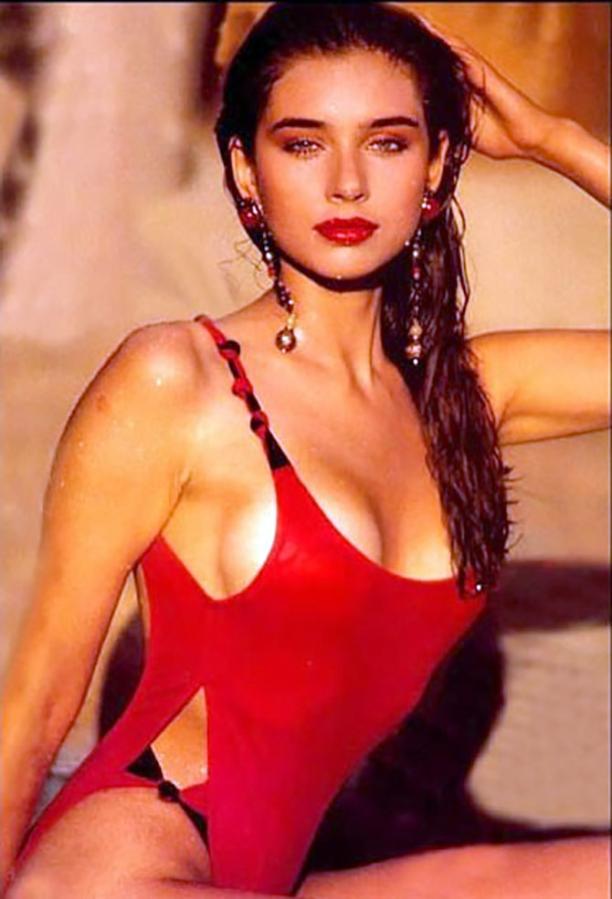 Remember that picture?
It's the one that made Lisa Ray an overnight star.
The light-eyed girl in the blood red swimsuit caught everyone's attention with a single photograph and suddenly, everyone wanted a piece of her.
From magazine covers to advertisements, even a music video, she tried her hand at everything and sprinted up the ladder of success.
Decades later when she looks back, Lisa says, "My career began on the edge of a blade. On one side, there was instant success and recognition. On the other, there was deep pain and trauma."
Everyone saw the success.
No one saw the pain.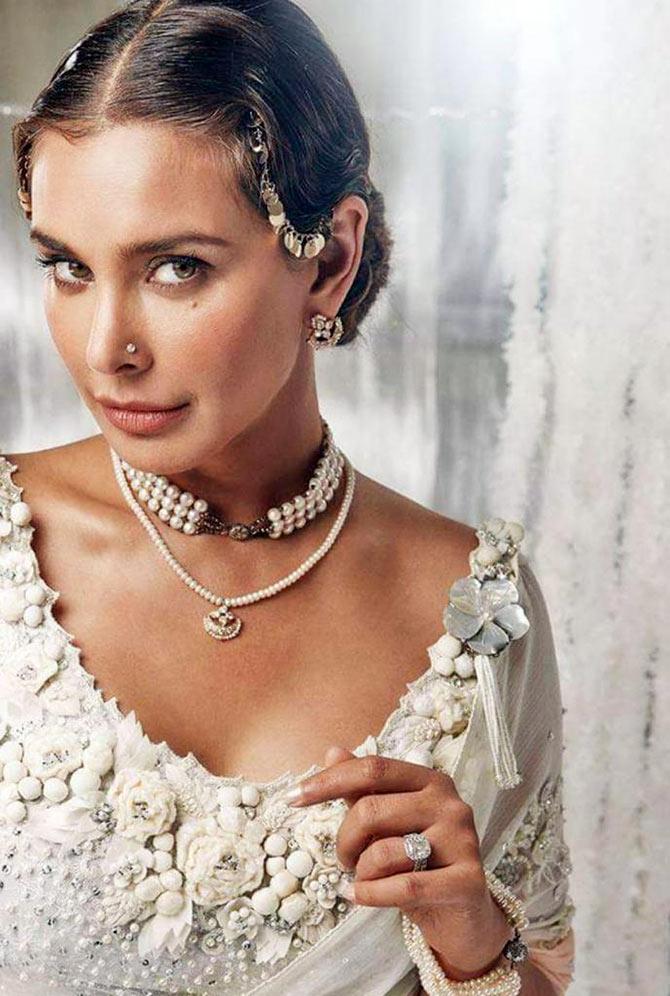 "I call myself an accidental actress," Lisa tells Ronjita Kulkarni/Rediff.com.
It all happened when the Canadian citizen visited India at the age of 16.
Her mixed roots of a Polish mother and Bengali father immediately got her noticed by Gladrags magazine editor Maureen Wadia.
'I am her discovery, if you will,' Lisa had acknowledged during a conversation with Siddharth Dhanvant Shanghvi at the Tata Lit Fest. 'She's incredible, fascinating, strong, a visionary and perhaps even a little ahead of her time.'
'Even though, at some point, I had to run away (from her) because I felt she was very controlling, I understand something about Maureen now. Within this beautiful, glamorous, married to one of our country's most influential and wealthy industrialists (Nusli Wadia), she just wanted to be seen and recognised. Not as the wife of an industrialist, not as a socialite... "See me. See my capability, see what I am." Of course, she had certain benefits and privileges, but I recognise that that's where her controlling nature came from. But I was too young to understand it (then).'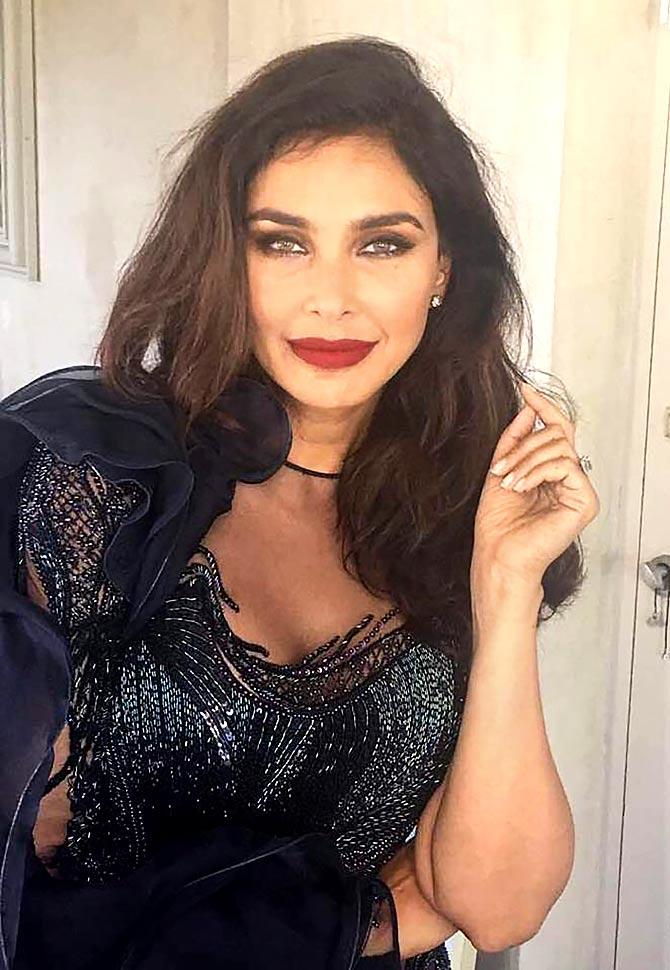 It was a terrifying time in Lisa's life. A few months after that sensational Gladrags photoshoot, Lisa was faced with personal tragedy -- a car accident with her parents in Canada led to her mother living the life of a quadriplegic from 1991 until her death in 2008.
It was very traumatic for Lisa, and she writes about it heart-breakingly in her memoir, Close To The Bone.
But that wasn't the only thing Lisa had to grapple with in life.
Instant fame made sure Lisa got trapped in the image she had become, and it led to eating disorders like bulimia. She also faced severe identity issues, thanks to being born to two different bloodlines.
"Because I was labelled so strongly in India...I was put in a box, and you can't grow in a box," she says, explaining her inner turmoil at the time.
Lisa tries to explain, "I'll tell you what happens when you experience incredible overnight success and yet, you're deeply unhappy because of a personal tragedy. You start to question all of those aspects that society sells us on the definition of success."
"What do we need to be happy? We have to be successful, right? You have to have money. You have to be famous. You have to have a reputation. If everybody knows your name, that's success. Isn't that what society tells us?"
"I experienced all that at a very young age. So how come I wasn't happy?"
"Of course, there was a part of me that was deeply broken by the tragedy. So I understood very quickly, that success is not what is sold by society. And that set me on this quest of figuring out what is lasting happiness, and I've been doing it ever since."
"I don't socialise. I never go for parties. I don't enjoy it. I was given something that other people value, or think of as sacred, but it had no value to me," Lisa adds. "Maybe that's why it never went to my head and why I was able to say no to a lot of opportunities that other people would have said yes to."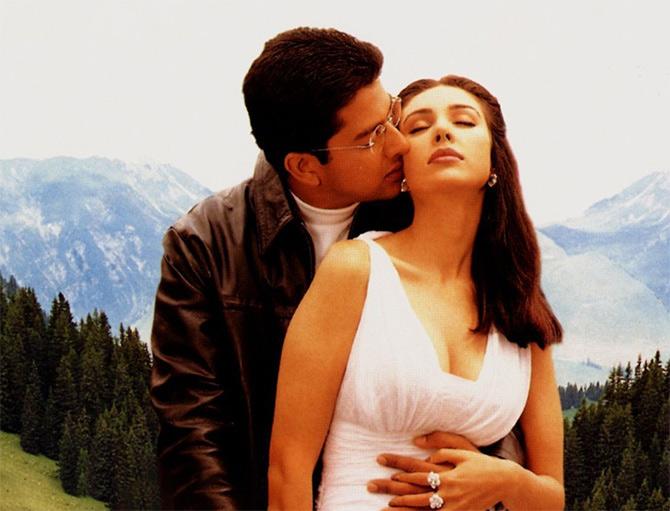 The "opportunities" included Bollywood.
'There wasn't a great lure to Bollywood,' she told Shanghvi. 'I never saw myself gyrating to Govinda. Of course, I would listen to his songs because that's what you did, but that (working in a film) was just not for me.'
'Also, it was a shady business because the underworld had its way with it; that was public knowledge. So there was no motivation for a successful model.'
Though the Bollywood spotlight did not light up Lisa's world, she couldn't let it slip by entirely either.
So she tried her hand at Vikram Bhatt's 2001 film Kasoor, an unofficial remake of the Hollywood film Jagged Edge. It was a hit.
"I enjoyed the acting, but I don't hold any value for Bollywood. I never have. I just wanted the experience," she says.
Kasoor's success made sure that Lisa's career picked up speed.
Lisa sums up her feelings around this time in her book: 'I woke up one morning to the realisation that I had not seen a sunset for the past five years; I had been working with my back to the sun or travelling to the next location.'
It was a low phase in her life, when she completely withdrew into herself, yet not stopping working.
'My life was hurtling in a particular direction where I knew I had to make drastic changes in order to be happy, in order to find or nurture lasting happiness or contentment. I was starting to make those changes, but I was so damn stubborn, I was so broken that nothing less than diagnosis of a serious blood cancer would make me stop,' Lisa told Shanghvi.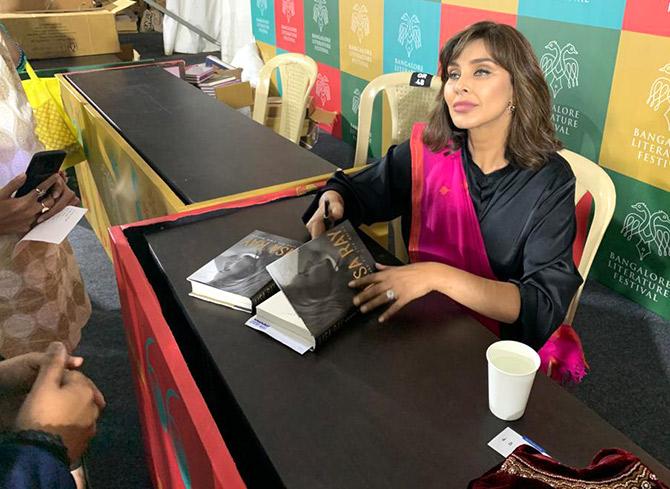 Lisa was diagnosed with Multiple Myeloma in 2009, nine months after her mother passed away.
And while it was one of the toughest times in her life, it did not change her.
"Everyone seems to perceive that cancer was the seminal transformation in my life, but the transformation was happening a good 15 years before. Of course, it had a very strong impact, but it was one of the many things."
"The seeds of my cancer and the seeds to overcome it were planted decades before I was actually diagnosed. Cancer did not transform me," she insists.
It did, however, help her when she least expected it.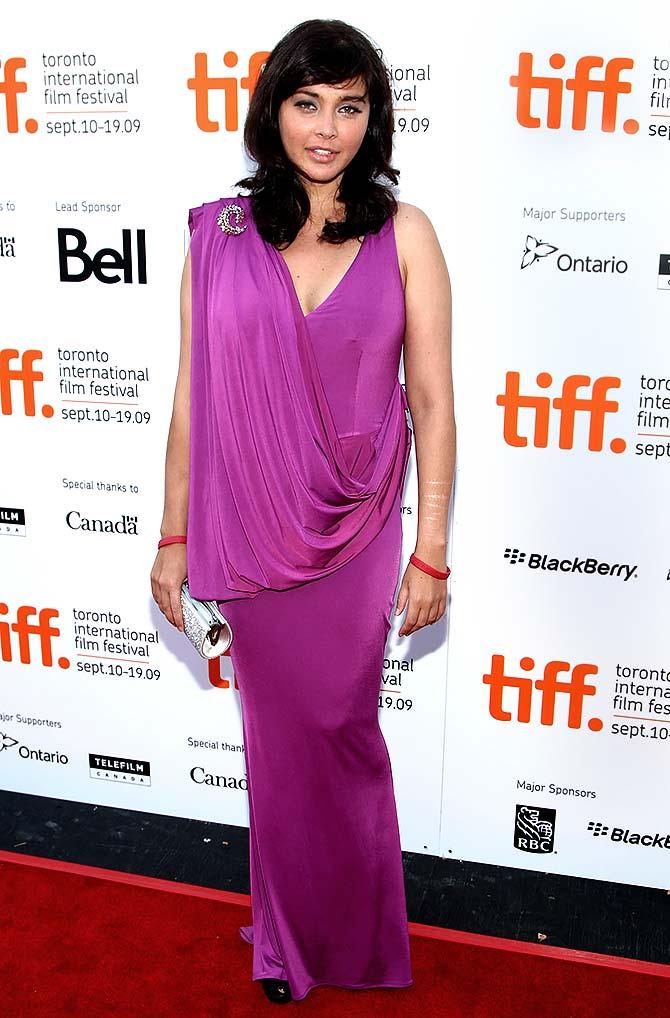 Lisa narrated an incident to Shanghvi: 'The diagnosis happened on the eve of a film premier at the Toronto International Film Festival.'
'I have always hated red carpets with a passion. I hate everything that it stands for, especially for women because you're just picked apart -- from the way that my hair is styled to the shoes you've chosen is being critiqued and judged.'
'So, in a weird way, the opportunity to stand on the red carpet about three months into my treatment -- when I was bloated and overweight on steroids -- (helped me) break that cycle of what I call the pathology of perfection because it wasn't just about other people's opinions of me. It was also about my own opinion and all the things that we, as women, internalise. You know, the world's opinion of what we're supposed to look like, as a woman and as a woman in front of the camera.'
'So that opportunity to come out of the closet, as it were, on the red carpet, was an extraordinarily transformational moment for me.'
Lisa discussed her cancer days in some detail with Shanghvi, peeking into her toughest days while undergoing treatment.
She also tried to explain what her stem cell treatment was.
'Stem cells are like mother cells. Every cell is created from a stem cell and produced in our bone marrow. Today, what science can do is actually programme the cells. You can add a special protein and make it a skin cell or a heart cell,' Lisa explained.
Then, she narrated the way it was administered to her.
'Essentially, what they were going to do is kill me and hopefully bring me back to life,' she said, drawing gasps from the audience at the Tata Lit fest.
'On the first day, they give you such a high dose of chemo that it more or less kills you. The idea behind this is that they're killing every last stray cancer cell that might be still in your body. And because it's a blood cancer, it's tricky, right? It's not like a tumour that's localised in your body. So they give you that high dose and nuke you,' Lisa explained.
'On the second day, they infuse you with your own stem cells. Those stem cells take about two or three weeks to find their way back into your bone marrow and start producing.'
'I don't necessarily identify with the Christian faith, but this happened on Christmas. So it was rather interesting that (I was) sort of being killed and brought back to life.'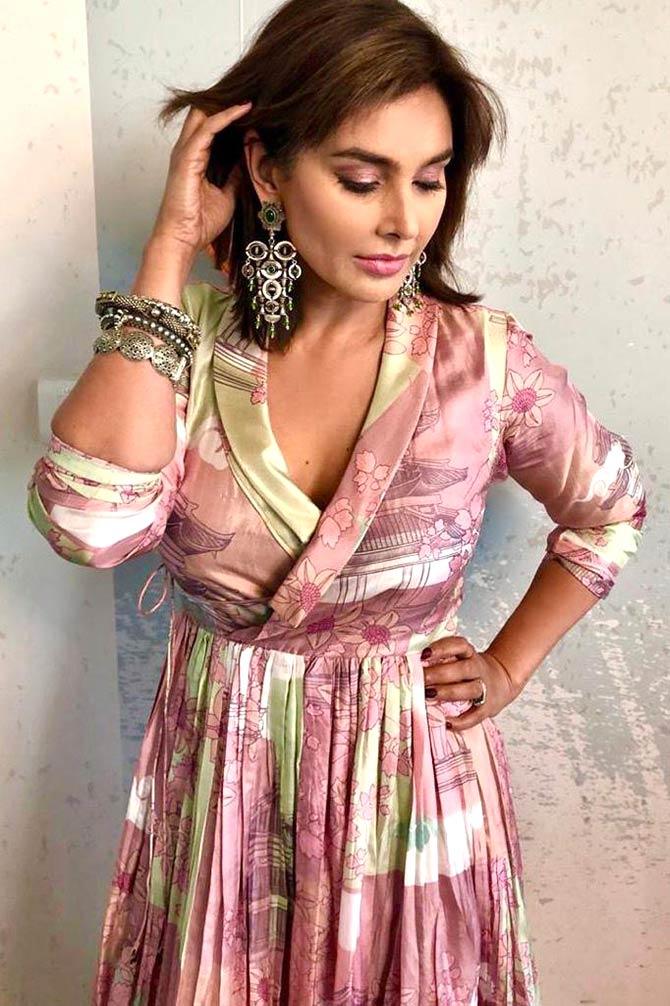 Months after the cancer left Lisa, she was commissioned by a publisher in Canada to document her experiences.
Since Lisa had chronicled her cancer journey in a blog, she got right down to it.
"But I felt a lot of pressure to release it. I found that very ironic because my entire story is about swimming against the stream, being rebellious and not accepting convention and then here was a boardroom full of men in suits, telling me that I must release the book because 'April is a good month for cancer memoirs'!" Lisa exclaims.
"I freaked out! Perhaps I wasn't ready for it to be in its final form, so I ended up withdrawing the manuscript. I wasn't comfortable at all. I said I needed to rework it and then I procrastinated. I had to marinate on it."
Lisa finally reworked it in the last year-and-a-half.
"I delivered my twins the day after I delivered my manuscript," referring to her adorable daughters, Sufi and Soleil.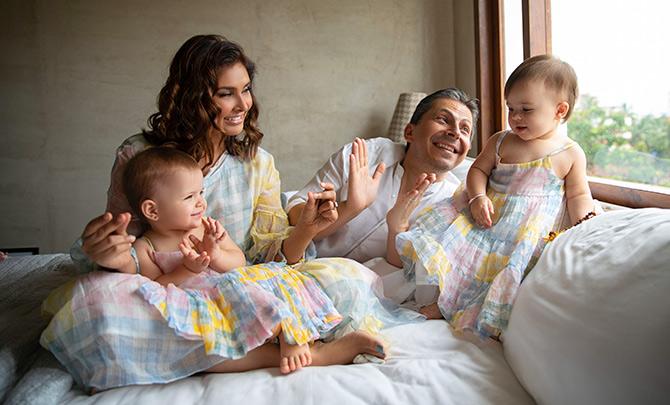 How does she look back at life now?
"Life has just been a magnificent, rollicking journey. I love every single moment of everything," says Lisa.
"I have no regrets."
"I love the phase I'm in, but I love everything that's happened before as it turned me into the woman that I am today."
---
Ronjita Kulkarni has been writing about the movies for 20 years.
You can read her features at http://www.rediff.com/movies/ronjita-kulkarni.html
You can contact her at ronjitad@rediff-inc.com
---