For those fed on a steady diet of Bollywood movies, the definition of a love story is a young couple running around trees, mouthing mushy dialogues and a few intimate scenes.
But Jayabrato Chatterjee's love story is something else. For one, the film titled Love Songs -- Yesterday, Today and Tomorrow is in English. The director, who is back after a gap of 22 years (his last film was Kehkashaa in 1985), tells the story of three generations.
The first generation is represented by the grandmother of the family, Mridula, played by Jaya Bachchan.
Mridula did not have a happy youth due to a doomed love affair with Aftab Jaffery (Om Puri). Her husband died early, even before her daughter Palaash (Shahana Chatterjee) was born. She brings up her daughter, a naughty and headstrong girl, alone. One day, Palaash dies in a road accident leaving her son motherless. Mridula steps in and brings up the boy, Rohan (Prthviraj Choudhury) single-handedly, once again.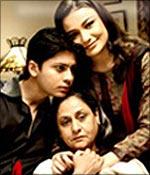 The film touches on many aspects of love -- the unspoken love between Mridual and Aftab even in their old age; the on and off relation between Palaash and her musician husband Dev (Neil Bhoopalam); the love between the young couple Rohan and Tara (Doel Basu); and Aftab's relation with his lonely and often drunk wife Rabea (Mallika Sarabhai).
Shot in Kolkata, the film's imagery brings the city's rich culture to life. A smattering of Bengali here and there gives it an authenticity, which is done so well that you can understand them even without subtitles.
The pace is slow but the brilliant performances by the lead cast makes up for it. Shahana Chatterjee and Jaya Bachchan deserve special mention. The only exception is Mallika Sarabhai, whose loud performance is unimpressive.
The film's music is average, which is a shame since music is an important aspect of the story -- Shahana plays a club singer. Besides, Usha Uthup's powerful voice doesn't match Shahana's fragile frame.
In conclusion, Love Songs is quite a pleasant watch.
Rediff Rating: