Watching a remake is not always fun, but Jyotika excels in the role made famous by Vidya Balan in Tumhari Sulu, feels A Ganesh Nadar.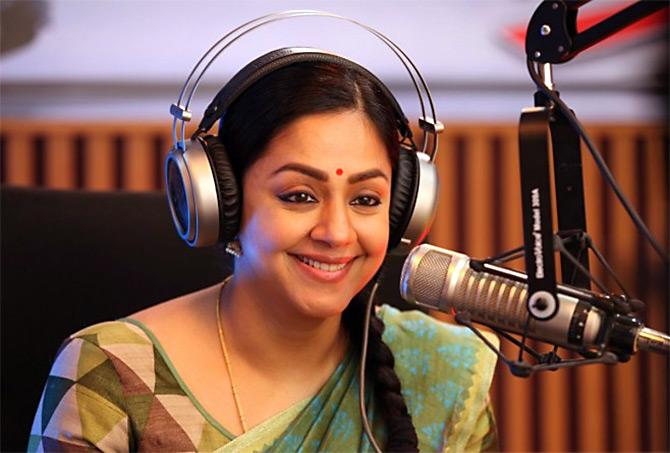 The first time Rajinikanth, Vijay, Suriya, Vikram, Kamalhaasan and Sathyaraj appear in their movies, they are always greeted with wolf whistles, shouts and thumping of legs.
Now, for the first time in my life spanning six decades, I have heard Tamil cine-goers extending the same welcome to a heroine!
No, I am not being a misogynist, I'm simply writing what I saw.
Watching a remake is not always fun, but Jyotika excels in the role made famous by Vidya Balan in Tumhari Sulu.
Jyotika brings colour to Kattrin Mozhi as she sings duets with her husband (Vidharth) and participates in a lemon race at the start of the film.
Her transformation from housewife to award-winning RJ is not hard to believe because you can never forget that you are watching Jyotika on screen.
She is a star in the film, and though the others act admirably, she still shines bright.
In fact, that is the only thing that doesn't sit well in the film -- you can *never* forget that Jyotika is a star.
Even though Vidharth acts naturally, the couple is not evenly matched.
In Tumhari Sulu, Vidya Balan's chemistry with her husband Manav Kaul felt realistic.
Here, even though Vidharth portrays support, possessiveness, jealousy, love and helplessness excellently, he cannot match up to his star wife.
Lakshmi Manchu, who plays her boss, is a corporate success. She brings a lot of empathy into a role even as she anticipates the mood of her employees even before they tell her.
The employees in the supporting cast have done a good job too.
Senior artiste Manobala and M S Bhaskar add shades of sorrow to the lighter moments of the film.
When everyone acts well, you know the director -- in this case, Radha Mohan -- has done a brilliant job. He is very thorough in his work and knows just what he wants from every character.
A K Kaaship's music is good. But the best song from the film is the Malayalam chartbuster Jhimki Kammal, which has the entire theatre dancing.
Since the story revolves around an RJ, it has some hilarious moments too when callers call in with their requests, especially those who cannot help their vulgar thoughts.
But there are callers who touch you too.
Like Ayushmann Khurrana's special appearance in Tumhari Suli, Kattrin Mozhi sees a cameo from Silambarasan. Simbu plays to the gallery by declaring his love for our RJ.
There's an element of women empowerment in Kattrin Mozhi as well, as the cab who picks Jyotika up for a late night assignment is also a lady.
Rediff Rating: