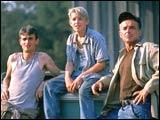 If you are one of those viewers who believes in the diminishing returns of sequels, Jeepers Creepers 2 will reinforce that view.
You may even start admiring such inane films as Freddy vs Jason.
The first Jeepers Creepers, also directed by Victor Salva, had a few scary moments. Yet, despite the general revulsion for the new Jeepers Creepers, the movie is on its way to becoming a decent hit.
Made at about $30 million, the horror film grossed a promising $16 million in its first four days and looks destined to make a little more than what
Jeepers Creepers
grossed two years ago ($35 million).
The film is produced by Francis Ford Coppola, whose company has made several small-budget artistic hits such as The Virgin Suicides, directed by Coppola's daughter Sofia.
Jeepers Creepers, featuring relatively unknown actors, tells the story of Creeper (Jonathan Breck), who, every 23rd day of every 23rd spring, eats flesh. His feeding frenzy becomes more urgent as the 23 days of flesh-eating come to an end and he has to wait for another 23 years to feast on human flesh.
Creeper has just started terrorising a group of varsity basketball players, cheerleaders and coaches stranded on a remote highway. Fighting their own phobias and prejudices aboard the stranded bus, the terrified group is forced to come together and battle the winged creature.
Salva has created the homophobic and racist character Scott Braddock (Eric Nenninger), who accuses fellow team members of being gay. But his screenplay does not do justice to the themes of homophobia and racism and, like much else in the film, seems too forced.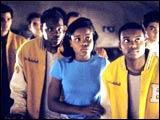 Another principal character in the movie is Jack Taggart (Ray Wise) whose son had been killed by Creeper. He is determined to hunt the creature down. Creeper swoops from the sky, attacks the victim, and flies off with the prey.
Director Salva does not fill the movie with a high level of chills and thrills. Even with its implausible storyline, it could have been an atmospheric horror film with decent performances.
But the actors too do not rise above the material offered to them. They go through their emotions and fears with a mechanical enthusiasm.
CREDITS
Cast: Ray Wise, Jonathan Breck, Eric Nenninger
Writer-Director: Victor Salva
Running time: 1 hour 45 minutes
Rating: R for horror, violence and language
Distributor: United Artists