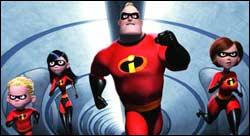 A brisk, witty and boisterous adventure with heart, The Incredibles ponders over the fate of an incredibly talented family forced to lead a mediocre, anonymous life. The computer-animated film also questions the dynamics of a conformist world, but impressively does so without being didactic. It also shows that an excellent 'human cast' can sustain an animated film, without the help of bugs, sharks, toys and lions.  
Furthermore, it proves an animated film does not need big Hollywood stars such as Eddie Murphy or Will Smith to boost its appeal. Here, lesser mortals such as Craig T Nelson and Holly Hunter enliven the film with their rich voices, turning it into one of the more entertaining films in recent years.
The film, written and directed by Brad Bird, has an excellent chance of flying beyond the $300-million mark at the North American box-office. It could give the Disney/Pixar combination another giant hit in the tradition of Toy Story and A Bug's Life. And it would do so despite the arrival on Wednesday of Polar Express, the $100 million plus Tom Hanks extravaganza also aimed at family audiences. 
If you think The Incredibles is one of the more entertaining, imaginatively directed films you have seen in a long time, please watch The Iron Giant, also directed by Brad Bird. Though the 1999 sci-fi film -- about a boy making friends with an innocent alien robot that a paranoid government agent wants to destroy was critically acclaimed -- it wasn't a box-office hit. But with the huge success that awaits The Incredibles, Bird's previous accomplishment may get a much-deserved revival on television, specialised movie theatres and the all-important DVD world.
Once upon a time, superhero Bob (Mr Incredible) and his wife Helen were famous masked crime fighters. But they had been forced to take on civilian identities and live in the suburbs, following a good deed that got them into deep trouble.
Leading a mediocre and colourless life for over 15 years and raising their children in seemingly quiet and appealing surroundings, Bob and Helen have to go out of their way to appear 'normal'. 
They also have to rein in their children: a teenage daughter, Violet (Sarah Vowell), whose moods are unpredictable; young and restless son Dash (Spencer Fox), who can storm his way through difficult terrains and toddler Jack-Jack who, we suspect, may have gifts of his own.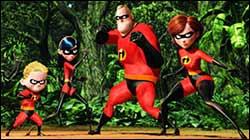 Though Violet's alter ego gives her invisibility, she can't exploit that gift because of familial compulsions.

Dash is so full of energy that Helen is always afraid he may inadvertently blow the family's cover. "Right now the world just wants us to fit in," Helen tells her children.

Meanwhile, Bob is a bored insurance man, whose waistline is further damaging the remnants of self-esteem he still possesses. Occasionally, the do-gooder sneaks out with a buddy (Samuel L Jackson) for an opportunity to help someone anonymously. But he yearns for his adventurous past.

Given his hunger for action, Bob doesn't suspect anything when he gets a mysterious call to a remote island for a top-secret assignment by the mysterious Mirage (Elizabeth Pena).

Back home, with his ears ringing with the possibilities of becoming a hero once again, he goes to a costume designer, the diminutive and scene-stealing Edna 'E' Mode (voiced wonderfully by director Bird), who is also the film's most colourful character. He wants to have new costumes designed for his new chores.

Mirage's proposition leads him into a trap devised by a nemesis called Syndrome (Jason Lee) a one-time Mr Incredible fan. Syndrome now wants to eliminate Mr Incredible and create a dangerous situation that only he (Syndrome) can overcome. In the process, Syndrome wants to be the new hero, the new Mr Incredible.

Syndrome's plan spurs the Incredible/Parr family to use their powers to fight the ambitious and ruthless villain.

The hair-raising adventure loses a bit of strength in the slack final 15 minutes but, even then, the film succeeds in providing exemplary diversion.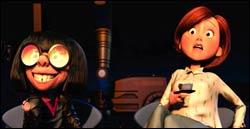 When the film was announced about two years ago, Pixar said it wanted to create a unique style blending futuristic visuals with a 1950s look for The Incredibles. And the computer-animation powerhouse has indeed succeeded in creating a visually arresting film that stands apart from recent hits like Shrek 2.
Some of the movie's best visual stunts come in the second half as the Incredible family gets ready for a new bout of adventure. Watch out for the scene in which Edna 'E' Mode changes the family's look. And the second half also has one of the most rousing scenes in the film as little Dash uses his newly restored speed power and breezes through a rain forest.
Though The Incredibles is one of half a dozen family-targeted films -- most of them having cost considerably more than its $80 million -- releasing in the last two months of the year, one suspects that it will be the film with the strongest legs.
CREDITS:
Voices: Craig T. Nelson. Holly Hunter, Sarah Vowell, Spencer Fox, Brad Bird, Elizabeth Pena, Samuel L. Jackson and Jason Lee
Written and directed by: Brad Bird
Running time: 1 hour, 55 minutes
Rating: PG
Produced by: Disney/Pixar