Hum Do Hamare Do is the kind of rush job rom-com that cuts to the chase after so much dillydallying and in such a dull manner, it completely misses the point, sighs Sukanya Verma.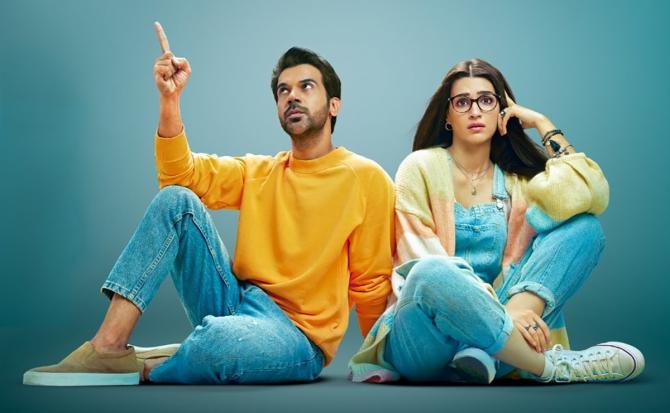 Only recently Aparshakti Khurana played a lead in a movie that felt like a public service announcement for population control and safe sex. The man is back to his best friend duties as Rajkummar Rao's BFF to the rescue in Hum Do Hamare Do.
The title, inspired from the catchy family planning slogan of the 1970s, does not centre around condoms like the aforementioned Helmet. Instead, it stars Rao as a desperate orphan willing to do all sorts of outrageous things to win his ladylove's hand in marriage.
She is a classic case of ridiculous 'terms and conditions apply' Bollywood so loves to promote for the sake of contrivances.
Apparently, Kriti Sanon will only marry a man with the sweetest set of mummy-daddy and a cute pet dog because she, too, is an orphan.
Her idea of romance is couples crying buckets in each other's company while watching Hum Aapke Hain Koun..!.
What should be a red flag is a source of aww to our smitten hero.
Instead of adopting a pooch whose melting eyes would make one overlook the paucity of parents, Rao ropes in a guardian figure (Paresh Rawal) from his childhood as well as his unrequited love (Ratna Pathak) to pose as his dad and mum and make himself more agreeable before Sanon's people (Manu Rishi Chadha, Prachee Shah Paandya).
Sham and sentiment blissfully coexist until the cat is let out of the bag.
As always, the deceiving party takes the high road condoning its lies with a hackneyed 'Main darr gaya tha' excuse followed by a folksy heartbreak song and the usual forgive, forget and fairy tale ending.
Pretend parents are a worn-out premise and require more than change of backdrop and protagonists in unique professions to infuse life into the silliness.
Basing it in Chandigarh is of no consequence if none of the city's traits or essence bear any real relevance to the plot nor having Rao play a virtual reality app developer or his love interest Kriti as a freelance blogger.
Rajkummar Rao, Kriti Sanon, Paresh Rawal, Ratna Pathak, Manu Chadha and Prachee Shah Paandya are likeable figures and able actors. They have the ability to hold a viewer even in bare minimum effort.
But in this lazily scribbled, charmless bore, every scene is designed to create a forced sense of panic over everyone finding out the truth about Rao's parentage and hurdles and quick fixes alternate as per convenience.
Both Paresh Rawal and Ratna Pathak Shah's characters are advantageously single setting the stage for a second innings, problems at Rao's workplace arise and resolve on whim, his social service gig as a tutor of street kids is limited to doodling homes and capital of Tanzania, a toady character appears from nowhere to play party pooper and a perfectly harmless fiancé turns into a twit as soon as it discomforts the plot.
If it means to debate over the virtues of a traditional family versus the one a man chooses for himself, it shouldn't be as flimsy as picking custom topping pizza over frozen pizza. Except it is the kind of rush job rom-com that cuts to the chase after so much dillydallying and in such a dull manner, it completely misses the point.
Hum Do Hamare Do streams on Disney Hotstar.
Rediff Rating: