Hope Aur Hum never strays into complicated territory and sticks to its gentle celebration of everyday highs and lows, says Sukanya Verma.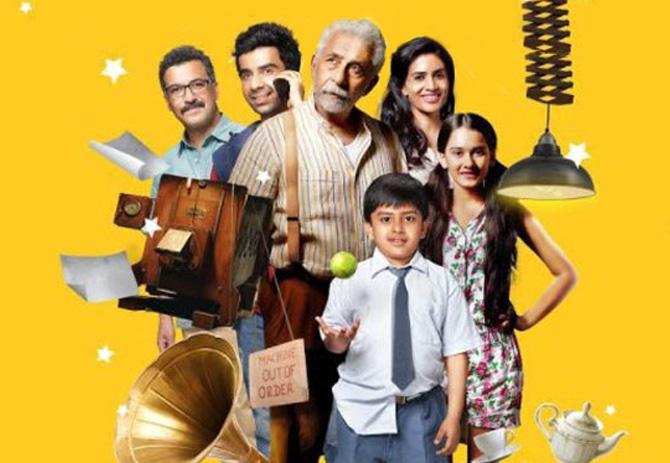 There's a crack, a crack in everything.
That's how the light gets in.
Leonard Cohen's insightful lyrics perfectly sum the optimism enveloping Sudipto Bandyopadhyay's directorial debut.
Hope Aur Hum looks at life's day-to-day setbacks and joys through the lens of childhood, youth and old age with a sentimentality that's moderate and meaningful.
Most of the film's bittersweet charm can be attributed to the easy-breezy, feel-good fervour it froths up around a bunch of actors blessed with marvelous instincts and down-to-earth accessibility.
The Shrivastava family paint a believable picture of togetherness around a pair of siblings (Virti Vaghani, Kabir Sajid) squabbling over space, their loving if slightly rankled housewife mom (Sonali Kulkarni), a mild-mannered, promotion-anticipating daddy (Aamir Bashir), his amiable younger brother (Naveen Kasturia) visiting from Dubai and their nostalgia-driven father (Naseeruddin Shah).
The mother's resentment is not unfounded.
Indeed, the cramped, cluttered house inhabited by growing children and growing needs could do with a little more room.
But will it be at the expense of their sweet grandfather's deep attachment to Mr Soennecken, a defunct German photocopying machine he talks to and treats like family?
When it comes to Mr Soennecken, he's a bit like Eeyore who once said, 'it's not much of a tail but I am attached to it.'
Hope Aur Hum doesn't go overboard with the melodrama.
Rather it sympathises with both sides.
The son is practical enough to understand his wife's vexation but also sensitive to his aged father's identification with a relic.
Despite the differences, these are nice people motivated by reason not greed, emotion not obsession and you feel one's predicament and another's heartache first hand.
Naseeruddin Shah plays the father, with an air of contained melancholy and seasoned empathy, someone the eager world doesn't have patience for but knows all too well.
Kasturia's nervous energy fits perfectly with his let's-see-where-this-lost-phone-episode-takes-me anticipation.
Bashir's pleasant presence is as welcome as Ravi K Chandran's no-fuss depiction of ordinary living.
Sonali Kulkarni's calibre shows in how she never allows her character's pragmatism to overshadow her decency.
The children are spunky and genuine and it's absolutely heartening to see the ever-so graceful Beena in the role of their cool, knowledgeable naani.
Bandyopadhyay's storytelling is marked by the continuous nature of life and surprising ways of destiny, simultaneously dividing its 90 minutes running time to bring out the terrifying face fear acquires when you are a kid as well as the beauty of serendipitous encounters in the carefree days of youth.
Neatly tying together these three different junctures of age, he highlights the wonders of hope and life's unfailing ability to come around. And when accompanied by Rupert Fernandes' guitar-rich soundtrack complementing its upbeat ideals, Hope Aur Hum acquires the irresistibility of a warm spring afternoon.
Hope Aur Hum never strays into complicated territory and sticks to its gentle celebration of everyday highs and lows. Its idealism may seem intentional, but never ever contrived.
Rediff Rating: