Hacked has plenty of highs for Hina Khan fans, but apart from that, there's not much to look for in the film, says Moumita Bhattacharjee.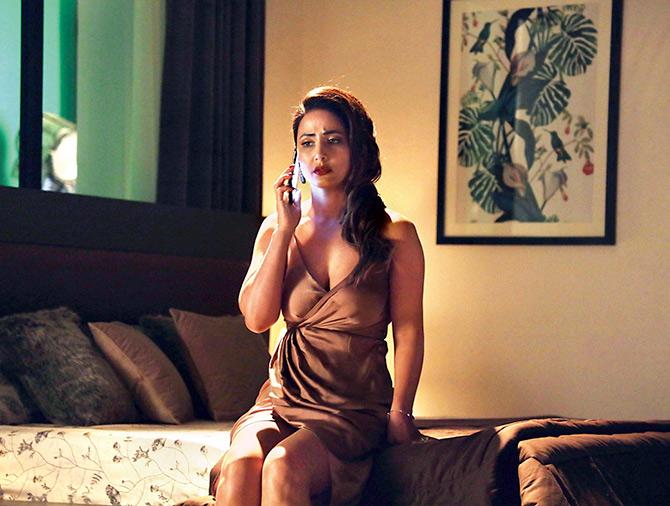 Here comes Hina Khan's big Bollywood debut.
A television star and Bigg Boss 11 runner-up whom social media just loves, Hina has made her entry onto the big screen with Hacked.
While watching the film, I could only think that her makeup artist and stylist deserve brownie points for making her look so pretty.
Sam (Hina Khan) is a successful editor of a fashion magazine, but she's very lonely.
She is in a relationship with a married actor (Sid Makkar) who keeps making false promises.
Her neighbour Vivek (Rohan Shah) is obsessed with her and tries to impress her with his good boy act.
On her birthday, a drunk Sam sleeps with Vivek and considers it a mistake.
Rohan, however, gets desperate about her. When he is rejected, he decides to take over her life digitally.
Being a pro hacker, Vivek makes Samaira's life a living hell and pushes her up the wall so much so that she loses herself for a while.
Of course, then she decides to take control of her life.
To know how she does that, you have to watch the film.
That's if you really want to know.
Don't get me wrong. Hacked has potential.
It shows us the reality that we are always watched.
Has it ever happened to you that while you were thinking of something, it pops up as an ad on your social media timeline?
If yes, you'd understand why the digital world is as scary as it is convenient.
Hacked exposes the dark side of it pretty well.
The way Vivek traps Sam in the digital world will leave you with a few seconds of dread because you know your information is the public too.
But the meandering scenes and excruciating length ruin its purpose.
The film could have been easily chopped, which would have made it pacier and less of an ordeal.
The twist in the tale has a terrible loophole and robs it of its sheen.
Rohan Shah, the lovable boy from many Web series, turns evil hacker, but goes overboard. Guess a few more Web shows would help him keep that in check.
Director Vikram Bhatt gets the plot right, but goes awry with execution.
Hacked has plenty of highs for Hina Khan fans but apart from that, there's not much to look for in the film.
Rediff Rating:

---
Moumita Bhattacharjee believes that writing on movies is pure fate. She can be contacted at movies@rediff-inc.com
---