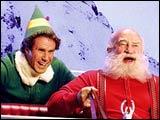 Endowing his role with infectious charm, Will Ferrell zooms into the top bracket of bankable stars with Elf, a Christmas comedy released weeks ahead of the festival season. The former television star had also featured in the hit film Old School, which was roasted by critics.
He has given a far more interesting performance in Elf and that should help bring Santa-size cheers at the box-office and a harvest of good reviews.
This is 36-year-old Ferrell's first solo lead role and he plays it without too much of sentimentality and far more emotions than comedic stars like Jim Carrey.
As I stepped out of the theatre after watching the film, I felt Santa has brought goodies to those souls disappointed with the new Matrix film. The film revolves around an elk out of the woods and has engaging performances by veterans Bob Newhart and Ed Asner.
A big surprise is Peter Dinklage as the conceited children's book author. Dinklage plays a very different role in the arthouse hit The Station Agent. Watch his great reactions when the ever high-spirited Buddy tries to embrace him after having mistaken the dwarfish character for an elf.

Ferrell is wonderfully entertaining particularly as the elf-reared naïf who bounces through New York in his green jacket, yellow tights and green hat. The briskly edited scenes show him spinning through revolving doors, negotiating his first escalator and waving at New Yorkers, telling them that he just loves to smile.
Even if you think that the film goes overboard at times with its cheerfulness, you may still find it difficult to resist it because of smart performances and brisk pacing.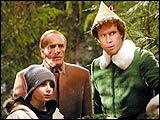 Papa Elf (Newhart) narrates at the start how Buddy (Ferrell) sneaked into Santa's toy sack as an infant on Christmas Eve. When Santa (Asner) returned to North Pole and discovered the orphaned boy, he decides to keep him back. The elves then raise him as one of their own.

Many years later, Buddy, who is too overgrown for an elf, learns he is not an elf and that he has a biological father in New York. So from a picture postcard in North Pole, Buddy comes to New York and finds it rather grim, cold and too busy.

His father Walter Hobbs (James Caan) is a busy book publisher and has no time for sentiments. Worse, he doesn't like surprises.
Imagine him being forced to accept Buddy following the blood tests that confirm the paternity. When his wife (Mary Steenburgen) and son (Daniel Tay) slowly begin to accept Buddy, Hobbs is further startled.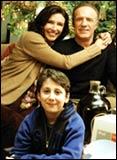 Buddy's early days in New York include a stint at a departmental store where a rather jaded Jovie (the sweet Zooey Deschanel) befriends him. As the grim looking father Caan offers one of his better performances.

Director Favreau, 37, treats the film for most part as a collection of delightful gags. This is his second outing as a director after Made, a 2001 film. Favreau, who has also acted in many movies including Daredevil and Deep Impact must have enjoyed coaxing spontaneous performances in his first big budget film.
CREDITS

Cast:
Will Ferrell, Bob Newhart, Ed Asner, Mary Steenburgen, Daniel Tay, Peter Dinklage and Zooey Deschanel
Director:
John Favreau
Story:
David Berenbaum
Running time:
90 minutes
Rating:
PG for rude humour and language
Released by:
New Line Cinema