'You'll find more wisdom on such matters in a Sara Ali Khan interview,' says Sukanya Verma.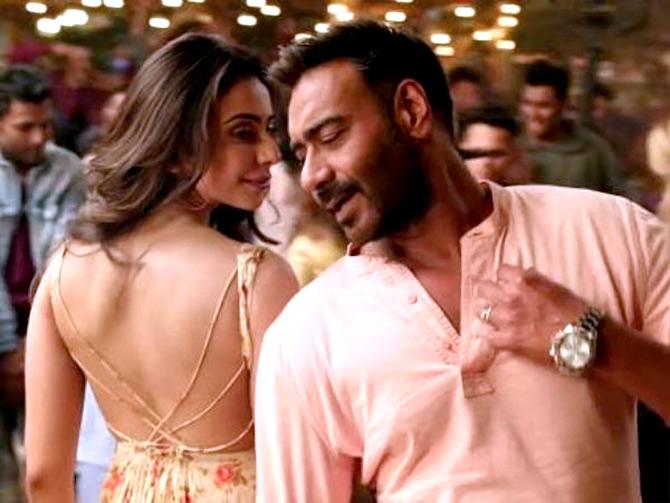 Did I just hear 'misogynist' in a Hindi film? The irony is not lost when its co-producer and writer happens to be Luv Ranjan in whose context it's often used. Though not as explicit in its sexism as his best-known works (Pyaar Ka Punchnama series, Sonu Ke Titu Ki Sweety), the Akiv Ali edited and directed De De Pyaar De is hardly an improvement.
Though the rom-com is eager to seem like this progressive film encouraging the prospect of a 50-year-old guy in a relationship with a 26 year old and then taking her to meet the parents, ex-wife and kids, it neither has the confidence to own the premise nor the nuance to not judge them for it.
Propelled by hypocrisy and deceit at every turn, De De Pyaar De resorts to the age-old pretext of cold feet and lies to slump into a modern family mockery.
Earlier in London, a mister moneybags Ashish (Ajay Devgn) bumps into a stripper at his friend's bachelor party. Turns out she's not really a stripper but just a good friend testing the latter's commitment to her pal and his fiancée.
A round of innuendo about 'feeling' nothing follow and amused onlooker Ashish gets sweet on the not-a-stripper-but-engineer-cum-part-time bartender Aisha (Rakul Preet Singh). Lines like 'you could do me but you didn't?' or constantly harping about how 'hot' she looks must surely help.
Ashish's therapist buddy, a crackling Javed Jaffrey, is skeptical about their May-December romance. Aisha's jilted boyfriend (Sunny Singh) is not quite out of the picture either. Regular 'uncle' digs guarantee we grasp the age difference between the two.
Equally adamant allusions to Devgn's 'Singham' machismo insist we pay no heed. The tonal tug-of-war continues as Ashish wistfully admits, 'Tumhara kal mere kal se bahut zyada hai', during a rare moment of reason.
But if Michael Douglas and Catherine Zeta-Jones, Saif Ali Khan-Kareena Kapoor can do it, so can Ashish-Aisha?
The scene promptly shifts from London's plush pad to a swanky property in Kullu and Manali's picturesque hills where Ashish plans to introduce Aisha to his estranged family. It's hard to tell what's louder -- the background score or his hyper, high-pitched clan?
Amidst the cacophony and confusion, Aisha finally realises what we've known all along -- Ashish is a wimp and De De Pyaar De gets busy manufacturing contrived catfights between Aisha and his wife, Manju (Tabu).
Rivalry of the old and new ensues and two perfectly capable, independent women take potshots at each other over car and music analogies. The humour is dated and distasteful.
Add to this, unresolved issues between Ashish and his bitter daughter (someone who hams like a demon), her old-school in-laws, a buffoon son besotted by his girlfriend, Manju's organic food obsessed suitor (Jimmy Shergill doing his luckless lover gig yet again) -- Ali tries to squeeze in too many angles in an already overloaded hodgepodge.
It's still not as odd as watching them discuss doing the right thing around a surly Alok Nath.
De De Pyaar De is full of recycled imagery. It's not a copy, but a lot of its thoughts are dumbed down versions of what you enjoy about similarly themed It's Complicated. Or even Friends.
There's a hint of Monica and Richard's conversation about being too old to do the same things again. Or Rachel persuading Ross's young girlfriends into reconciliation with absolutely no need to feel insecure about her presence.
If De De Pyaar De still feels watchable, it's because it has an ace in Tabu. Everything about her feels right. Her styling is great. Her timing is perfect. She makes the most sense and has the best scenes. One where she has a meltdown is especially poignant. Until De De Pyaar De insists on offering a explanation in the most moronic manner possible.
Her chemistry with Devgn is easy. But the movie doesn't really build on it as much as exploit it to. What comes through is less of a broken marriage and more like a reunion between friends where one's got another's back.
As comfortable Devgn is around her, he is entirely unsuitable for the part. His hangdog expression lacks the charm or adorability that would make his cannot-help-himself, self-serving schmuck work.
Rakul Preet Singh is chirpy in a role that could do with some bite.
In a better-written movie where a woman's worth wasn't likened to a car's engine and design, where she wasn't doing all the apologising and making up but the man mutters one line and all is forgiven, there'd be some potential for insight.
Here, everybody gives a few speeches and the complexities of such arrangements are conveniently resolved, forgotten or slipped under the carpet.
You'll find more wit and wisdom on such matters in a Sara Ali Khan interview.
Rediff Rating: