Watch Commando 3 only if you want to to lose your sanity, warns Prasanna D Zore.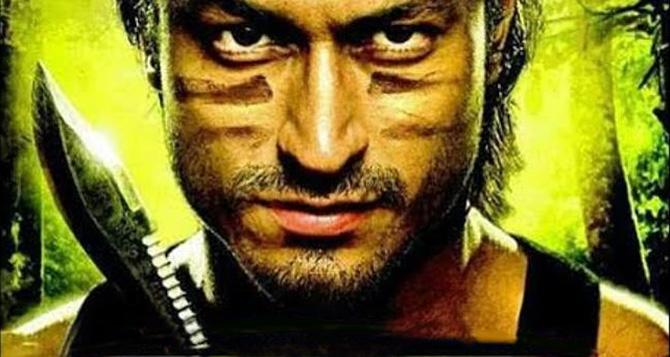 Watch Aditya Datt's Commando 3 only if you want to to lose your sanity.
Commando 3's Karanveer Singh Dogra, is one of those brainless, muscular Indian agents, who can neither act nor fight.
If it were not for some clever sound techniques during the shoddily-shot action sequences when our desi commando flattens terrorists in London, Vidyut Jammval's kicks, punches and all those incredible somersaults would have fallen flat.
Out on a mission in London to save India from a terrorist plot that aims to deepen the communal divide between Hindus and Muslims, our desi commando is so emotional and mercurial that he does not even flinch about pointing a gun at the chief of British Intelligence (yes, that's the name of the intelligence agency, not MI6), who acts dumber than our brawny bhai.
Dogra is assisted by an agent named Bhavna Reddy (Ankita Dhar) who speaks with a heavy Hyderabadi accent, and an officer of British Intelligence Mallika Sood (Angira Dhar). Both women end up falling in love with brawny bhai.
There's also this British Intelligence officer named Armaan, who is of Pakistani origin and helps with his computer skills.
Commando 3's plot is simple: A megalomaniac plans a terror attack in India to avenge the Babri mosque demolition in Ayodhya, and riots against Muslims so that he and his international businessmen-cum-jihadis can establish the Khalifa in the country.
Director Datt makes a hash of this plot as our desi commando goes bang-bang and boom-boom, first in India and then in London.
Darius Yarmil's screenplay and Junaid Wasi's dialogues are audacious and they end up stereotyping Muslims.
The only saving grace is the terrorist Buraq, played terrifically by Gulshan Devaiah, who gives the viewer a clear vision into his ideas of jihad.
He looks and acts like a man possessed by evil, who brainwashes his young son by making him watch him mercilessly butcher a failed jihadi and justify it as an act ordained by God.
If you take Gulshan Devaiah out of Commando 3, the film will look like a horrifying fairy tale.
Rediff Rating:

---
Prasanna D Zore covers politics and everything that goes with it, and does the odd movie review once in a while. He can be contacted at prasannaz@rediff-inc.com
---