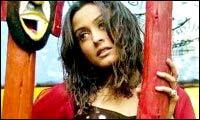 Raju Singh's score for Tigmanshu Dhulia's Charas is an admirable mix of genres and vocal talents.
Truly a joint effort, the soundtrack of Charas features the voices of Kumar Sanu, Hariharan, Alka Yagnik, Chitra, Shaan, Sonu Nigam, Sunidhi Chauhan, Mahalaxmi Iyer, and Soumya Raoh and lyrics by veteran Javed Akhtar. The music director uses them carefully, selecting singers for the right song to good complementary effect.
The best number on the album is the electric Yeh dhuan. Mahalaxmi Iyer's husky vocals pack a punch with this foot-tapper. With its catchy beat, lyrics and orchestration, the song has all the makings of a chartbuster.
Following close are the earthy sounds of Bambhole that give free reign to Sunidhi Chauhan. Her display of tonal maturity in this piece is noteworthy.
The title track
Charas
by Soumya Raoh has lyrics from the director Dhulia himself. Synthesised beats and an electric guitar lend it a strong discotheque feel.
Sonu Nigam teams up with Shaan in the zestful Hum hain deewane. The vibrant use of strings and percussion in the background lend the song vigour, but it is not as impressive as the other upbeat songs.
The mood changes now as does the genre with emphasis shifting to the ballads. Sulgay hue hain sees Alka Yagnik and Kumar Sanu in soulful melody. The Hariharan-Chitra rendition of Tumhen arpan is a tuneful demonstration of the duo's talents. The flute overtures make this song pleasing to the ear.
The musical score of Charas is a commendable effort and makes for interesting listening.