Stunning looking, Bulbbul keeps the scares to a minimum, observes Moumita Bhattacharjee.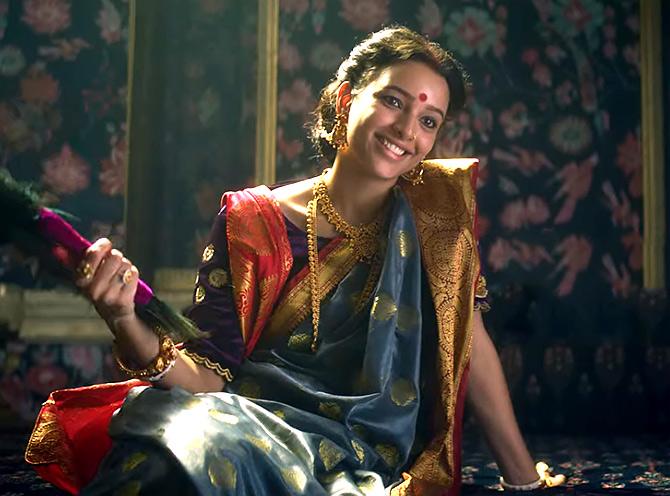 'Kyun? Aurat bhi to ho sakti hai?' a Thakurayan asks her brother-in-law, who is convinced that either a beast or a man is capable of mauling someone to death like that.
That's what Bulbbul is all about.
Women's emancipation and feminist streaks can be felt in almost every scene.
So what about the scare fest it promised in the trailer? There is a bit of that too, but not as much as you may have expected.
Bulbbul bears a lot of resemblance with Rabindranath Tagore's Nastanirh (The Broken Nest) or Satyajit Ray's classic Charulata based on the same work.
Be it the characters or their dynamics, Bulbbul could easily be a nod to the great author.
Set at the end of the 19th century, the film opens with a child marriage between Bulbbul (Tripti Dimri) and a much older Indraneil (Rahul Bose).
Bulbbul believes she was getting married to Indraneil's youngest brother Satya whom she bonded with because of their age. Their friendship gets stronger after marriage.
But this closeness becomes a subject of displeasure and anger for Indraneil who unleashes it on his young wife.
Indraneil sends Satya (Avinash Tiwari) to London as a means to separate them.
It doesn't help Bulbbul's cause when Indraneil's mentally handicapped twin Mahendra, played again by Rahul Bose, wreaks her life further while his wife Binodini (Paoli Dam) deepens the wedge in their marriage.
Five years later, Satya returns and comes face to face with a crisis where someone has been on a killing spree.
The villagers believe it is the job of the 'witch', but is that all?
The opulence and grandeur of the setting will suck you into Bulbbul's world immediately.
It is brought to life beautifully by Cinematographer Siddharth Diwan and exquisite production design by Meenal Agarwal. At times, it threatens to overwhelm the story.
The frequent hints at how women are oppressed and made to do men's bidding hit you.
The scene that stands out is Binodini's subdued rant about how she was tricked into marrying a mentally unstable man. She isn't Bulbbul's well-wisher, but she understands the pain.
What works in its favour is that these scenes never get preachy.
If we talk about the scares, Bulbbul keeps it to a minimum.
More than the spooks, it's the assault scene that will rattle you. The heady background music does the trick of keeping the mood somber yet dangerous.
But there's no explanation behind the red tinge that engulfs the better part of the movie. Nobody wonders why every night is in reddish hues. It gets jarring after a while.
Also, the pace falls after the characters and their complexities are established. The film could have been shorter than its 134 minutes runtime.
But what really threatens to derail the whole narrative is the unexplained subplots.
Satya takes just a few seconds to realise who the culprit behind the killings is, with no explanation.
Had it been so easy, he wouldn't have been toiling so hard to find the perpetrator, dismissing the theory of a witch as he has a rational mind.
Bulbbul is a Tripti Dimri movie. She aces the titular character like a boss.
Be it the sweet-natured young wife besotted with Satya or the lady of the manor steeled by experiences but with a cold smile, she is spectacular.
The movie brings the Laila-Majnu pair of Avinash and Dimri together, and there's a spark between them, although Tiwari's role is pretty one-dimensional here.
Paoli Dam is exceptionally good as the evil woman.
Parambrata Chatterjee's character of Dr Sudeep lacks depth, but manages to stay with you.
Bulbbul makes all the right noises about women and their plight at the hands of men.
But to get that point across, it gets a bit neglectful towards witch folklore.
Rediff Rating: