Saif saves Bhoot Police from tedium, observes Namrata Thakker.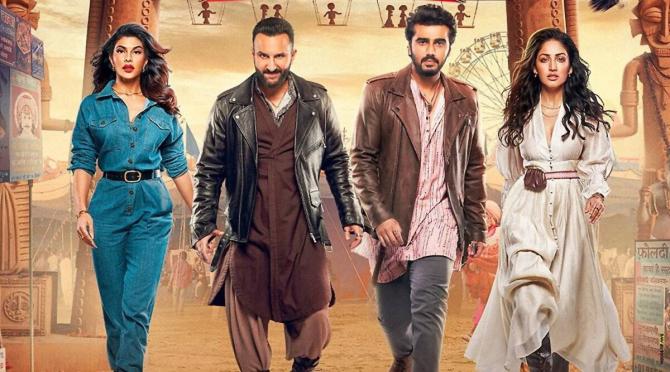 Film-makers have been exploring the horror-comedy genre in Bollywood, but only a few films have tasted success.
Barring Golmaal Again and Stree, films like Nanu Ki Jaanu, Roohi and Laxmii have failed to impress the audience and critics.
Bhoot Police, starring Saif Ali Khan, Arjun Kapoor, Yami Gautam and Jacqueline Fernandez, created intrigue with its trailer. However, Pavan Kripalani's directorial venture doesn't live up to expectations because of its immature script mixed with cliched sub-plots and poor execution.
The story revolves around two brothers, Vibhooti and Chiraunji.
Since their father was a tantrik, they follow suit. But rather than help people, their aim is to make money.
While Chiraunji believes in the supernatural and wants to better himself, Vibhooti is the sceptical one who is in it just to get rich.
When Maya (Yami Gautam) approaches the brotherss to get rid of a kichkandi (evil spirit), Vibhooti and Chiraunji take off to Dharamsala with her. They arrive at a beautiful estate in the middle of the hills to help Maya and her sister Kanika (Jacqueline Fernandez).
Vibhooti is convinced there is no such thing as a kichkandi. Kanika believes likewise and isn't one bit impressed with the brothers.
At one point, Vibhooti and Kanika team up out of their own respective greed.
The part where they scare the estate workers is hilarious. So is the scene where Saif's character realises ghosts are real.
The build-up to the climax is good, but then, alas! the movie falls into the trap of Bollywood cliches.
Bhoot Police starts off on a good note with Saif in his element, delivering comic relief.
Arjun Kapoor makes an earnest attempt to play his part well, but never rises to the occasion.
As brothers, Saif and Arjun could have done a lot more to elevate the chemistry between them.
The same is the case with Yami and Jacqueline. You never get to see them connect as sisters.
Individually, all the characters have their moments, but collectively, the cast just doesn't create any magic.
Javed Jaaferi is in the film too, but his character has no arch.
Bhoot Police had a lot of potential, but the makers have ended up making a horror-comedy which is not too funny, hardly scary and quite frankly, quite missable.
The only saving grace is Saif Ali Khan who carries the film on his shoulders.
Watch Bhoot Police if you are a Saif fan and don't mind slapstick comedy.
Bhoot Police streams on Disney+ HotStar.
Rediff Rating: