What was the need to fictionalise a series on real events that were far more horrific because they were real? asks Vaihayasi Pande Daniel.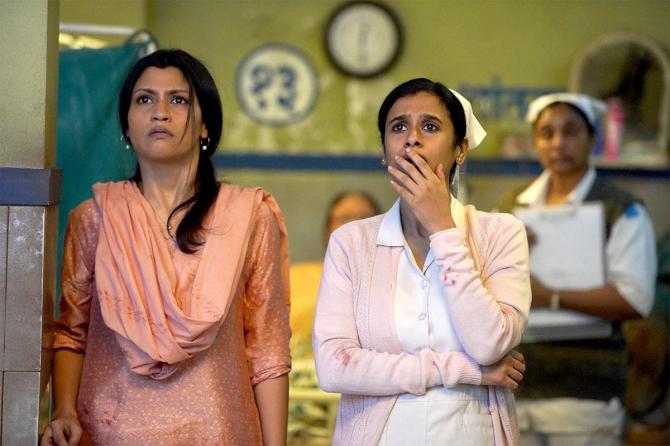 Why did one of the 26/11 terrorists, who died, come alive?
How did two senior Mumbai police officers die, instead of three, and in the hospital instead of on the spot?
Did the terrorists really speak Arabic?
The actual attackers from Pakistan made an attempt not to kill any Muslims when they went on a killing spree on November 26, 2008 in Mumbai. So how come the first persons they shot onscreen in the Taj (called Palace hotel) were two Arabs?
Why is a hospital the location for a fierce, fight-to-death gun battle instead of a hotel, where actual gun battles took place in 2008?
What about the incredible bravery of Mumbai policeman Tukaram Omble who actually wrestled a terrorist?
One ended up spending the first two episodes (98 minutes) of the Mumbai Diaries 26/11 series painfully trying to diagnose what kind of beast it is, especially since the facts were all ulta-pulta.
Like an okapi, which is neither fully zebra nor fully antelope or fully giraffe, Nikkhil Advani's Amazon Prime Video series, based on Mumbai's arguably worst terrorist attack, 26/11, is neither a masala film nor a documentary. but some sort of cross-breed caught in the middle.
It's a slightly bewildering fictional docu-series.
You can chalk all the confusing khichdi done with the historical facts down to creative license and get on with the viewing.
Once you do that and sit down to watch it with your microwaved popcorn (slightly cheaper than the multiplex fare) in hand, it's a decent watch. Actually, let's be charitable, it's quite a good, competently-made series.
What's there to complain?
It's slick. Gripping. Racy. Ambitious. And quite sharp.
Camera work in and around the streets of Mumbai, mainly at night, is handsome.
Music/songs are appropriate, sparse and haunting in places.
There is a bunch of above average acting put in by the bouquet of actors who appear on the series.
Mohit Raina does a fairly masterful job as the angry-young-man-going-to-be-middle-aged man but deeply humane Dr Kaushik Oberoi, when he is not jumping on people's chests trying to get their hearts re-started or gleefully defibrillating or yelling f**k every two seconds.
Konkona Sen Sharma's character, as the head of hospital social services, is slightly vague but her histrionics are top notch.
Shreya Dhanwanthary essays quite well the role of the panting, half-demented television journalist insatiable for the most dramatic breaking news, ethics be damned.
Tina Desai, as the Bengali-speaking brave hotel hospitality manager, is frickin' good.
Natasha Bhardwaj capably plays (three stars) the charming, pretty but fragile and troubled Dr Moneybags's doctor daughter.
Some of the characters with lesser parts did excellent jobs -- Prakash Belawadi as the pushover but ultimately courageous hospital administrator Dr Mani Subramanium; Mishal Raheja as the easy-going but caring doctor colleague Dr Sahil Aggarwal; Balaji Gauri as the severe, cross-hanging-at-her-neck Mallu nurse Sneha Cherian; Satyajeet Dubey as young, sensitive, earnest intern Dr Ahaan Mirza; and the boys who played the terrorists, especially Amit Verma, did it with elan.
A word on the storyline which -- we warn you -- deviates radically from the actual events of 26/11: The first day of internship for medical graduates Ahaan, Diya and Sujata is baptism by fire when terror attack victims flood 'Bombay General Hospital' and they work shoulder to shoulder with ace trauma surgeon Dr Oberoi and his super-efficient nursing team, aided by the cool Dr Sahil.
The action picks up when the terrorists from Pakistan AK-47 their way into the hospital and it's a long day and night of murder, mayhem and bloodshed as the medics find themselves in the midst/joining a battle between the police and the killers.
This mythical battle is a far, far more bloody, adrenaline-packed, daring and scary than what actually happened back in 2008.
There is action on other fronts as well.
Ananya Ghosh (Tina Desai) keeps her guests calm, well fed and plied with booze at Palace hotel and helps lead them to safety.
Journo Mansi Hirani (Shreya Dhanwanthary) chases the best footage of the attack with her cameraman colleague Sachin, escaping death at several instances.
Incidentally, there seem to be only television journalists following the attack and the media is totally villainised and presstitut-ised (years before the word gained parlance) through the series.
Mr Advani and Mr Gonsalves: There were also responsible journalists, who covered 26/11, who did not reveal sensitive information.
The series has several sub-plots involving its characters and the camera wanders backwards in time, and geographically too, to a miscarriage in a bathroom, a death due to an epileptic fit, incidents of wife abuse in the UK,the PMO in Delhi, the warm, cosy home of the Islamabad Lashkar-e-Tayiba handler, remotely manipulating terror, as he plays doll house with his sweet-faced daughter and also to a scene of the 1984 Sikh riots in Delhi.
A little cameo between elderly Sikh chronic hospital patient Beeji (Mohini Sharma) and nurse-orderly Samarth (Pushkaraj Chirputkar) is touching when she explains in a folksy manner why religious animosity is irrelevant.
Or the little interlude where the terrorist and his victim duet a song from a Shah Rukh Khan film (yes, not very plausible but sweet nonetheless).
Nothing and no scene was really that moving that it reduced you to tears. Or filled you with immense joy. Nor that electric or nail-biting that it pushed you to the edge of your chaire.
Suffice to say it was exciting enough to propel you through episode after episode, in nearly one sitting, even if it was slightly predictable and not very heartbreaking.
That's because witnessing the real 26/11 in 2008 was far more shocking and traumatising.
Most of us, beyond a certain age, remember exactly where we were on the night of 26/11.
We also remember what exactly we thought the attack first was -- firecrackers after a cricket match, a round of gang warfare -- before one discovered, with a chill that clutched at your heart, that it was anevilly and meticulously designed attack on our city, coldly planned many months before.
On the night of 26/11, I was on Marine Drive (south Mumbai) hiding under the seat of a black-and-yellow cab, fearfully watching the police shoot and then 'arrest' Ajmal Amir Kasab, as wailing ambulances, police vehicles drunkenly whizzed this way and that, while fielding phone calls from the editor and international calls from the family checking if I was safe at home (I said I was).
I can still vividly, chillingly remember the hoarse, high-pitched fear in the voices of the policemen who nabbed Kasab.
But at the time, my two colleagues and I -- who had ventured in a taxi from office to cover what we thought was a bomb explosion at the Trident hotel like earlier Mumbai terrorist incidents -- did not know Kasab was a Pakistani terrorist.
Nor did we realise this was an ongoing live attack occurring at multiple locations and that there was a connection with this Marine Drive shooting and what was happening at the Trident.
While the police were beating up the captured Kasab and banging his head and torso against the back of the getaway car it only occurred to me that he was maybe a gangster or a crook or a mad motorist the police were having a violent altercation with.
Once Kasab had been carted away to the B Y L Nair hospital, central Mumbai, we tumbled out of our taxi and peered at the smashed and shattered silver Laura Skoda and at Kasab's left behind red and black shoes, not realising that the ground was littered with live grenades.
And still not knowing this was part of the Trident situation.
From Marine Drive, we headed to the Trident and then to the Taj Mahal Palace hotel and ultimately, to the Jewish-owned Nariman House and were on our feet covering the three-day attack for 72 hours non-stop, nearly getting shot twice.
That was 13 years ago.
But the fear, the terror, the anguish has never really faded or left me.
Why am I telling you all this?
Because even if Mumbai Diaries 26/11 does a proficient job -- if you ignore the wild fiction -- of recreating the dastardly terrorist attack of November 2008, its narration does not really dredge up the horror one felt or refresh memories of those grief-stricken days.
Why?
Because what exactly is a fiction docu-series?
26/11 was an attack that could have been scripted for a film or thriller novel. But it was reality. Fiction that became fact.
When what could be fiction becomes reality, it's simply horrifying.
So why did Advani & Co take reality, put it on steroids, gussy up the events, make it even more evil and scary, and turn it back into fiction?!
What was the need to fictionalise a series on real events that were far more horrific because they were real?
That's what's extremely puzzling about Mumbai Diaries 26/11.
A well-researched film, using actual events, even if the characters are representative, might have worked far better.
The moment Mumbai Diaries 26/11 treads back into fiction, it sort of loses the plot and it loses you.
It's not believable. It's fantasy.
-- Doctors who turn cop to take on terrorists. And win.
-- Miraculously successful medical operations that mostly did not take place.
-- Invincible policemen who triumph in battles that were impossible to execute back in 2008 with just muskets and lathiS.
Lastly, can you ramp up a painful tragedy to make it more tragic?
This tragedy is sort of owned by its 175 victims and its survivors.
It somehow seems slightly insensitive to tamper with history and build an even more exaggeratedly evil, fantastic narrative of a bloody calamity that sadly lost so many people their lives.
Mumbai Diaries 26/11 is streaming on Amazon Prime Video.
Rediff Rating: