Manoj Bajpayee confides in Rediff.com's Ronjita Kulkarni about his 'long journey filled with rejection, betrayal, misery, failures and disillusionment.'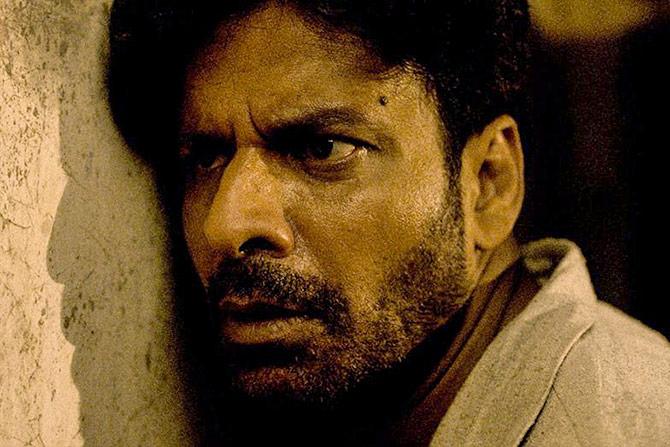 "I have made a career of flop films," says Manoj Bajpayee. "o;And yet, 90 percent of my films are celebrated."
The actor pauses, lets his words soak in, even as he holds your eyes with his.
It's as if he delivers punchlines even off screen, in his everyday conversations.
Manoj is currently promoting Gali Guleiyan, a film he is very proud of. He calls it his toughest role yet.
Directed by first-timer Dipesh Jain, Gali Guleiyan is a psychological drama about child abuse.
"I found the story unique," says Manoj, "I knew that if I managed to pull off this character, it would be unforgettable."
"I have given it my all," the actor adds. "I have fallen sick, lost a lot of weight, went on the brink of a breakdown."
"This is my toughest role because we have never made these kinds of films or written these kinds of characters. Dealing with a mind like this, which is so complex, makes it tough. It took me one-and-a-half months to get inside his mind, and really understand him."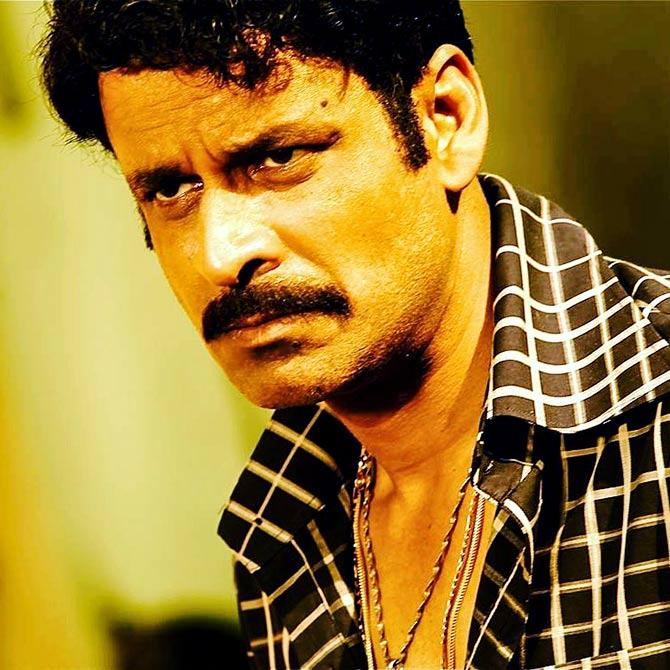 "Most children in this country are abused in some way or the other because of the attitude of parents towards their children. The film shows how easy it is for adults to take out their frustrations on kids," Manoj says, expounding on the larger issue.
"Kids are so fragile and have no strength to fight back. Adults feel there is no danger coming from the other side. But they can't do the same thing with other adults," he says.
What are his fears as a parent to his seven-year-old daughter Ava Nayla?
"When you have a child, you have to have a hawk eye. You have to be with the child all the time," he says.
"We don't leave our child with anybody, relative or friend. We are always with her, and this should be expected from all parents," he emphaises.
While he plays the victim in Gali Guleiyan, he has played the villain a few times in his career.
As soon as you say 'villain', Manoj interrupts you.
"I don't believe in the words 'hero' and 'villain'. It is 'oppressor' and 'oppressed'," he says.
"The oppressor," he explains, "can be a positive person. He may come across as a positive person in front of you, but he may be an oppressor behind the four walls of his house."
"My job is to take out the negativity from a positive guy and take out the positivity from a negative guy. I don't play positive or negative roles. This is what I find fascinating about acting."
'The dream that I had for myself did not match any director's idea about me'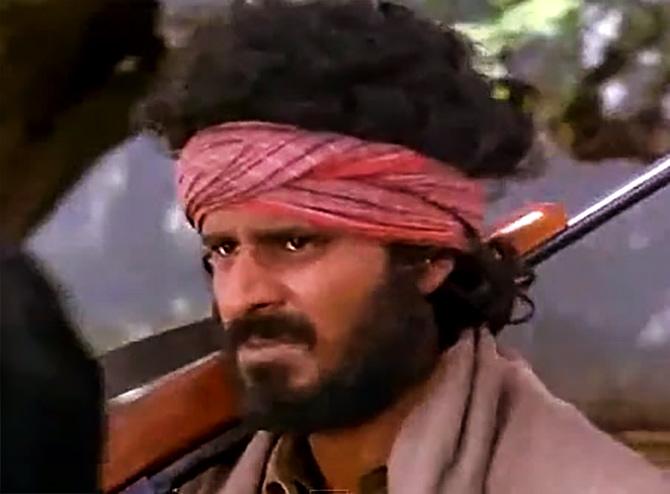 How did the boy from the small village of Belwa in Bihar get fascinated about acting?
How did he dream of an acting career all those years ago?
"I don't know," he says with a chuckle. "You have to ask God. In that small village, on the Nepal border, this boy was born and when he started watching films, he realised that this is what he wanted to do. Sitting in a theatre and watching films, that's what I enjoyed most."
His father had named him after Manoj Kumar, he reveals.
The journey, of course, wasn't simple at all.
"It has been a roller coaster ride, never easy," the actor recalls. "Now, you look back and give an interview and feel very good about yourself, but when you are going through it, it's the most miserable situation to be in. You don't know where your life is moving.
"The dream that I had for myself did not match any director's and producer's idea about me. To prove myself with that idea I had of myself was very tough. It was a long journey, filled with rejection, betrayal, misery, failures and disillusionment."
"My lowest point came when I shifted to Mumbai in 1993. Nothing was happening. This is right after I did Bandit Queen. I had no way to tell people that I know my job. There was no casting department here. All the commercial films that were happening in those days did not have any place for me. I didn't know what to do with myself," Bajpayee says.
"Even TV serials were not giving me a job."
"You didn't know when your next meal would come from. Sometimes, you go hungry. Sometimes, you don't have money to travel to a friend's house, who has food."
"I thought of going back home many times because there were no roles, only promises," he recalls.
Director Hansal Mehta, one of his oldest friends, remembers this time in Manoj's life.
"Manoj would visit the sets of (the cookery show) Khana Khazana often because he always got food there," Hansal says.
The duo collaborated on a television show, Kalakaar in 1994.
"I had met Manoj in Ashish Vidyarthi's home earlier, then Vishal Bhardwaj had shown me his picture from Bandit Queen," Hansal remembers.
"It was a pleasure to direct him even then. He would do so much more than just what was written."
Manoj's minor role in Shekhar Kapur's Bandit Queen got him noticed.
Among those who did was Ram Gopal Varma.
'There would be suitcases of cash coming to my house'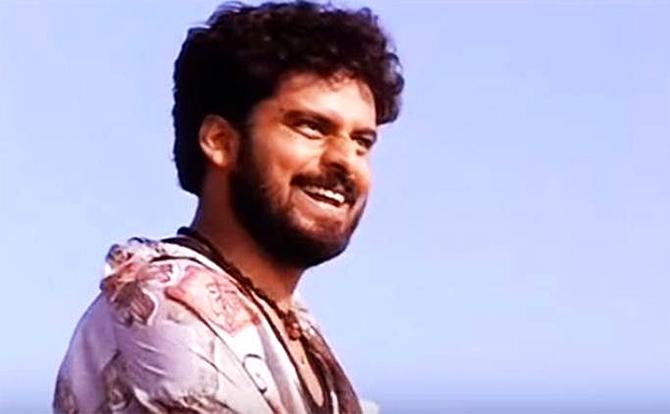 "In those one-and-a-half to two years, I gave Satya everything. I wasn't doing anything else then. I would just hang out at Ram Gopal Varma's place in the hope that the film would do something to my career," Manoj recalls.
"Those days, Anurag (Kashyap, Satya's writer) and I were very young. We used to spend a lot of time together. He would work on the script with Saurabh Shukla, and share the details with me. That gave me stuff to work on the character, Bhiku Mhatre."
"I never had the experience of meeting the mafia in my life. I was not good in Marathi. So I wanted to first work on my external look of having a beard, a heavy face, curly hair... My maid would give me tips on how to get the nuances of the Marathi accent."
"While they were writing, I worked on my character so that I would be ready for any scene they would put me in. It took me three or four months before we started shooting," he says.
Satya released in 1998 and changed Manoj Bajpayee's life forever.
A gritty story on how gangsters live and die in Mumbai, it has attained a lasting place in cult movie heaven.
"After Satya, there were thousands of offers," Bajpayee says. "Those days, people would pay in cash. There would be suitcases of cash coming to my house because there was a tradition of giving the signing amount first and then narrating the script."
"Taking that signing amount meant I was committed to doing those films. I did not want to fall into that tradition, so I would return the cash."
Instead, he chose to work with Ram Gopal Varma again.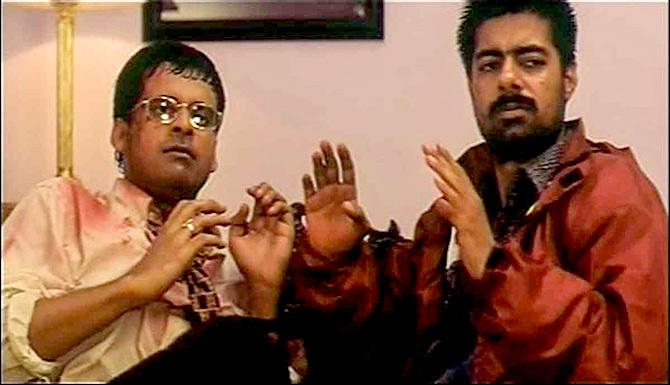 Kaun was a thriller with only three characters -- Manoj, Urmila Matondkar and Sushant Singh.
"Ram Gopal Varma wanted me to play the character in Kaun in a certain way, but while I was travelling to Panvel (a town near Mumbai), where we would be shooting, I realised that we may fail if I portrayed the character in the manner we were working on," Manoj remembers.
He decided to play a nice guy, but a really irritating one, who talked nonstop.
"I wanted him to be very irritating, so that it would be difficult to believe that he's a nice guy. But he actually *is* a nice guy because the killer was Urmila. I wanted to make him so irritating that people would already feel he's the killer."
Kaun reinforced his reputation as an actor to look out for.
He followed it up with Shool the same year, directed by E Niwas.
These films may have made people notice his skill, but did little for his career.
"Commercial films did not have the vision to use Manoj Bajpayee because I did not look like the conventional heroes they were used to casting. They were confused about how to use this guy. They could only think of using me as a villain, which I was not ready to fall prey to," he says.
"There used to be times when I would sit at home, doing nothing. After three great films, I was doing nothing. Whenever there would be a film, I would accept it. I would go and shoot it, and again sit at home, and wait for the next to happen."
"I used to wait for eight months, 10 months, one-and-a-half years..."
Every time he got a role, he made sure his characters were not forgotten.
Remember his eerie laugh in Rakeysh Omprakash Mehra's Aks?
"Rakyesh wanted to make his first film and I immediately took it up because it was a script people would not accept easily," he says. "People still talk about my performance, my laugh, the character Raghavan..."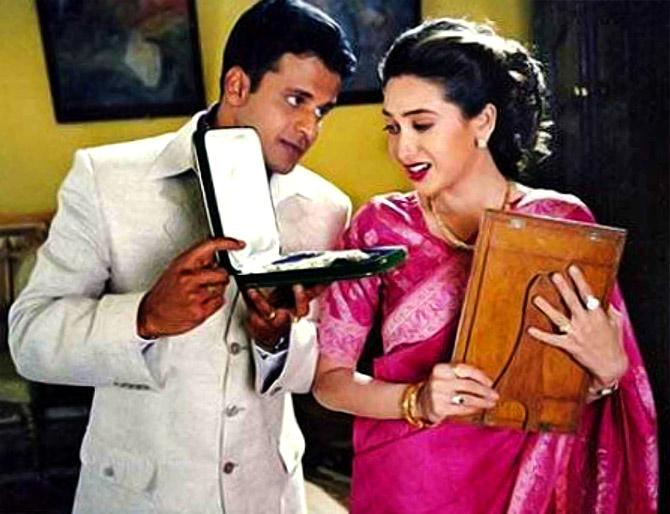 "People smirked when they heard I was playing a prince in Zubeidaa. They thought Manoj Bajpayee is not even good looking. How can he play a prince? But Shyam Benegal was not making a story on a calendar prince; he was making a story where the prince was real, someone who existed in our society," he says.
Manoj feels it was only after Anurag Kashyap's Gangs Of Wasseypur and Hansal Mehta's Aligarh, made in 2012 and 2015 respectively, that people finally came to terms with this actor called Manoj Bajpayee.
"All that patience, waiting, hard word and misery eventually paid off," he says.
'At this age, you don't make friends'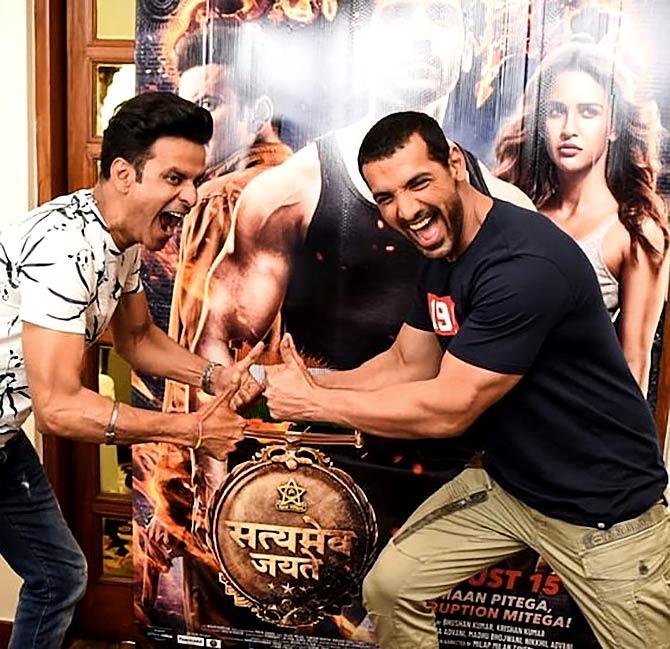 Today, Manoj Bajpayee is comfortable in the space he is.
He focuses on his kind of cinema and signs up the odd commercial film once in a while.
"I don't work in the commercial stream. Satyameva Jayate was one of a kind, one of my rarest kinds of films. And I do it for my friends. In this case, Nikhil Advani. In the case of Baaghi 2, it was for Ahmed Khan."
"If they become blockbusters, it helps in setting up a project like Gali Guleiyan. Then, I get a lot of strength in the market," he says.
After spending 24 years in the industry, he knows how it works.
"I don't expect expect anything from anyone. And when you don't expect it, you don't feel betrayed," he says.
He admits he does not have any friends in Bollywood.
"All my friends are from my village, my theatre days, my college days in Delhi. At this age, you don't make friends. You just get along with some people, meet up with them, laugh with them. After the film, everyone goes in their own direction, wherever work takes them," he says.
Is he in touch with Ram Gopal Varma?
"We fight like children and we make up like children," he says with a laugh.
"We speak through messages, but most of the time he's in Hyderabad. Tomorrow, if I get a call, I will go running to him."
"Nobody can take away the fact that he is the person responsible for believing in Manoj Bajpayee without any doubt. He looked at me, the way I look, with a lot of regard, and did complete justice to the ability of Manoj Bajpayee."
Sarkar 3, he says, was his way of showing his gratitude to Ram Gopal Varma.
'Manoj has been in peak form ever since he began acting'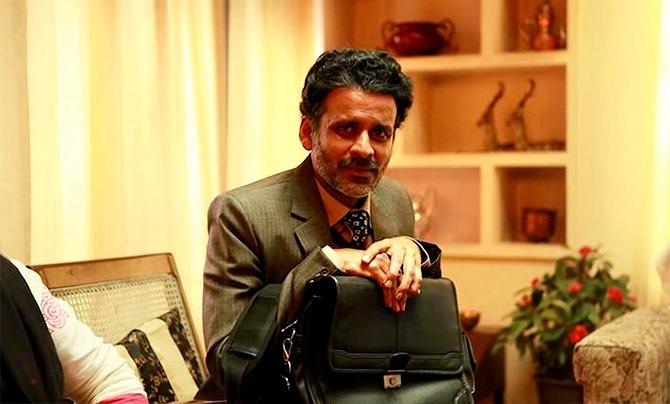 Hansal Mehta, one of his oldest friends, made two movies with him.
2000's Dil Pe Mat Le Yaar, co-starring Tabu, bombed at the box office.
"We were very close friends when we made the film. After the film was done, for some reason, I don't even remember why, we fought. We stopped talking to each other for many years," Hansal says.
They got together 15 years later with Aligarh, which featured one of Manoj's finest performances.
"Manoj has been in peak form ever since he began acting. You see an actor evolving as a human being through his performances. So from the restless, uncertain, insecure person that he was, he was in a far more meditative space during Aligarh," says Hansal.
"After his marriage and child, he was at ease with the life he was living. And that made his performance even more special in Aligarh," Hansal adds.
"When we started off, he used to live the character 24 hours. He would get deeply involved in the character and the scene. It would take a toll on him. Now, he does not display that level of involvement, his preparation is more subconscious. It's more internalised."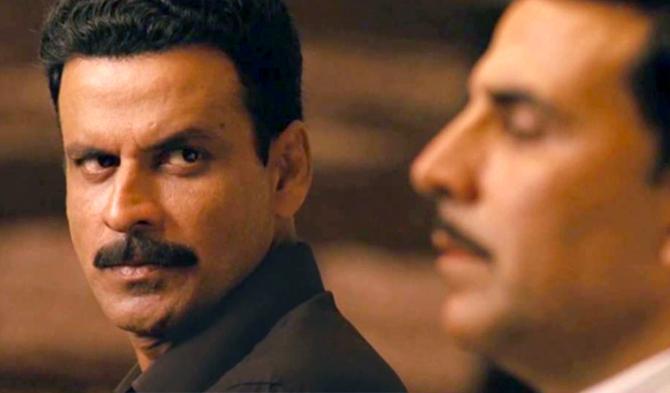 His Special 26 Director Neeraj Pandey agrees. "Manoj works on his characters at home. On the sets, he is so well prepared that he is just executing it. He is so prepared that when he is on the sets, the improvisation is very easy because he has already done the groundwork."
One of the scenes Hansal Mehta loves in Aligarh is the conversation Manoj has with Rajkummar Rao where he says, 'Mere feelings ko teen aksharo mein kaise baandh sakta hai? How can 'gay' describe how I feel?'
Pandey loves the way Bajpayee handles scenes with his co-actors.
"There is a sequence where he meets Anupam Kher in a hotel room (in Special 26). It's a confrontational scene. Jimmy (Sheirgil) is also there. Both are sitting opposite each other. That scene is a masterclass in acting from both actors. They were so on top of their game that evening when we shot it."
"They did not try to upstage each other, but they fed off each other. That's what made it so good," Pandey recalls.
"Immediately after that scene, there is another where he is having a drink with Akshay Kumar at the bar. That was interesting because of the way they were sparring," Pandey says.
Today, directors are writing scripts with Manoj in mind.
When Pandey wrote his short film Ouch, he reached out to Manoj at once.
"I wanted to see how we could execute a tough genre like black comedy. While writing it, it was evident that Manoj would play it. And he nailed it! You feel sorry for the guy, and yet, you laugh at him, which was the whole point."
'My wife has loved me in 80 percent of my films'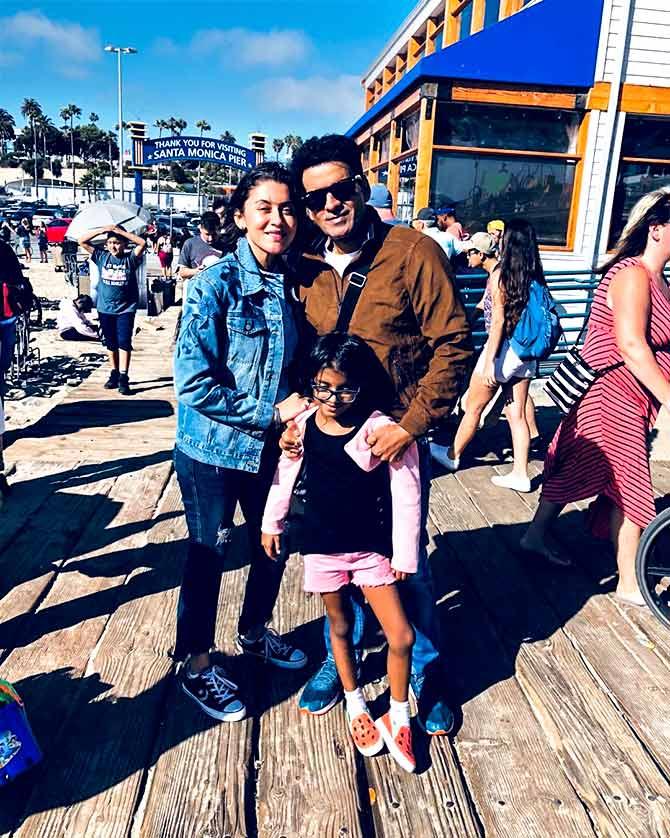 Even though he is today a celebrity, Manoj remains grounded and visits his village in Bihar regularly.
"I will be going in October; my parents keep going there," he says.
His wife Shabana -- a former actress, as Neha, she starred in Vidhu Vinod Chopra's Kareeb -- gives him a lot of feedback.
"She has loved me in 80 percent of my films," Manoj says. "She is very aware and experienced. She is quite learned when it comes to analysing a film."
Will we see her in the movies again?
"She will work; she is in talks with some people. As soon as she puts her finger on a project, it will happen," he says.
It brings us back to the movie at hand, and I ask him how does he leave behind a character -- especially a tormented one like in Gali Guleiyan -- when a film is done?
"You never get out," Bajpayee says, shaking his head. "You always come out bruised mentally, but you come to terms with it because that's the price you pay for being an actor."