Bollywood glorifies Mumbai's underworld dons in its movies.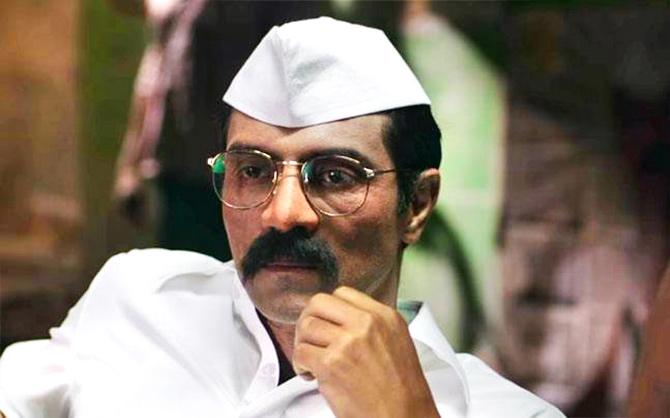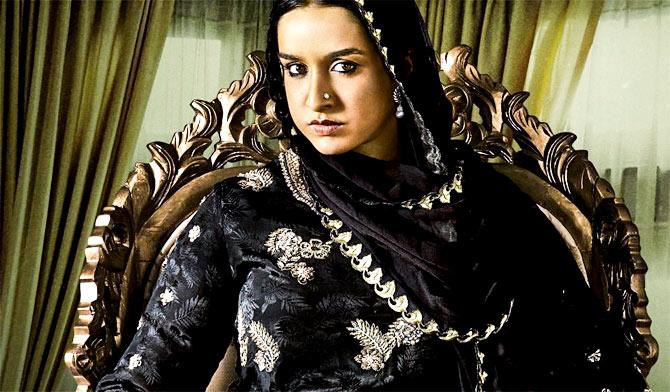 IMAGE: Arjun Rampal as Arun Gawli in Daddy and Shraddha Kapoor in and as Haseena Parkar.
Gangster lives hold a fascination for Bollywood.
From larger-than-life portrayals of underworld honchos delighting in stylised menace to grittily depicted ideologies of hard-nailed mobsters, this sub-genre has attracted every school of filmmaking from Feroz Khan to Anurag Kashyap.
In Ashim Ahluwala's Daddy, Arjun Rampal sheds his city slicker image to embrace the shrewd, striking magnetism of Dagdi Chawl's don-turned-politician Arun Gawli, currently serving a life sentence.
Not exactly a companion piece, Apoorva Lakhia's upcoming Haseena Parkar pits Shraddha Kapoor as the Nagpada, central Mumbai-based godmother running brother Dawood Ibrahim's crime syndicate after her husband is killed by Gawli's men.
It's not the first time Hindi cinema has looked at Mumbai's mafia for inspiration.
The only difference is, earlier characters would said to be modelled on, and now publicised over their real identity.
Dawood Ibrahim, Black Friday, D-Day, Once Upon A Time in Mumbai Dobaara!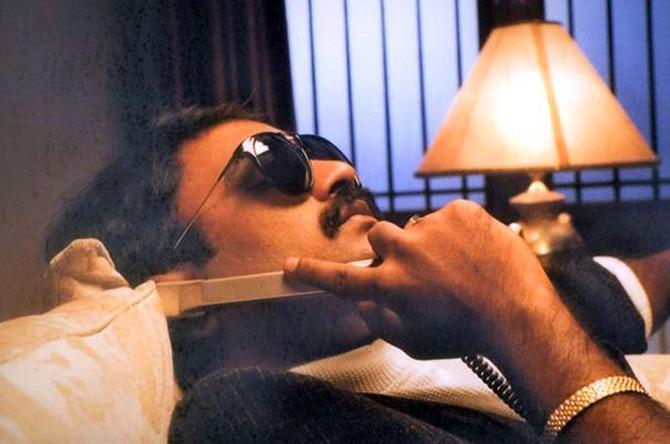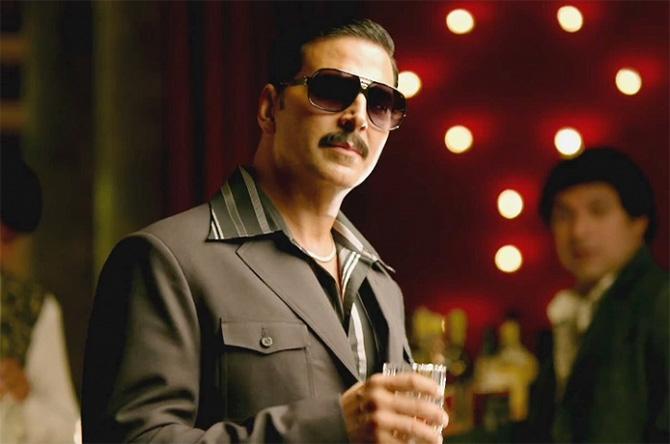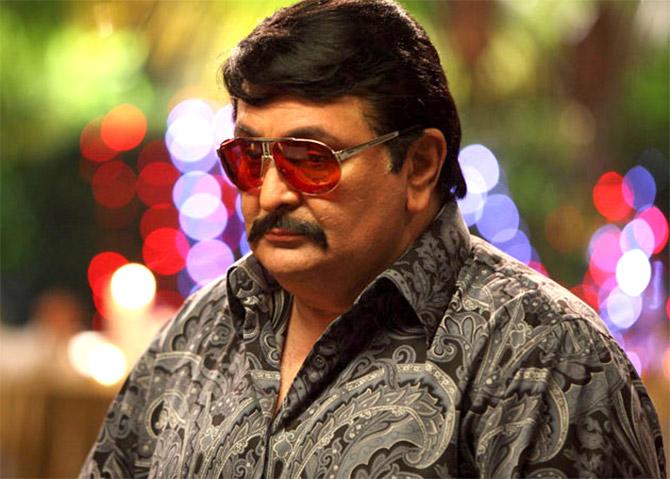 IMAGE: Vijay Maurya, Akshay Kumar and Rishi Kapoor as Dawood Ibrahim in Black Friday, Once Upon a Time in Mumbai Dobaara!, D-Day respectively.
Any mention of the underworld automatically brings up its kingpin Dawood Ibrahim's name, D-company runner, mastermind of the Mumbai bomb blasts in March 1993 and India's most wanted fugitive.
Akshay Kumar's largely fictionalised rendition in Milan Luthria's OUATIM sequel doesn't scratch beyond the sunglasses-sporting surface whereas Rishi Kapoor, who has written about meeting Dawood over tea in his memoirs, offers a glamourised but ominous account of the criminal in Nikhil Advani's D-Day.
Unlike these two films where the makers deny any link to Dawood, Anurag Kashyap's acclaimed Black Friday avoids the safe roman a clef approach to say it like it is in Vijay Maurya's realistic portrayal of the thug.
Tiger Memon, Black Friday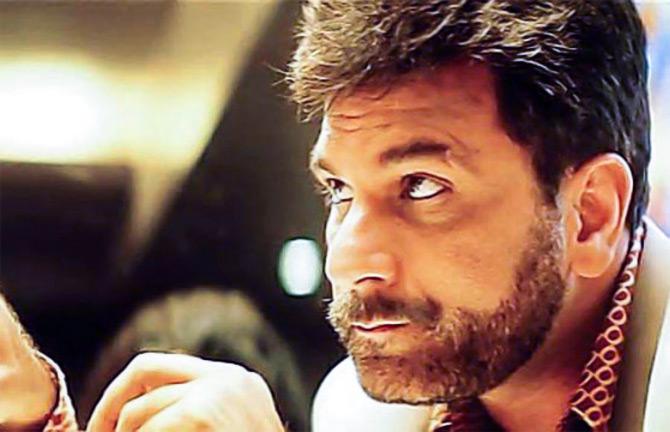 IMAGE: Pavan Malhotra as Tiger Memon in Black Friday.
Black Friday, a procedural which deals with Mumbai's 1993 serial blasts, is well regarded for its unrelenting look at the events.
A good deal of its authenticity comes from actors like Pavan Malhotra doing a fine job of conveying Dawood accomplice Tiger Memon's cool-blooded temperament.
Maya Dolas, Shootout at Lokhandwala
IMAGE: Vivek Oberoi as Maya Dolas in Shootout at Lokhandwala.
Before adapting Haseena Parkar for the big screen, director Apoorva Lakhia roped in Vivek Oberoi to play the high-strung, hot-headed Mumbai hoodlum Maya Dolas -- killed in a police encounter at Andheri's Lokhandwala neighbourhood in 1991.
An overdone hotchpotch of fact and fiction, Shootout at Lokhandwala performed well at the box office despite bad reviews.
Manya Surve, Shootout at Wadala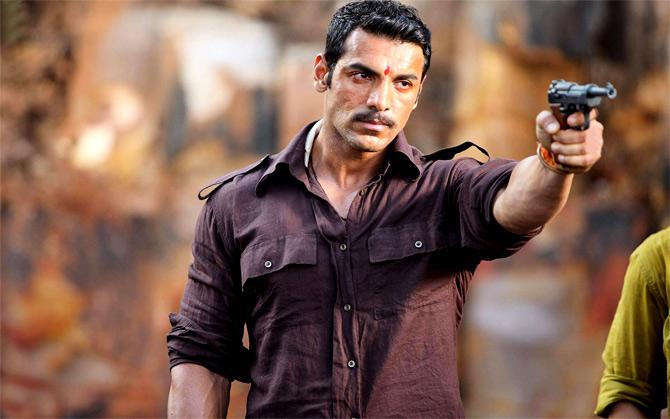 IMAGE: John Abraham as Manya Surve in Shootout at Wadala.
Next in the Shootout series, Sanjay Gupta chronicles the rise and fall of educated Mumbai gangster Manya Surve in a glorified, filmi voice and John Abraham's bland, beefed-up muscularity.
Mostly though its overload of sex and sexy item numbers makes it impossible to take the film or its version of reality seriously.
Haji Mastan, Once Upon a Time in Mumbai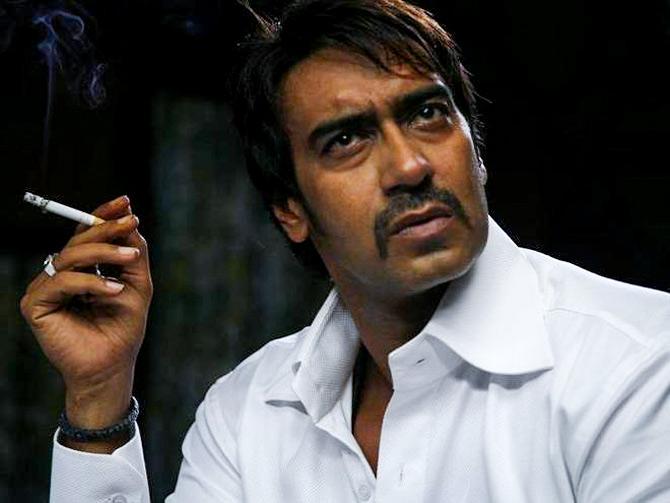 IMAGE: Ajay Devgn as Haji Mastan in Once Upon a Time in Mumbai.
Ajay Devgn's all-white sporting, fair-minded mafia boss is based on Mumbai don and smuggler Haji Mastan.
Coloured in Milan Luthria's glorified treatment and Rajat Aroraa's pompous dialogues, one might mistake him for Robin Hood instead.
Dawood Ibrahim and Chotta Rajan, Company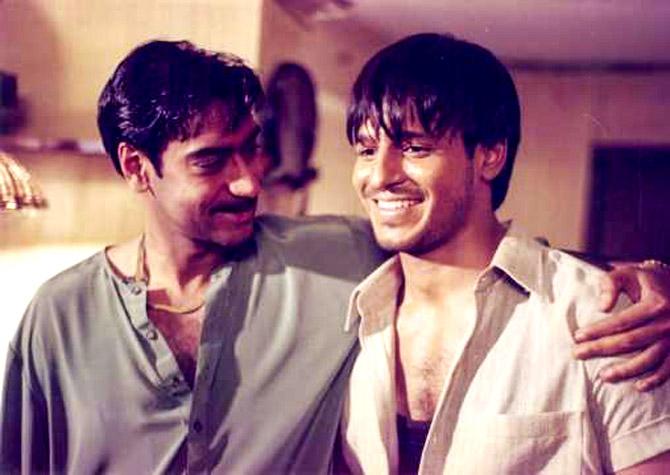 IMAGE: Ajay Devgn and Vivek Oberoi as Dawood Ibrahim and Chotta Rajan in Company.
Even though the characters go by different names, there's obvious reference to D-Company figures Dawood Ibrahim and Chotta Rajan in Ajay Devgn and Vivek Oberoi's friends-turned-foes camaraderie.
Ram Gopal Varma's 2002 drama, a sleek and smouldering account of the underworld workings and ethics, explores the reason behind the significant fallout.
Abu Salem, Gangster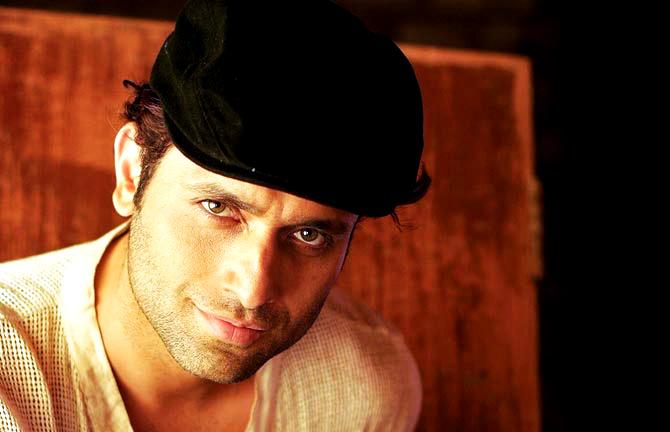 IMAGE: Shiney Ahuja as Abu Salem in Gangster.
Notorious gangster and extortionist Abu Salem and his girlfriend Bollywood starlet Monica Bedi's turbulent romance, allegedly inspired the Shiney Ahuja-Kangana Ranaut arc in Anurag Basu's Gangster. The duo was arrested in Lisbon in 2003 for forging documents.
Since then, Salem has received a life sentence for his involvement in the 1993 Mumbai blasts whereas Ahuja's career is languishing post adomestic help's rape charges.
Vardarajan Mudaliar, Dayavan, Ardh Satya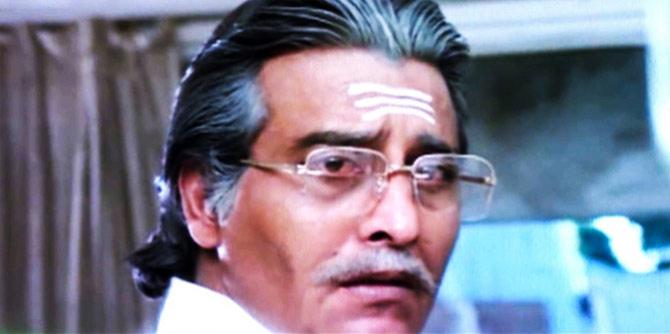 IMAGE: Vinod Khanna and Sadashiv Amarpurkar in Dayavan and Ardh Satya.
The difference between art-house and commercial is evident in the depiction of the same individual under two distinctly apart sensibilities.
A contemporary of Mastan, Mumbai gangster Vardarajan Mudaliar is the inspiration behind Sadashiv Amrapurkar's manipulative Rama Shetty in Govind Nihalani's Ardh Satya as well as Vinod Khanna's sympathetic portrayal in Dayavan, Feroz Khan's remake of Mani Ratnam's memorable Nayakan.
Karim Lala, Angaar, Hathyaar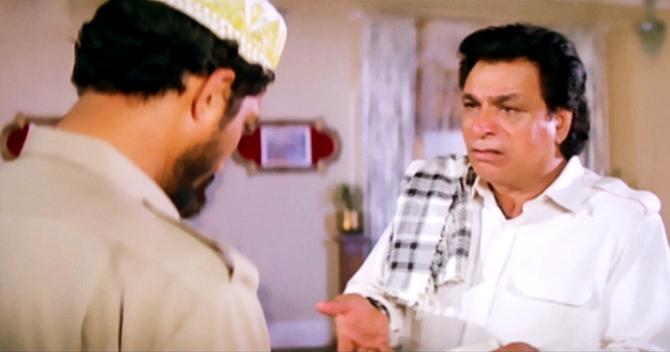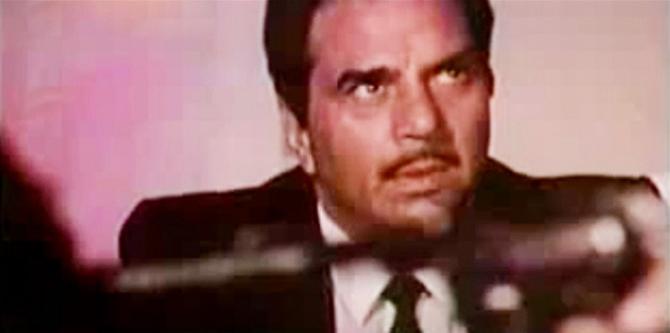 IMAGE: Kader Khan and Dharmendra in Angaar and Hathyaar.
Karim Lala, an immigrant of Afghani origin turned underworld top brass, enjoys a somewhat exalted representation on celluloid for his diplomatic, old school code of ethics in the business of crime.
Be it in Kader Khan's arrogant but not entirely above redemption Jahangir Khan in Angaar and Dharmendra's wronged, well-meaning, wrong side of the law endorsing Lala in Hathyaar.