Cherry blossoms in Sri Lanka, Hanuman speaking Bombaiya, the mythical Sone Ki Lanka looking darkly Gothic, Raavan looking like a Bollywood dude... this is not modernisation. This is a travesty, asserts Deepa Gahlot.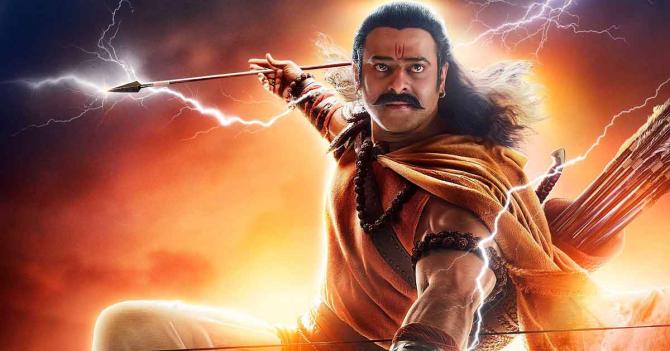 When Ramanand Sagar's series Ramayan was telecast on Doordarshan, the streets used to empty out; official functions and wedding rituals rescheduled.
The devout used to perform aarti in front of their television sets, and then sit down to watch it with their families.
By today's standards, the special effects were primitive, the costumes eye-wateringly blingy, but it did not matter because it connected with the audience at some spiritual level.
Plus, it was dramatic, emotional and entertaining.
During the lockdown, it was scheduled again on OTT platforms and still broke viewership records.
Today, it is difficult, if not impossible, to make a modern version of the Ramayan, without keeping in mind the social and political ramifications.
The producers already got a glimpse of the virulent trolling when the promos of Adipurush were released last year.
Parts of it had to reportedly go back to the drawing board.
The film was preceded with a very long disclaimer, read out for the illiterate, stating its origins from Valmiki's Ramayan, made with 'aradhna' (devotion), and the usual about the intention is not to offend, etc.
The Ramayan is part of our cultural DNA.
It needed faith and humility for a film-maker to present it to a Gen Z audience, not the arrogance of a big budget spectacle and computer imagery.
If Om Raut wanted to use visuals from every Hollywood sci-fi fantasy possible, he could have come up with an original script. Why mess with an epic?
Reinterpretation is acceptable, welcome even, if there has to be a fresh perspective to share. But cherry blossoms in Sri Lanka, Hanuman speaking Bambaiya, the mythical Sone ki Lanka looking darkly Gothic, Raavan looking like a Bollywood dude...this is not modernisation, it is a travesty.
The film focuses on the story after Raghav (Prabhas), Janki (Kriti Sanon) and Shesh (Sunny Singh) accept banishment to the forest.
Raavan (Saif Ali Khan) receives a boon of invincibility from Lord Brahma (which sounds suspiciously like the one granted to Hiranyakashyap of Bhakht Prahlad infamy), and exits the Himalayas with 10 heads (that appear at will) and that HaHaHa laugh that is the hallmark of the Hindi movie villain and will probably require another century to wipe out.
The film loses its authenticity the minute asuras, looking like dementors, appear to attack Ram.
Later orcs, dragons and Jurassic era creatures populate the frames because Raut and his VFX team probably wanted to show the West that they can do fantasy as well as any comic book or amusement park-inspired Hollywood movie.
A foreign audience may or may not relate to this VFX-stuffed epic, but an Indian audience is likely to be put off with the liberties taken with the perception of the epic.
The visual of Raavan getting a python massage, or Lord Hanuman speaking like a Mumbai tapori ('ab lagegi tere baap ki' to Indrajeet, son of Raavan); Indrajeet with full body tattoos like a WWF wrestler, Mughal era leather armour, and cannon fire in that period, is just some fevered creation of a team of computer wizards who should have seen Ram Rajya (1943) or even Ramanand Sagar's Ramayan for reference (or read Valmiki's text, as the disclaimer advises the audience to do).
For a story set in India, the exteriors are always dark with black clouds hovering overhead.
The interiors of Raavan's palace look like something of Game Of Thrones, which, along with Harry Potter, Lord Of The Rings, How To Train Your Dragon etc, is a major visual reference.
Everybody flies around shooting beams of light and fire at each other, and in the midst of all this computer-generated mayhem, the essence of the story is lost.
The actors are also dwarfed by the scale of the action.
Prabhas looks suitably serene, but even he is stumped when made to perform a dream sequence romantic song.
Saif Ali Khan looks like he walked in from the set of a different movie.
Sunny Singh, Kriti Sanon and Devdutta Nage (as Hanuman) do the best they can under the circumstances.
A couple of the familiar bhajans are melodious, but mostly, the background score is ear-splitting.
In probably the only really effective scene in the film, Ram tells his army to fight not for him, but for their place in history. Then a bunch of film people come along in 2023 and distort it.
Adipurush Review Rediff Rating: