In A Suitable Boy, Mira Nair holds our hands and takes us through the magical journey, introducing us to so many fascinating characters from another era, observes Aseem Chhabra.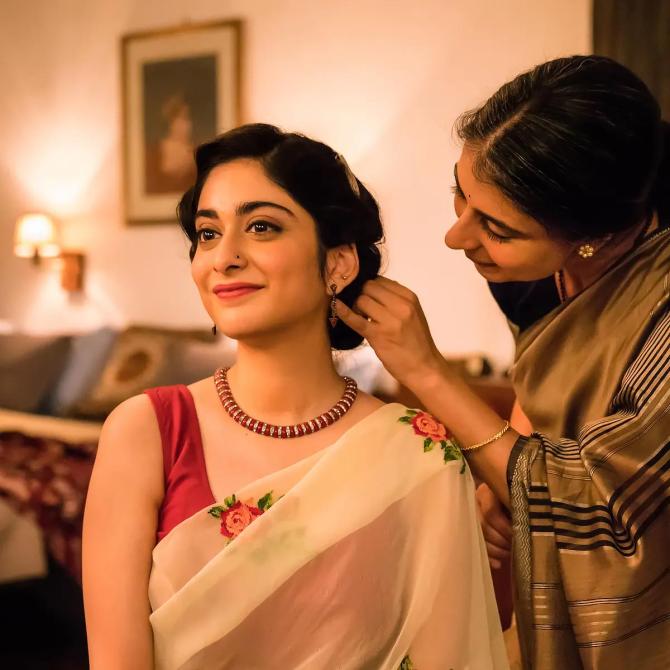 In April 2007, Mira Nair came to a Barnes & Noble bookstore in New York City. She was accompanied by Jhumpa Lahiri, author of the 2003 novel The Namesake.
Nair's film The Namesake, based on Lahiri's book, had just opened in theatres across the US, and several hundred people gathered at the bookstore in the Union Square neighbourhood to listen to the film-maker and the author talk about their collaboration.
At one point, a man in the audience asked Lahiri a question about her book. Lahiri's response was since she had seen Nair's film a few times, she had forgotten many details of her book.
Lahiri's novel is a brilliant narrative about the lives of an Indian immigrant couple in New York and their American born son. But it stands apart from Nair's equally brilliant film starring Irrfan Khan, Tabu and Kal Penn. The book and the film are two separate entities.
For the last five weeks, I thought about what Lahiri said that afternoon at the Barnes & Noble as I watched Nair's BBC series A Suitable Boy. It is based on Vikram Seth's 1993 novel by the same name -- a 1,500 page-long exploration of two crucial years (1951-1952) in the history of the newly independent India, layered with stories about a number of families, interconnected through marriages and friendships.
At the heart of it is a widowed mother, Mrs Rupa Mehra's (wife of the late Raghubir Mehra), and her search for a perfect match for her daughter Lata.
On Monday night as Nair's show ended, Lata Mehra, played by the lovely Tanya Maniktala, found the suitable man to marry, much to the delight of her nagging but well-meaning mother (Mahira Kakkar, equal part annoying, funny and ditsy). It was not the first choice for many of us.
I have lived with the heartache, disappointment and compromise Lata made since I read Seth's novel about 20 years ago.
I am a big fan of Seth's book; perhaps my all time favourite novel.
But now that I have seen Nair's A Suitable Boy, I have a clearer understanding of Lata's choice.
While I knew the narrative and characters that Seth had weaved for us, watching the series on the BBC, I felt I was watching a new A Suitable Boy with its own level of humour.
The twists in the plot were familiar to me, yet they seemed fresh.
There is a distinct Mira Nair flavour in the show and despite some drawbacks -- the narrative is rushed at times, it seems strange to hear some of the Indian characters speak in English, and a couple of casting choices are questionable -- it is a very fine series.
I did not want Seth's book to end.
And now I wish Nair's show had continued a lot longer.
In Nair's show, we are thrown into the fictional town of Brahmpur and Calcutta of the 1950, with meticulous details of the period -- the cars, the decors inside the homes, the clubs, the costumes and the gorgeous colour palates.
Every shot, every frame looks so precious, with subtle lighting that enhances the warmth of the homes or the grand haveli of Saeeda Bai (played by the luminous Tabu), with its arches, green walls and bamboo chick blinds.
As the series progressed, I got more and more drawn into this world, especially the homes -- the Calcutta flat of Lata's pompous brother and sister-in-law Arun and Meenakshi Mehra (Vivek Gomber and the radiant Shahana Goswami); Meenakshi's parents's home with a large dinning table and grand piano; the Brahmpur house of Lata's sister and brother-in-law Savita and Pran Kapoor (Rasika Dugal and Gagan Dev Riar); and Pran's parents grand haveli where we also meet his likable younger brother Maan (the real find of the show, Ishaan Khattar).
And then there is the feudal home, a large palace owned by Nawab Sahib (Aamir Bashir) and his son Firoz (Shubham Saraf) -- friends of the Kapoors. Even Maan is blown away when he first visits the palace.
I loved each and every character Seth had created.
But now I also love the characters as portrayed by actors Nair and her casting agents selected. And they became my regular companions over the last five weeks.
It did not matter that they lived in a time before I was born. I enjoyed being around them, watching them fall in love, hold hands, kiss, lie and cheat at times, laugh and cry.
Their cinematic lives and emotions play beautifully accompanied by ghazals sung by Kavita Seth, the score composed by Alex Heffes and melodious sitar pieces played by Anoushka Shankar.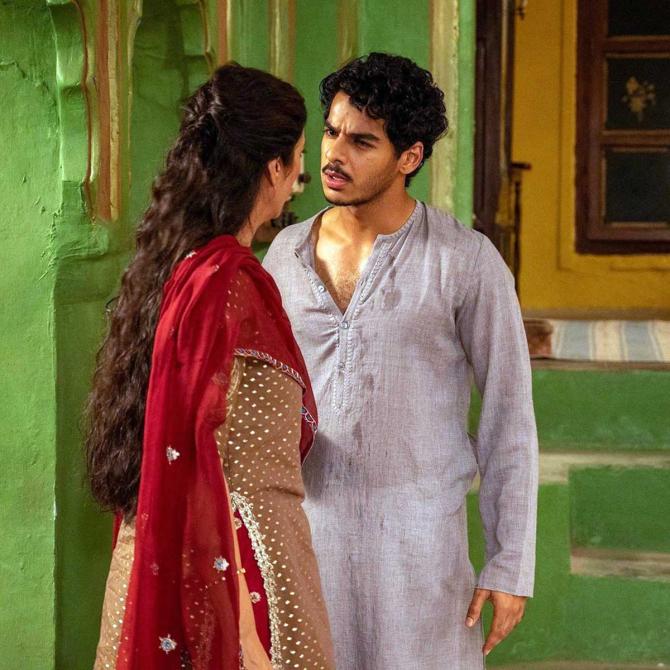 A Suitable Boy is as much a coming of age story of Lata, as it is of Maan.
While Seth and Nair suggest a gay relationship that could have happened between Maan and Firoz, everything changes when Saeeda Bai comes into the picture.
Maan falls head over heals in love with Saeeda and the romance, the moments the two spend together are the highlights of the show.
The chemistry between Tabu and Khattar is breathtaking to watch, even though there is a 25 years gap between the two actors.
As the series ends, there is much joy in celebrating Lata's wedding.
In A Suitable Boy, Nair holds our hands and takes us through the magical journey, introducing us to so many fascinating characters from another era.
But like Seth did in his book, Nair also leaves a touch of sadness in our hearts.