There's merit in the premise of 420 IPC but Manish Gupta's flat execution never delivers its promise, notes Sukanya Verma.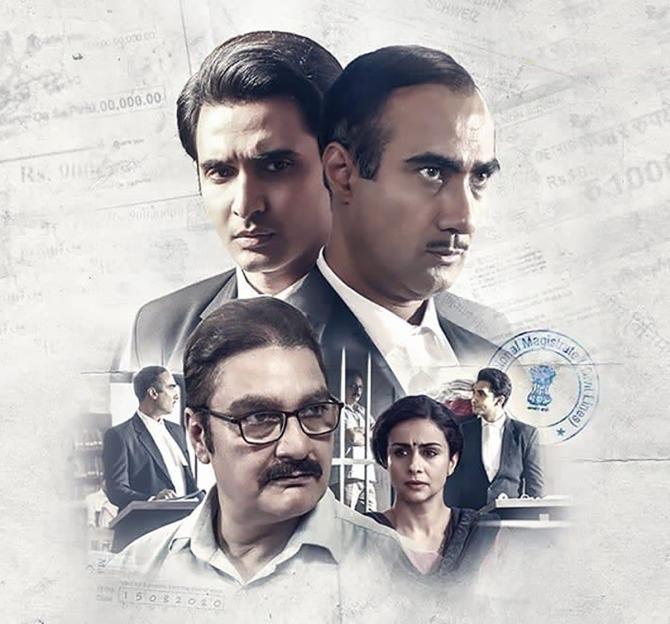 The world of money and taxes, credits and investments can seem overbearing to the layman in an audience. Especially in absence of exciting context and potent storytelling.
But Hansal Mehta's Scam 1992, a shrewd mix of information, emotion and cunning, made an economic trade's ways and workings accessible and enjoyable even to someone with zero knowledge of stocks.
A quality I sorely found lacking in Manish Gupta's 420 IPC.
Continuing his keen interest in Indian criminal codes, which drew reasonable attention for a courtroom drama he penned, Section 375, the writer-director displays a fair knowledge of the legalities and nature of financial crime in his brand new ZEE5 original offering.
There's merit in the premise, but Gupta's flat execution never delivers its promise.
Set in 2015, a Mumbai-based chartered accountant Bansi M Keswani (Vinay Pathak) finds his home ransacked by a team of CBI officers while his significant other (Gul Panag) protests in vain.
Later, his office is raided too, where the discovery of three forged cheques, sneaked out of his builder client's (Arif Zakaria) office, throws Keswani behind bars.
The accountant's existent monetary issues and a previous episode of an influential client's arrest in a case of money laundering render him guilty before the law. Until Birbal (Rohan Vinod Mehra), a young, raring to go lawyer agrees to fight his case.
Arguments over forensics, prima facie, fake evidences and misguided witnesses follow in tediously technical arguments even as Birbal struggles to triumph over the seasoned, sharp-as-a-whip public prosecutor Savak Jamshedji (Ranvir Shorey speaking in an annoyingly unswerving nasal accent) and his unsaid Parsi-Parsi bhai-bhai camaraderie with the judge.
All through its humourless, drama-less courtroom scenes around one-note characters and their clumsy manipulations, one sees no signs of damage, delay or difficulty felt either by defendant or plaintiff.
If anything, Gupta's sudden switch from stilted legal drama to an Abbas-Mastan brand of convoluted crime drama is plain absurd to digest.
Rohan Vinod Mehra, who made his debut opposite Saif Ali Khan in Baazaar, is eloquent, but his acting skills have a long way to go.
He is supported by an able bunch of actors in 420 IPC, but sloppy film-making lets them all down.
420 IPC streams on ZEE5.
Rediff Rating: