Section 375 is an engaging courtroom drama that deserves a watch, feels Karan Sanjay Shah.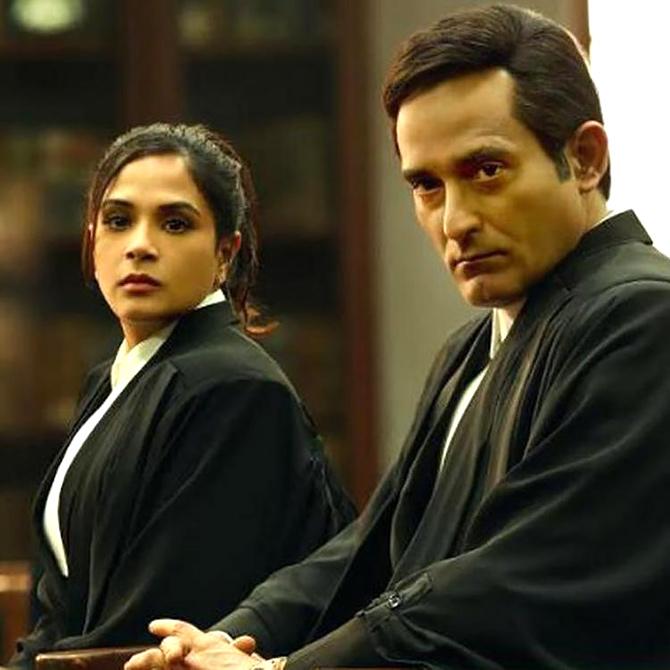 While #MeToo continues to be discussed in India and courtroom dramas continue to do well at the box office, we come across a film that encapsulates both of them.
Section 375 is based on the law under the Indian Penal Code that was created to protect women from rape.
The opening sequences might make it seem like an open-and-shut case but there seems to be something more than what meets the eye.
The courtroom drama makes you play the guessing game and leaves you with alarming questions at the end.
A powerful filmmaker Rohan Khurana (Rahul Bhat) is accused of raping a junior costume designer, Anjali Dangle (Meera Chopra).
The forensic evidence and Anjali's statement point towards rape and the Sessions Court deems him guilty as per the law.
Rohan gets 10 years of rigorous imprisonment but he continues to tell his wife Kainaaz (Shriswara) that he's innocent.
Kainaaz meets high profile lawyer Tarun Saluja (Akshaye Khanna) and asks him to defend her husband.
The State of Maharashtra v/s Rohan Khurana starts off with Hiral Gandhi (Richa Chadha) as the prosecutor.
Tarun's ex-protege and a fierce lawyer, Hiral believes in justice being served while Tarun feels they are 'not in the business of justice but the business of law.' He believes that 'justice is abstract and the law is the fact'.
This comes to bite him in the end and you will see why.
Tarun tries to prove that the case is an example of blatant misuse of the very law that was created to protect woman while Hiral tries to prove that it is a case of a privileged man taking advantage of a poor girl.
Director Ajay Bahl and writer Manish Gupta present the film well.
The way they have handled a serious subject like rape and presented it is applause-worthy.
The film is engaging, and will keep you on the edge of your seat.
Section 375 does not drag and the background music adds to the drama and suspense.
The dialogues are hard-hitting.
The cinematography is fantastic and shows us how one angle may make you think something but another may tell a different tale.
Akshaye Khanna hits it out right off the park!
His persona will make you hate him and yet, admire him in Section 375. He lands all the punches well and is convincing as a top-notch lawyer.
Richa Chadha delivers a decent performance too. But some of her muted reactions and the fact that she objects to *every* point during the trial gets tiring.
But it is Meera Chopra who is the surprise package. Her portrayal of Anjali Dangle, a poor girl accusing a powerful director of rape, is outstanding.
Rahul Bhat, Shriswara and Sandhya Mridul (as Tarun Saluja's wife) hold their ground well in their limited roles.
Section 375 is an engaging courtroom drama that deserves a watch.
Rediff Rating: