'We want to be a nation at par with the best internationally.'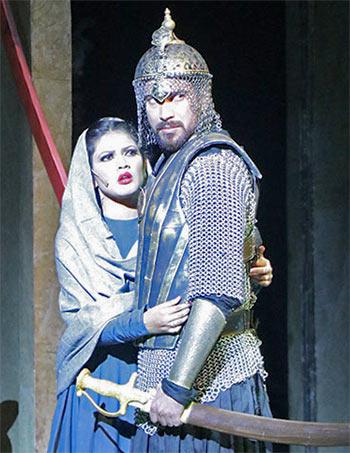 'But why is it in theatre we continue to have such low standards?'
Aseem Chhabra speaks to director Feroz Abbas Khan about his fabulous stage production of Mughal-e-Azam.
Photographs and Video: Rajesh Karkera/Rediff.com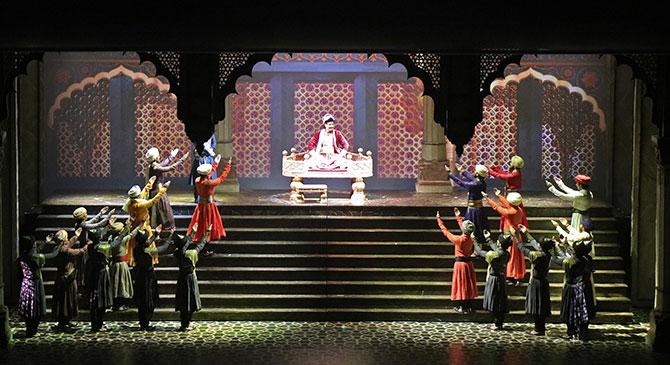 IMAGE: Akbar's durbar in the play. Nisar Khan impresses in Mughal-e-Azam.
All creative people have that one big dream.
For Feroz Abbas Khan, the dream was to stage the iconic 1960 Indian film Mughal-e-Azam.
And after years of living with the dream, Khan saw it actually happen.
On October 21, Khan's production of Mughal-e-Azam with a cast of over 70 actors and dancers premiered at Mumbai's NCPA theatre.
This production, like the film, is produced by the business conglomerate Shapoorji Pallonji (whose scion Cyrus Mistry is in the news these days for other reasons).
Of course, theatre and cinema are two different mediums.
Khan has taken the essence of K Asif's film and produced a spectacularly entertaining show with grand costumes designed by Manish Malhotra and retaining all the original songs from the film -- reinterpreted and sung live by the actors on stage.
Bangalore-based choreographer Mayuri Upadhya choreographed the dances and Mukesh Chhabra cast the actors. The production and set design team have come from New York.
The result is a lavish, grand show, the best of its kind for Indian stage and a stunning homage to the classic film.
Feroz, do you remember the first time you saw Mughal-e-Azam?
I was very young. It was a part of the annual ritual of Eid. They would play Mughal-e-Azam every year during Eid.
Well, I suppose Salman Khan was not making films at that time.
That's true. I would go with my family to watch the film.
Do you remember at what stage the film first left an impression on you?
I think I was around 13 or 14 and it left a deep impression on me.
To me, it was the story of Anarkali. I thought that was real injustice.
Then the last time I saw the film, we were performing Tumhari Amrita in Hyderabad and the colourised version had just been released.
Shabana (Azmi) said we have to go and watch it and Farooq (Sheikh)saab had said, 'Film black and white main hai aur yeh colour kar rahein hain. Kya hai?'
I said, 'Let's go and see what all this excitement is about.'
So all three of us went to see it and we thoroughly enjoyed it.
I think it transcends everything.
I know aesthetically you would have trouble thinking since we had something beautiful in the black and white version.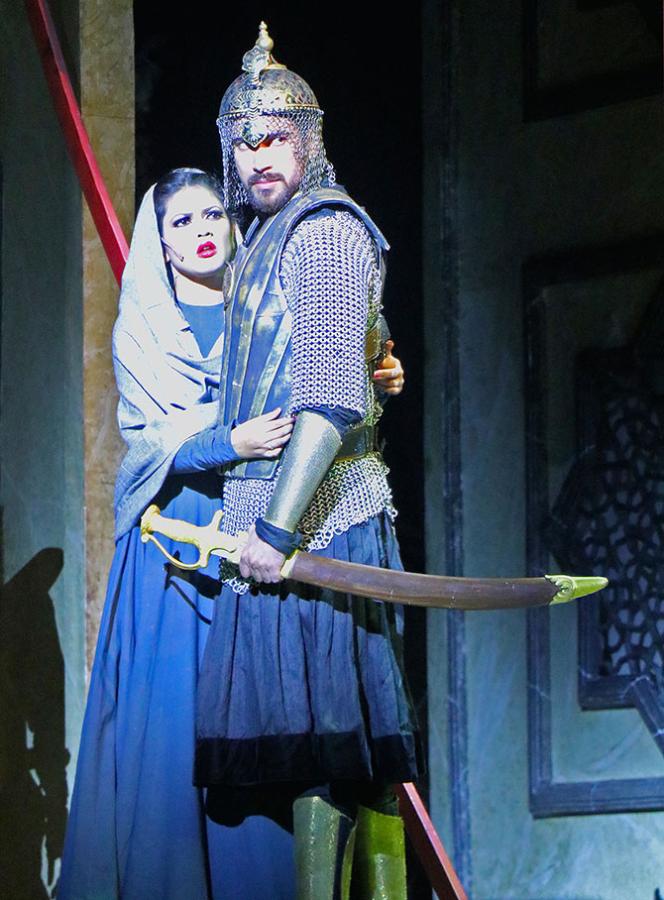 IMAGE: Priyanka Barve as Anarkali and Nissar Khan as Salim.
The way K Asif made the film, just minimal use of colour for Pyar Kiya To Darna Kya? Was he experimenting with colour?
He shot one song in colour and the rest of the film was shot in black and white. I don't know why.
That is why the colour scene stands out so much more.
Exactly. And it was in Technicolor.
Then he realised it was looking so beautiful that he wanted to reshoot the entire film in colour.
And that is the time the producers Shapoorji Pallonji threw up their hand. As it is it was taking so long to make.
That is the magic -- it is probably the only film where there is one song in color. And that colour was absolutely stunning.
But you did such a wonderful job in the play. The sheesh mahal scene on the stage must have been so hard to replicate.
Ah, thank you.
So when did the idea came to your mind to take the film and do a theatre production of it? Had you done musicals before?
I have done two musicals, as an actor and then as a producer. I did West Side Story in Gujarati.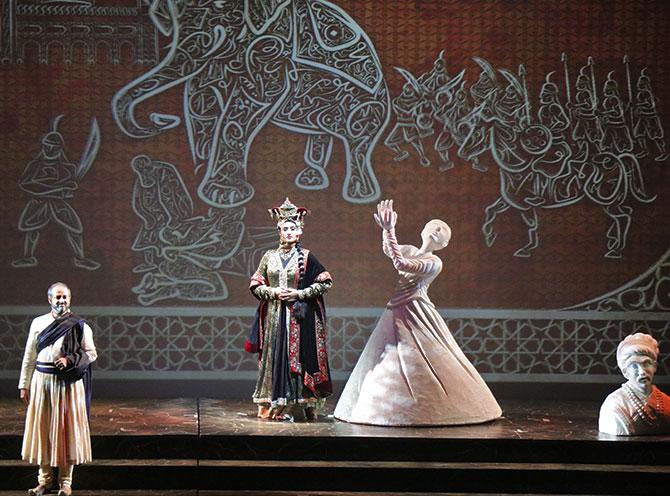 IMAGE: The santarash scene is as impressive as all the scenes in the play. Seen here are Rajesh Jais and Ashima Mahajan.
But this is such an iconic Indian film that people know very well, with Prithviraj Kapoor's booming voice, the brooding Dilip Kumar and the sexy Madhubala. Plus, the songs and dances. And you said karenge?
Yes, but I never thought this could be realised. I thought this would remain a dream. It was wishful thinking.
I started doing huge productions first, but then I got very tired of the scale. It used to drain me.
So that is when I went into smaller productions like Tumhari Amrita. We could travel, costs were low, few actors to handle.
But the urge to do a huge musical stayed with me. And then it stuck me Mughal-e-Azam would be perfect -- it had a theatrical structure since it came from a play.
It has fabulous music and outstanding dialogues.
Still, the conversion to a theatre piece was a big challenge.
Cinema depends on editing. The film, although was sourced from a play, was edited shot to shot.
How long is the film?
It is about three hours long. The play is about two-and-a-half hours, but it gets longer with the applause in between.
What did you cut out from the film's script?
When you see the play, you realise the best of Mughal-e-Azam is all there.
I added two songs -- Maula Mere Maula, the Sufi part and then the marriage scene later on.
Afterwards, I cut things that were not working on stage.
You mentioned that you worked on the production for two-and-a-half months. Was that just with the actors?
Yes. I have been working on it for a while trying to get the project running. But the actual work on the production started two-and-a-half months ago.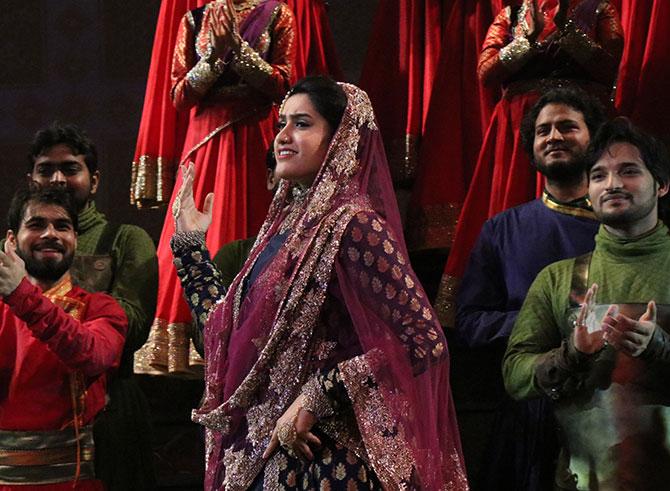 IMAGE: Ashisma Mahajan, who plays Bahar, takes a bow.
That includes finding the actors?
The auditions were already done. The dance rehearsals started on August 9. I had started rehearsing with the actors on August 1.
For a production of this scale, it is very short time.
Mukesh Chhabra told me that some of the actors are from the National School of Drama.
Some of them are from NSD, but others have acted with me before.
What about the actress who plays Anarkali?
Priyanka Barve.
A friend recommended her to me and I found her stunning. But she is first a singer.
My criteria was to find a singer, who is very pleasant to look at.
She is a Kathak dancer. She sings live on stage.
If she dances more, she will go breathless.
She has the grace, but we couldn't have her dance more than that.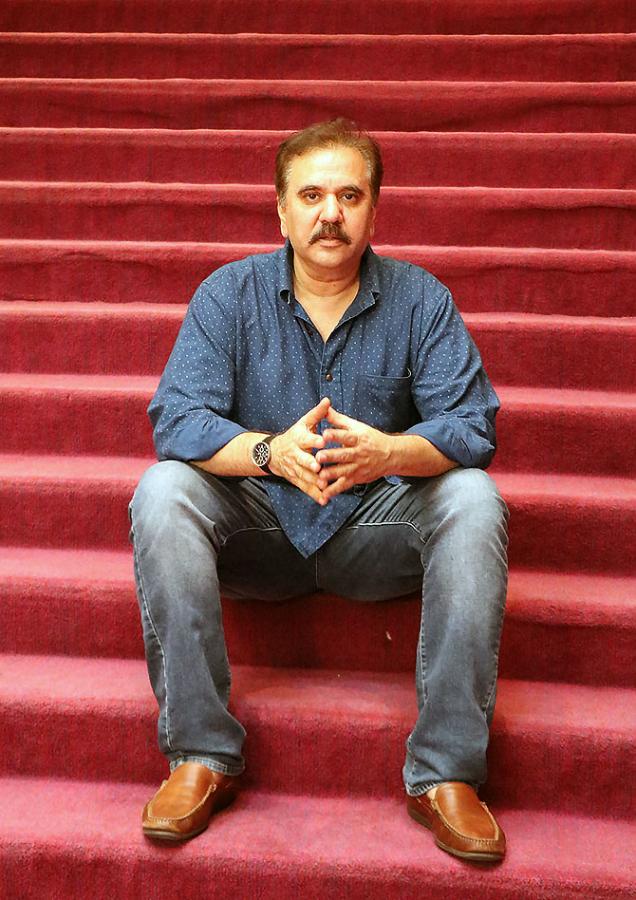 IMAGE: Director Feroz Abbas Khan.
Any challenges finding the rest of the cast?
You found a wonderful actor in Nissar Khan, who played Akbar (played by the towering Prithviraj Kapoor in the film).
Yes, the casting was a challenge, but it was really heartening to see audience reactions.
One of the things I did in the last few weeks was to ask the actors to take away the voice of the film and to create the voice for the play.
In the script, all the dialogues are written to be spoken in the over-the-top, bombastic voice.
The language was structured like that. So I had to figure out how to make it intimate, personal and yet keep the language.
I had to work on the sound of the play.
Are you saying it had to be toned down?
It had to be different and yet, still energised.
It's like the two ways to perform Shakespeare -- one in a Shakespearean way and the other is to work it in a personal style -- the text remains the same, yet what you get is very real.
So the challenge is how to bring in the real with a slightly unreal speech.
There was also a certain dramatic film acting style in the 1950s, even in Hollywood films.
Right, and I took that out.
The actors are no longer talking at each other. There is a direct communication now. So they are talking to each other.
The three things that stood out for me in the show -- the production design and sets, costumes and the music and choreography. Tell me about working on these aspects.
I do a lot of homework. I call this fun history.
It's not real history in any case.
Exactly. I had a visual design in mind of what I was going to see on the stage. So the element of projection and real sets, I had all that in my mind.
I spent time looking for imagery of each scene -- moment to moment.


Video: Glimpses from the show.
The projections are amazing. At one point, we are in Akbar's court and then on the battlefield.
That's right. So I kept sending references to the projection people and the set designers. And that's how the conversations happened.
I was in New York last month for my final meetings with the projection and set design team. I met them twice, but there was a constant exchange of ideas.
When did they show you the final design?
I saw quite a lot of it when I was in New York last. The final design was shown to me when they came here on October 4.
I know Manish Malhotra does spectacular things for films, but these costumes were amazing.
He has taken it to a different level. I gave him the brief that if he was transported as a designer to Akbar's time, how would he design the costumes?
It would have the reference to that period, but it would have the flair of Manish Malhotra.
So I asked him to take history as a reference, but to use his imagination to realise that vision.
I asked him to use miniature paintings as his reference.
There are two things that stand out from that period -- the miniature paintings and the calligraphy.
I haven't seen the film for a while, although I am sure Manish saw it as a reference point. Are the costumes similar?
No, I think he has gone way ahead.
The dances are terrific, but are they different from the film? I loved the Pyar Kiya To Darna Kya sequence.
No, Mayuri has done her own interpretation here.
For Pyar Kiya To Darna Kya, the dancers are first in jackets as Akbar and then they all become Anarkalis.
I loved the qawwalli scene as well, with the dancers moving in between Bahar and Anarkali. It's good fun to watch.
Mayuri is a special talent and she has given to this play everything. Her work is simply brilliant.
It must feel good now to see the production.
I had one of the worst nights of my life doing this play. I thought what a monumental mistake I had made. But now, it's all worth it.
When was this?
This was five days ago. It seemed like a disaster.
It was so problematic technically. We are doing so many things. And it is not Broadway theatre. We do not have those facilities.
You also don't have the luxury to travel to smaller cities and then doing previews for a while on Broadway. You did the premiere and that was it.


IMAGE: The cast dedicates the performance to Feroz Abbas Khan.
How did you feel after the premiere?
I kept saying that if I could just get away with the one night, my reputation will be intact and I will be happy.
Your reputation has gone way higher than your expectations.
I thought this would be one of the mistakes every director makes in his career. Most of the time the directors' favourite projects are disasters. They invest so much in the projects that they lose objectivity.
You have taken theatre in India to a new level.
I was thinking that we want to be a nation at par with the best internationally. But then, why is it in theatre we continue to have such low standards?
It's a question of mindset.
In our mind, we think that theatre is big ideas, but small imagination. But your imagination has to match your ideas.
This show was totally against my grain. I am a minimalist, if you look at Mahatma vs Gandhi and Tumhari Amrita.
So the first time I saw the costumes I couldn't believe this was for my production.
This play belongs to the Indian tradition of ras. And I realised that the niras way of doing things isn't coming from the heart.
Our culture has ras in it -- songs, costumes, poetry has to have ras in it.
It had to come to alive on stage in full glory.
You also have to realise that when K Asif made the film, it would stay the same forever.
I am doing a play. Every day the staging can change.
After Mumbai, where is the show traveling?
We are trying to find a suitable venue in Delhi. People are asking for the show from around the world. I think we will take it to Dubai soon.
Any thought of reviving Tumhari Amrita?
It's going to be revived. We are working on finding a replacement for Farooq saab.