Mughal-E-Azam is an epic event in the history of Indian cinema.
Just a mere mention of Karimuddin Asif's extravagant labour of love evokes wows, sighs and adjectives.
All the blood, sweat, money, time and heart gone in making Emperor Akbar's disapproval of Prince Salim and Anarkali's defiant romance a rousing success is now the stuff of cinematic lore.
Every frame is painted in opulence, every corner is rich in detail, every second of its splendorous world is designed to overwhelm. It's almost as if the film demands you be to worthy enough of viewing. This is no exaggeration -- Mughal-E-Azam is art on celluloid.
Both a timeless love story and an emperor's predicament over choosing duty above emotions, Mughal-E-Azam's drama comes to life in its lavish treatment, breathtaking sets, soulful soundtrack, flamboyant penmanship and poignant performances.
Released on August 5, 1960, amidst great pomp and fanfare, K Asif's magnum opus would exceed audience expectation, inspire generations of filmmakers and showmen and become a part of enduring pop culture.
Originally only one fourth of the film was shot in colour by Cinematographer R D Mathur but in 2004, its painstakingly colourised version re-released on big screens to acclaimed effect.
Sixty years later, Mughal-E-Azam is still a yardstick for craft, showmanship and young rebellion.
If a gorgeous Madhubala declaring Pyar Kiya Toh Darna Kya to Prithviraj Kapoor's fuming Azeem-O-Shaan Shahenshah is an imagery no cinephile can forget, its dialogues (by Aman, Ehsan Rizvi, Kamal Amrohi and Wajahat Mirza) -- or literature as writer and poet Javed Akhtar describes -- draw an effortless applause even among the ignorants of Urdu.
Sukanya Verma celebrates its grandeur and grandiloquence in 25 glorious frames on its diamond anniversary.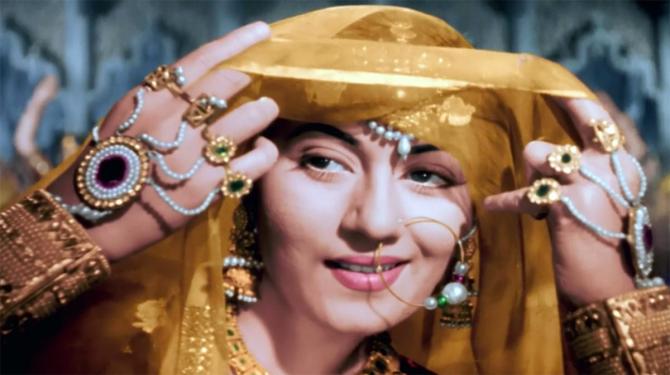 'Kaanton ko murjhane ka khauf nahi hota.'
Anarkali's grace and guts are the backbone of Mughal-E-Azam. It's what makes her irresistible to a smitten Salim.
Rewarded with thorns after a musical contest where she's pitted against royal court darling Bahar (Nigar Sultana), her spirited comeback sets the tone for its love against all odds theme.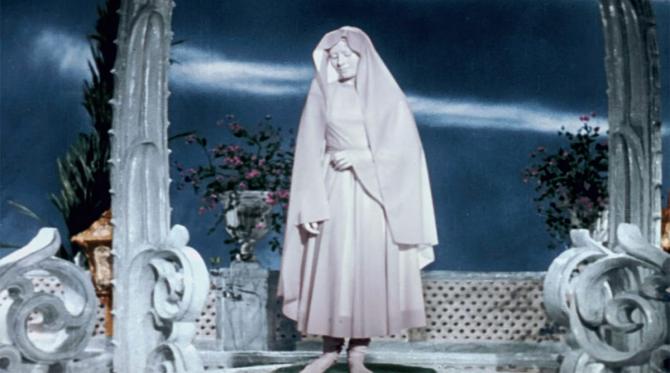 'Maloom hota hai jaise kisi farishtey ne aasman se utaar kar sang-e-marmar mein panaah le li hai.'
Madhubala's stunning introduction scene is an instant classic.
Beholder's envy, creator's pride, the actress is spectacular in her deception as sculpture art.
Rechristened Anarkali by an awestruck Emperor, the palace and its Prince open their homes and hearts to her.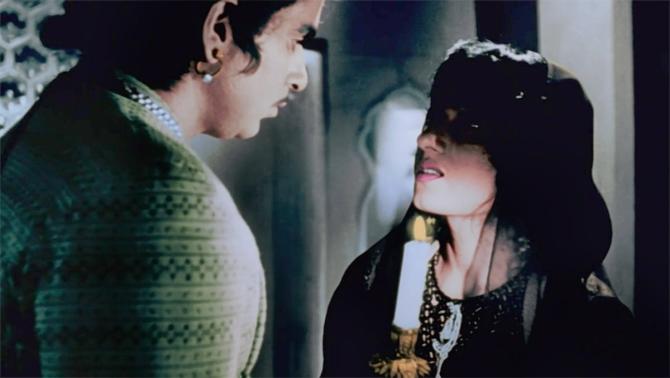 'Main tumhari aankhon mein apni mohabbat ka iqraar dekhna chahta hoon.'
A forbidden romance blossoms between an enamoured Prince and a beautiful court dancer over a series of clandestine meetings in the resplendent corners of the palace.
Dilip Kumar-Madhubala's chemistry is so potent in these moments, witnessing it feels like trespassing.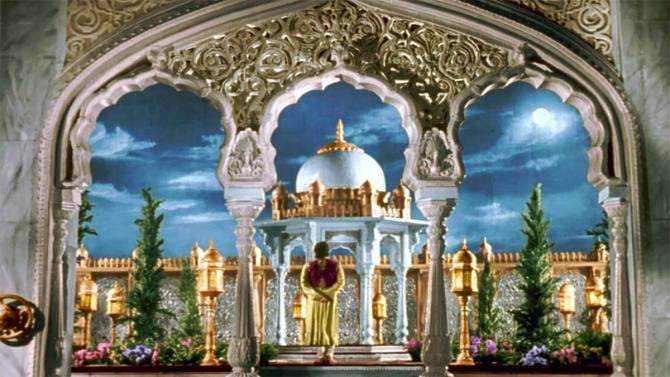 'Mere banaye hue majasmein, shehzadon aur badshahon ko pasand nahi aayenge kyonki yeh sach bolte hain.'
Truth tellers and artists are a frowned lot in the world of conquerors and monarchs.
Drunk on power, they seldom acknowledge the price of a victory or criticism of their actions, remarks a cynical documenter of history commissioned to produce art for the royal folk.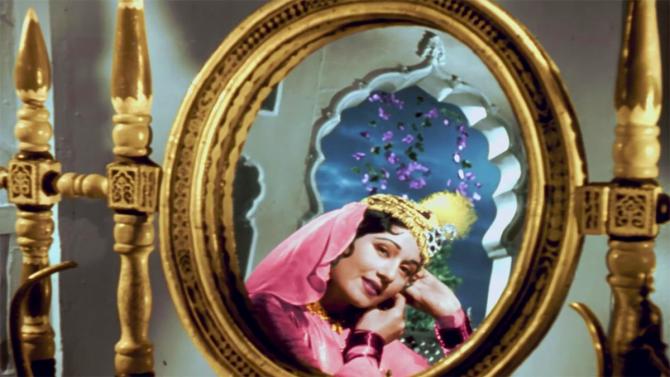 'Duniya khushi mein jhoom rahi hai ya meri nazar kaanp rahi hai?'
Love is a many splendored thing and Anarkali can barely contain her excitement as she dresses up to romance her beau under the moonlit skies imbued with Tansen's melody.
And truly, Bade Ghulam Ali Khan's divine rendition of Naushad-Shakeel Badayuni's Prem Jogan Ban Ke transports the listener to another world.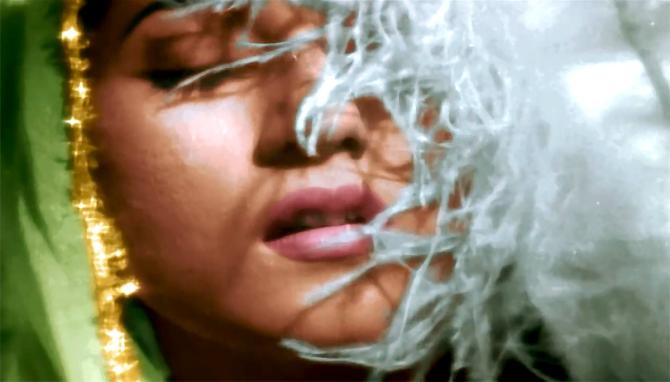 'Jo zubaan unse mohabbat ka iqraar tak na kar saki woh inkaar kaise karegi?'
Salim fondling Anarkali's face with a feather is passion at its most sublime and sensual.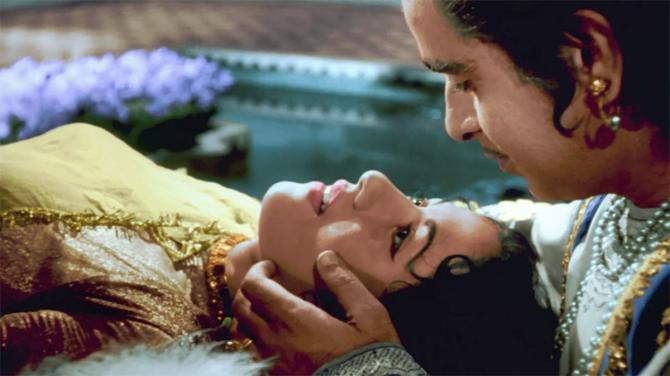 'Dil dene mein der nahi aur dil lene mein itni der?'
Dilip Kumar and Madhubala's personal equations changed dramatically during an arduous decade of filming, but the camera is oblivious to their rancour.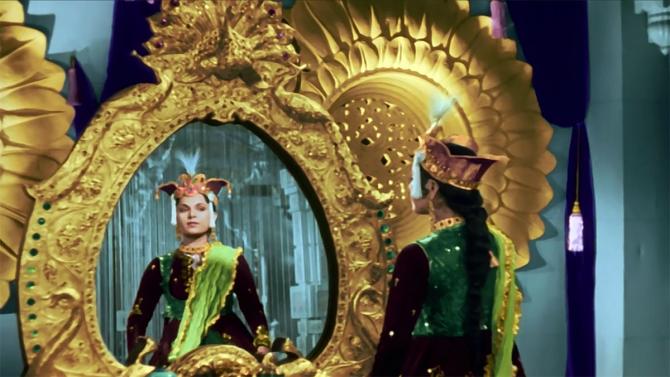 'Taj un sarron pe nahi rehta jinke kareeb khauff aa jaaye.'
Nigar Sultan's Bahar is a picture of ambition and envy in her bold desires to become an empress.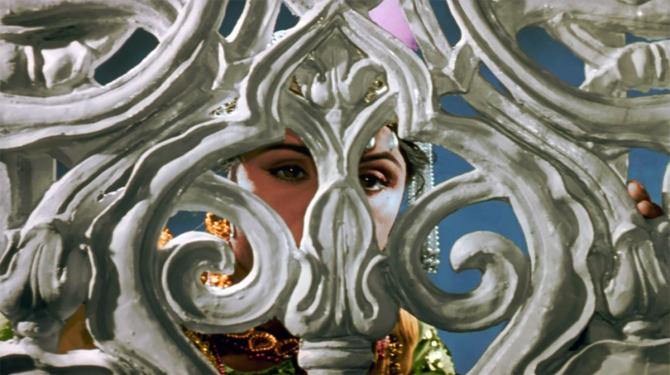 'Kaneez ko khanjar ki nafarmani pe hairat hai aur apni badnaseeb zindagi se shikayat hai.'
If Bahar's way with words reveal her cunning to get closer to the crown, her hawk eyes keep a close watch on the Prince she badly covets and will scheme till any extent to make Anarkali's life a living hell.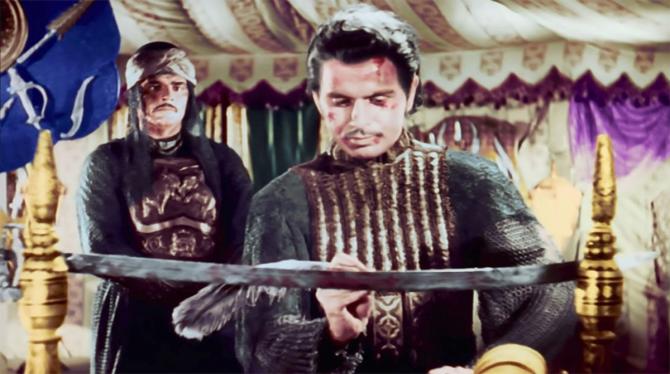 Durjan (played by Ajit): 'Jarrah ijaazat ka muntazır hai. Shehzade kya zakhm dhoye nahi jaayenge?'
Salim: 'Yeh zakhm nahi phool hai Durjan. Aur phoolon ka murjhana baahar ki rusvaai hai.'
Likening wounds to blooms are an excellent way of underlining Salim's valour and progress as Akbar's successor. Especially after all the debauchery episodes of his teen years that drove his father to send him away to discipline him.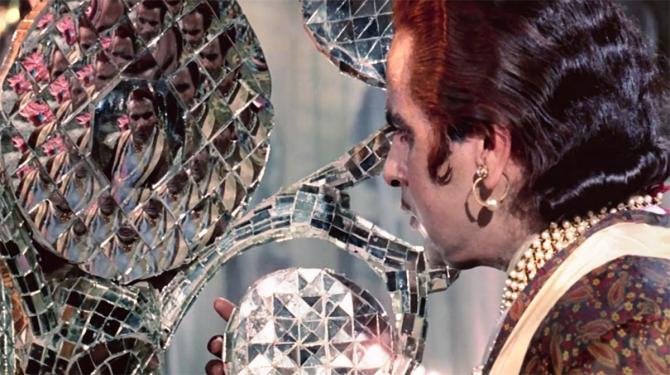 'Yeh qatil hi nahi dildaar bhi hai. Yeh shakh-e-gul bhi hai talwar bhi hai.'
Yet another poetic line to establish Salim's poetic disposition, which cannot view the world through his father's harsh vision.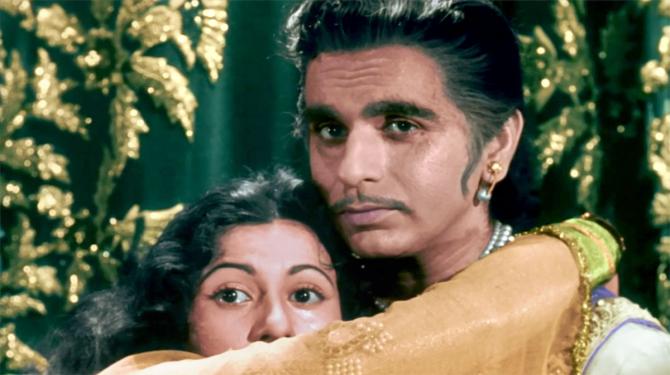 'Mohabbat jo darti hai woh mohabbat nahi ayashi hai, gunaah hai.'
Salim's fearless ardour for his sweetheart and willingness to go against the world, eventually, rubs off an understandably petrified Anarkali.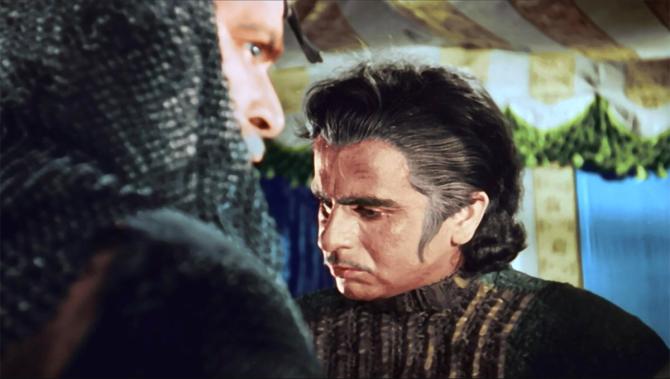 'Kya parvardigar-e-alaam se aapne mujhe isiliye manga tha ke zindagi mujhe mile aur uske maalik aap hon? Saansein meri hon aur dil ki dhadkanon par aapka kabzaa rahe? Zille elahi, kya meri zindagi aapki duaon ka karza hai jo mujhe apne aansoon se ada karna padega?'
It's not floridness of the lines. but the relatability of a sentiment wherein a son wonders the point of craving for a child so badly if they're only going to trample over his dreams someday.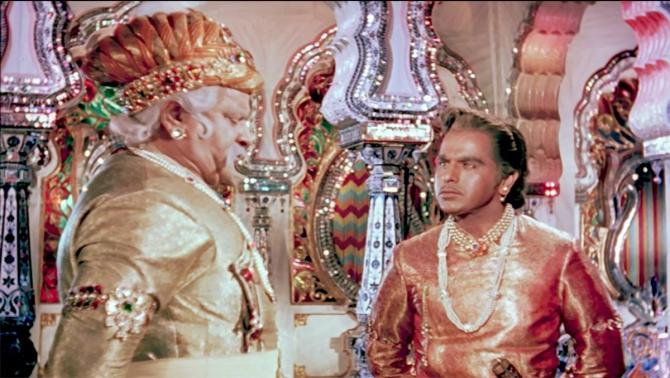 'Taqdeerein badal jaati hain. Zamana badal jaata hai. Mulqon ki tareekh badal jaati hai. Shahenshah badal jaate hain. Par is badalti hui duniya mein mohabbat jis insaan ka daaman thaam leti hai woh insan nahi badalta.'
Salim has the last word. Love is the only constant in this transient world.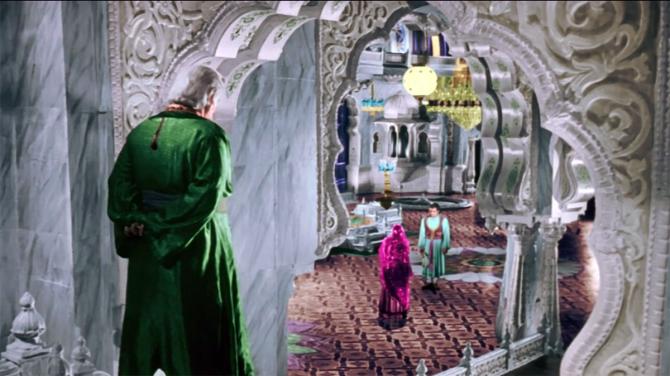 Jodha: 'Humara Hindustan koi tumhara dil nahi ke laundi jiski mallika bane.'
Salim: 'Toh mera dil bhi koi aapka Hindustan nahi jispar aap hukumat karein.'
It's just another day at the royal household in K Asif's glorious glimpse of family quarrels over class differences and parental disapproval.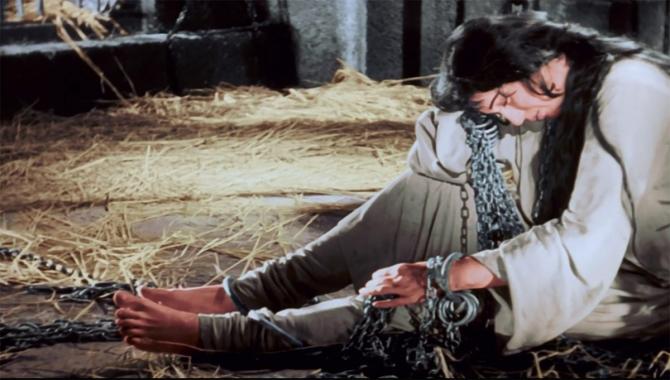 'Qaidkhane ka dar na gira toh qaidkhanon ko girna hoga.'
This one line tells you more about Mughal-E-Azam's magnitude than any essay can describe.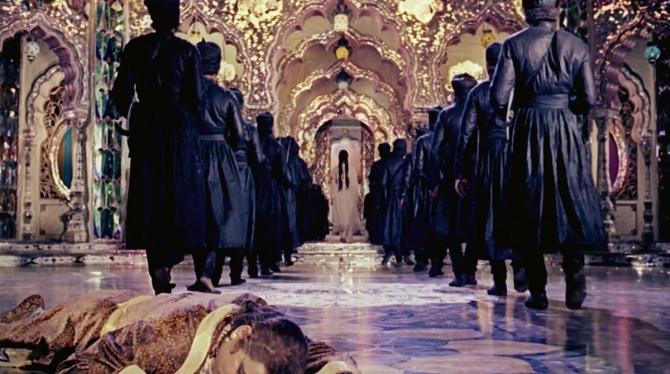 'Shahenshahon ke insaaf aur zulm mein kis qadar kam farq hota hai.'
Nadira, Anarkali or Defiance, a woman of many names and single-minded determination in calling out an emperor too proud to notice the emotions in her candour.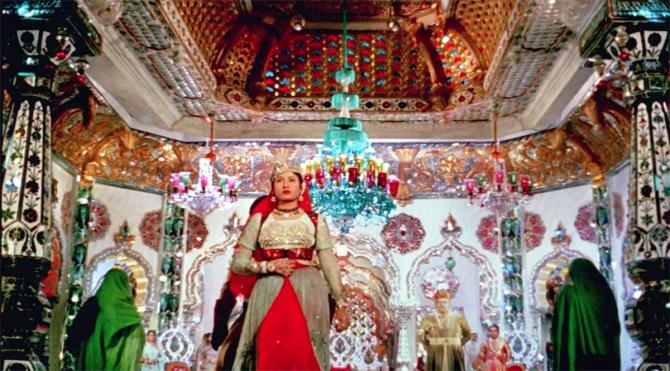 'Ek tang dil shahenshah maut se zyada kisi ko aur de bhi kya sakta hai.'
When the fear of dying goes away, threats of death are of little consequence to Salim or Anarkali.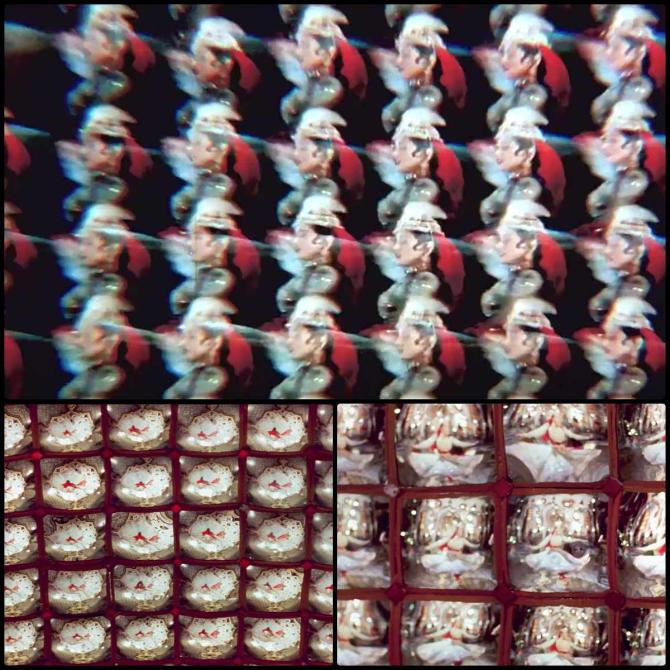 'Duniya mein dilwale ka saath dena daulatwale ka nahi.'
Anarkali dancing across the elaborately constructed Sheesh Mahal, which entailed weeks of imagination, workforce and exclusively imported glass from Belgium is the mother of all grandiose images in Hindi cinema.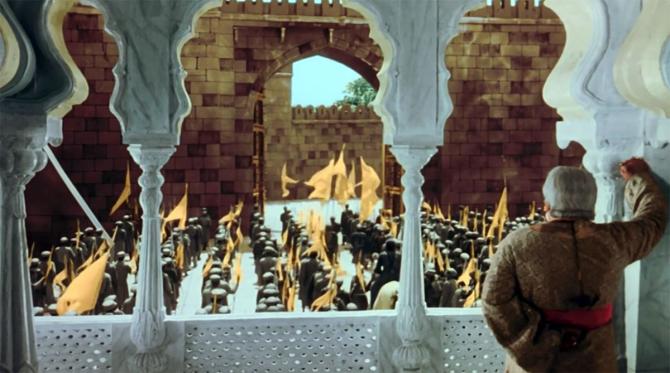 Akbar: 'Aap maa hain. Sirf Ma.'
Jodha 'Aur aap shahenshah hain. Sirf shahenshah.'
Forced to choose between her adamant spouse and her stubborn son, Jodha resents her lose-lose situation.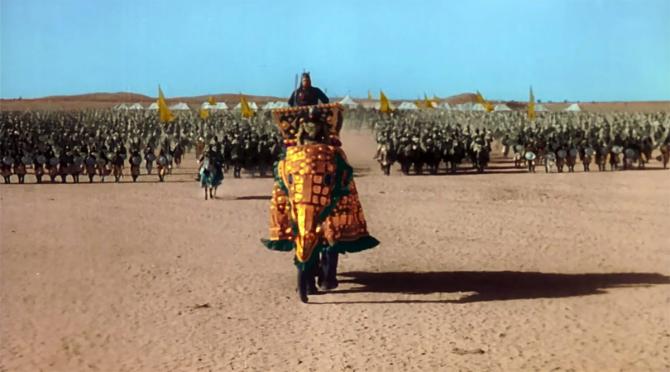 'Rajput jaan haarta hai. Vachhan nahi haarta.'
Years before Padmaavat would harp on Rajput pride in every second breath, Mughal-E-Azam packed its punch in Ajit's one solid declaration.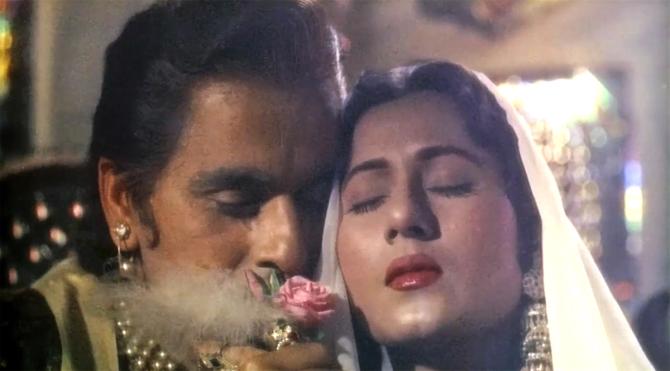 'Maut mohabbat se kareeb ho gayi.'
Reunited but not quite, Anarkali and Salim's star-cross romance is reminiscent of Ghalib's immortal Mohabbat Mein Nahi Hai Farq Jeene Aur Marne Ka.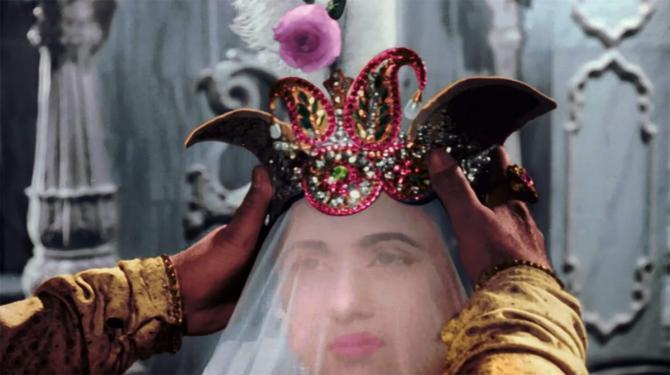 'Salim tujhe marne nahi dega aur hum Anarkali tujhe jeene nahi denge.'
One of the most quoted and parodied lines, it effectively conveys the heart and hostility of Anarkali's situation.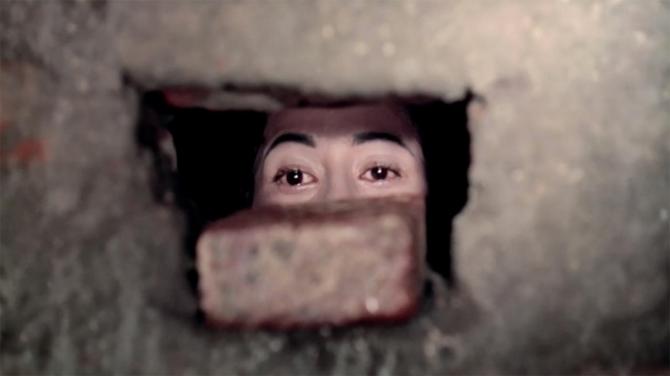 'Shahenshah ki in behisaab bakshishon ke badle mein yeh kaneez Jalaluddin Akbar ko apna khoon maaf karti hai.'
The sheer strength of Anarkali's unflinching words in Madhubala's poignant performance leave the audience as stumped as Akbar.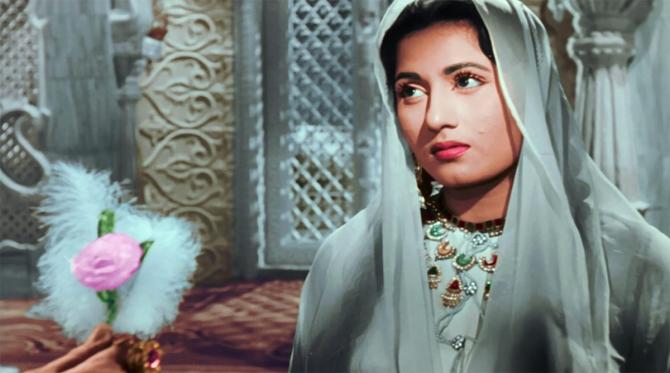 'Anarkali jab tak yeh duniya qayam rahegi tum lavz-e-mohabbat ki aabroo bankar zinda rahogi.'
True love's course never did run smooth, but even the Emperor has to bow before it.