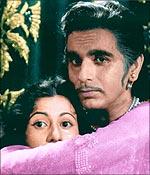 A magical, masterful classic completes 50 glorious years. And, like good wine, only gets better with age.
The shimmering, incandescing, glorious Mughal-E-Azam is an unforgettable milestone in the history of Indian cinema. It took 10 long years to make, crowned the career of one of India's most beautiful women, and tragically underlined the broken love story of its lead pair, Madhubala and Dilip Kumar. Towards the second half of the film, the two had even stopped talking to each other.
This eternal tale of romance is studded with incredible songs, superlative photography and phenomenal acting from not just its lead actors but also the peripheral cast.
At one point, director K Asif had even decided not to complete the film, but when this beautiful gem went on to finally release on August 5, 1960, it was clear it would create movie history.
A work of art is the only phrase to describe this historical whose grand palaces-and-fountains look has an epic sweep and whose heart-wrenching core of romance has the tenderness of a feather's touch.
Not surprisingly, Mughal-e-Azam has become a must-see classic, an ineluctable part of Hindi film lore.
The film boasts a cache of riches: high drama exquisitely verbalised through dialogues that can be shimmeringly ornate yet have the edge of a medieval sword; magnificent music (lyricist Shakeel Badayuni's best work); powerful performances. And the other-worldly beauty of Madhubala at the centre of this phantasmagoria.
It took a possessed K Asif a decade and many million rupees to make Mughal-e-Azam.
Early in this part colour film, the camera trails behind a beleaguered Emperor Akbar (Prithviraj Kapoor) on an arduous pilgrimage on foot, seeking an heir to the Mughal dynasty. He is rewarded with a son Salim. When the pampered prince shows a propensity for wine and women, the emperor banishes young Salim to the battlefield to enable him to become a capable king.
In a leitmotif that runs through the film, Akbar places consideration for his kingdom before paternal love.
Salim (Dilip Kumar) grows up and returns a strapping warrior. His hands have been soiled with blood; his heart still responds to pure beauty. He is spellbound by a 'live' statue created by an anti-establishment sculptor (Kumar). That statue is Nadira (Madhubala), a commoner with decidedly uncommon beauty.
Impressed by Nadira's raas during the birth celebrations of Lord Krishna, Akbar bestows the title of Anarkali on her and appoints her the court dancer.
Salim goes further and appoints her queen of his heart. With the connivance of chirpy go-between Suraiya, the embers of Salim and Anarkali's romance begin subdued but eventually consume both. The flames of their passion reduce a jealous minor royal Bahar (Nigar Sultana) to ash. Bahar's eyes, which sparkle like diamonds but are cold, hover on both the prince and the crown jewels and she leaves no stone unturned to sour things. She says while secretly trying out the crown: Taj unke kareeb nahin hota jinke kareeb khauf hota hain (The crown is not accessible to those who are accessible to fear).
Bahar informs Akbar about Salim's nocturnal rendezvous with Anarkali.
K Asif's mastery over the medium is evident in the tense sequence where Akbar thunders into Salim's chambers and catches him with Anarkali. The director refrains from employing lines here. Anarkali faints in Salim's arms. In doing so, she breaks his string of pearls. The sound shatters the ominous silence. This has a far more devastating effect than any heated exchange.
Infuriated, Akbar has Anarkali thrown into a dungeon only to have her defiantly proclaim Jab pyar kiya toh darna kya to a crowded darbar when released. Akbar goes red in the face. But nothing can change the besotted Salim's mind: neither sentiment (his mother Jodhabai tries to sway him), nor reason (Akbar appeals to Salim's sense of duty), nor treason (Akbar wages and wins a war against Salim and says he will be spared any punishment if he hands over Anarkali).
A desperate Akbar orders Anarkali's execution. When asked to express her dying wish she asks to be allowed to spend a night with Salim, as his queen -- so that his promise to her is fulfilled. Her wish is granted. A highly ecstatic night sequence is followed by a plunge into agony at daybreak when Anarkali is led away by the guards.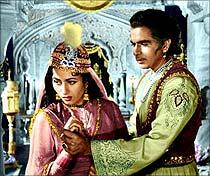 But will this indeed prove to be the last night of Anarkali's life?
Asif limns the film in his individualistic style: not a single extraneous frame, a relaxed exposition in his scenes. Suraiya is shown running from Salim's mahal to Anarkali's house and the long distance intelligently underlines the social distance between the two lovers.
R D Mathur's cinematography is one of the film's many pieces de resistance, whether it is epic scale battle scenes or intimate close ups of Dilip Kumar tickling an impassioned Madhubala's face with a feather. But the most talked about scene continues to be the Sheesh mahal shot where the image of a Madhubala twirling like a top to the strains of Chhup na sakega ishq hamara is captured in hundreds of pieces of fragmented mirrors of the Sheesh mahal.
In a subdued role, Dilip Kumar expertly counterbalances fiery dialogue with eloquent silences. The regal Prithviraj Kapoor uses his booming voice to great effect and is very impressive.
But the show belongs to Madhubala. Always beautiful, she has never looked this luminous. She appears hopelessly in love, but more important, effectively conveys the innate strength that stems from her conviction in her love. Her beauty has stood the test of time for 43 years, and will do so as long as a print of Mughal-e-Azam is available.
Famous Dialogues (by Aman and Kamal Amrohi)
* Anarkali, when presented with thorns by Salim: "Jahe naseeb. Kaanton ko murjhane ka khauf nahin" (I am fortunate to receive thorns because thorns never wither).
* Jodhabai: "Hamara Hindustan koi tumhare dil nahin hai laundi jispar hukumat kare" (Our Hindustan is not your heart which a nautch girl can rule over).
Salim: "Toh mere dil bhi aapka Hindusthan nahin hai, jo aap uspar hukumat kare" (By the same token, my heart is not your Hindustan that you impose your will over it).
Sidelights
* The story, adapted from a famous stageplay, has been successfully filmed as Anarkali before, most famously with Bina Rai in 1953. K Asif had originally conceived the film in the 1940s with Nargis, Sapru and Chandramohan in the roles eventually played by Madhubala, Dilip Kumar and Prithviraj Kapoor.
* Prithviraj Kapoor would look into a mirror as tall as himself before each shot. When K Asif asked him why he did so, he replied, 'I do so to get under the skin of the character.'
* Mughal-e-Azam was Madhubala's crowning glory but sadly, she could not sign any films thereafter because of her heart problem.
* Tabla maestro Ustad Zakir Hussain says, 'I was considered for the role of the young Dilip Kumar. But the role was eventually played by Jalal Agha.'
* K Asif completed only one other directorial venture in his life, Phool (1944).
Music
* Naushad says he recorded some 15 to 20 songs for the film but not all of them were used. Dilip Kumar, in keeping with his princely role, did not sing a single song.
* For Jab pyar kiya toh darna kya, lyricist Shakeel Badayuni and Naushad had a brainstorming session in the latter's bungalow's terrace that lasted a whole night.
They came up with a song that has become the signature tune for rebellious lovers.