The latest task in Bigg Boss has a shocking outcome.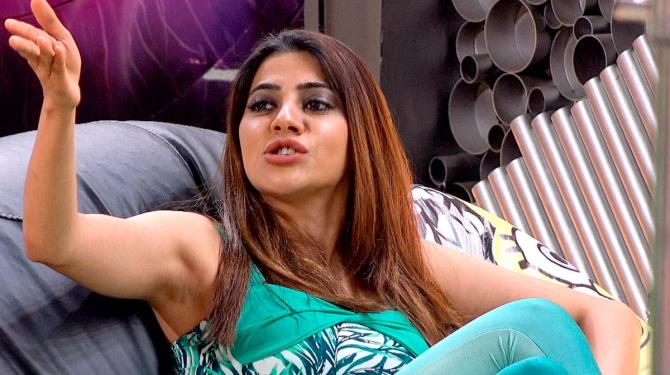 Which of the contestants will go to the finale week?
Eijaz Khan and Abhinav Shukla discuss this, and the former feels that Kavita Kaushik and Nikki Tamboli should not go ahead in the race.
That does not, of course, stop Eijaz from having fun with Nikki later. But their conversation soon turns sarcastic, leaving Ms Tamboli upset.
A little later, Nikki and Jasmin discuss Eijaz and the latter says that Khan is absolutely fake and quite arrogant because he's the first finalist of this season.
Jasmin also tells Nikki that Eijaz used to provoke Jaan Kumar Sanu to get him out of her shadow.
Nikki confronts Eijaz about this, leaving him irked.
He gets upset with Jasmin for talking behind his back, and soon gets into a fight with her.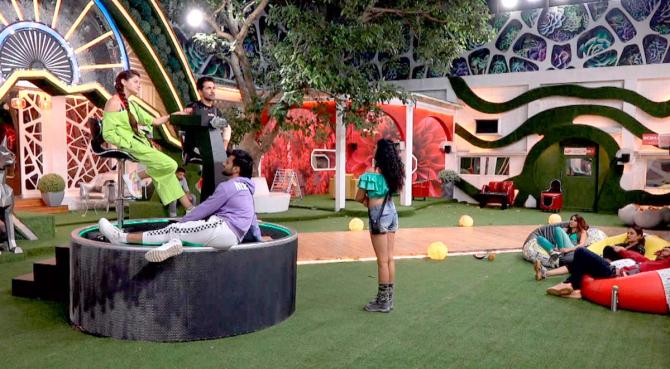 In the afternoon, Bigg Boss announces that it's time for someone to leave the house.
The housemates are given a new task wherein they have to sit on a podium and keep track of time.
The contestants have to pair up in a team of two and the other housemates will grill them during the task in order to distract them.
The teams have to sit on the podium for not more than 37 minutes.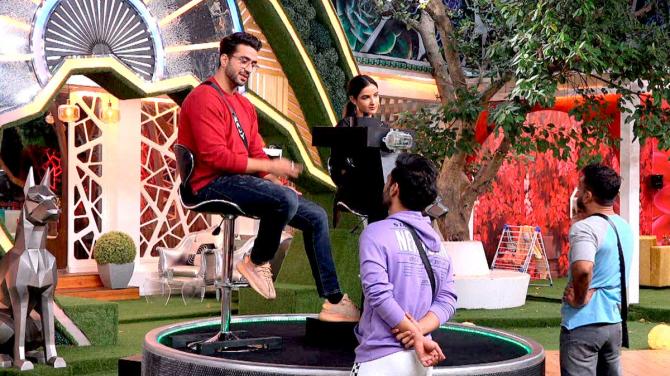 Aly teams up with Jasmin, Rahul with Eijaz, Kavita with Nikki and Abhinav with Rubina.
Everyone starts strategising.
Rubina and Abhinav get into an argument, as they feel Kavita and Nikki should not win this task and talk to Aly about it.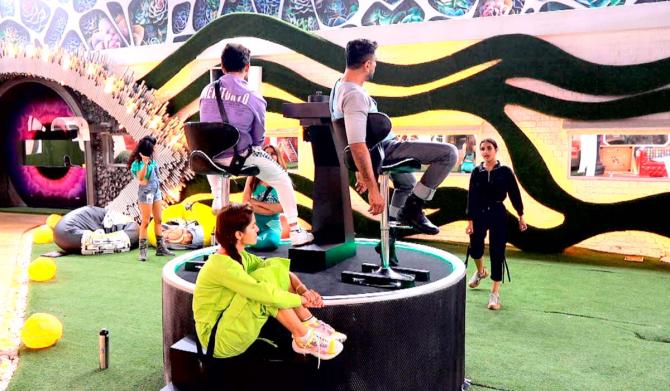 When the task starts, Kavita and Nikki are the first ones to go.
Rahul starts grilling them but the ladies keep their calm.
Soon, the buzzer goes off.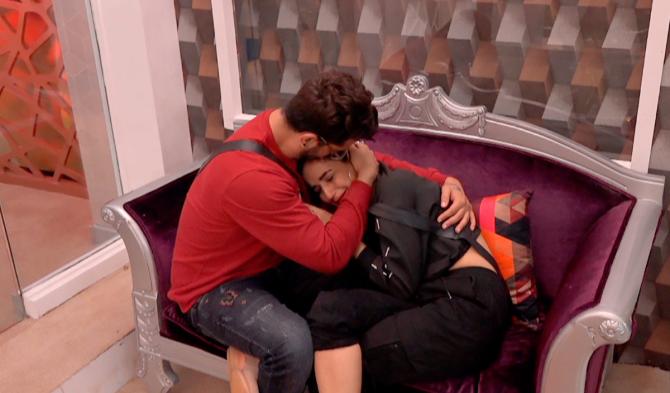 Aly and Jasmin are next.
Kavita and Nikki throw a volley of questions at them.
Kavita asks Aly about their big fight and while Rubina asks Jasmin about theirs.
Jasmin tries to answer while keeping a tab on the time.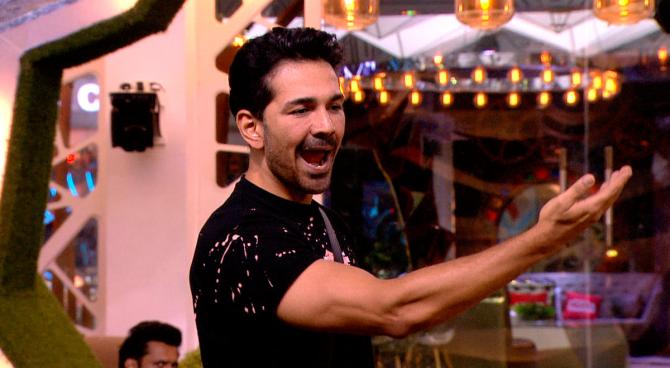 Once Aly and Jasmin are done, it's time for Abhinav and Rubina to take the seats.
Kavita and Nikki start grilling the husband-wife duo and ask why they were planning to divorce.
Jasmin asks Rubina about her fight with a certain co-star and what she wrote on social media about it.
Kavita asks Rubina to name all the actors from her show Shakti.
Once they get off the podium, Abhinav blasts Nikki for getting personal in the task and asking about their divorce.
Eijaz and Rahul are the last ones to go.
Their grilling session starts and Nikki-Kavita go all out to irk them.
Yet, the men keep their cool and perform well.
In the end, they are declared the winners.
Aly and Jasmin lose the task as they had the worst timing.
Everyone is shocked when Bigg Boss announces that Aly and Jasmin will have to decide who will leave the house between them.