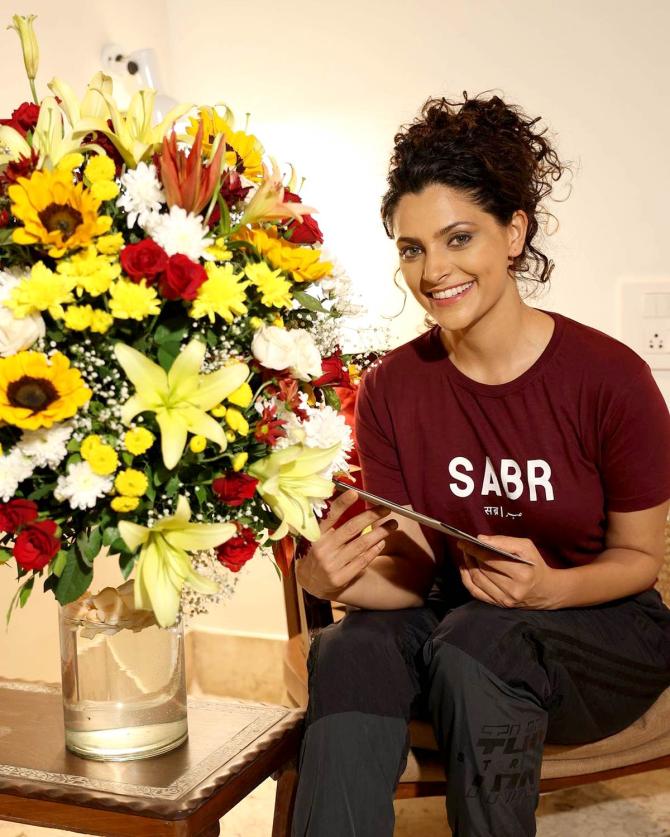 It's not everyday that one gets a bouquet of flowers and a handwritten note from India's biggest superstar, Amitabh Bachchan, and Saiyami Kher is suitably thrilled.
Posting some pictures, the Ghoomer actor writes a heartfelt note:
'I remember seeing a short film called "Looking for Amitabh" on how the visually challenged perceive this icon. From describing his trademark baritone to the sound of his shoes, or the scent of his perfume. We don't even see Mr. Bachchan, but we can experience the impact created by this superstar.
As a kid, the signature KBC tune meant it was bedtime. My parents would come back from work. And my grandparents would finish up their chores. Despite our diverse interests and age gaps, this one show brought three generations together.'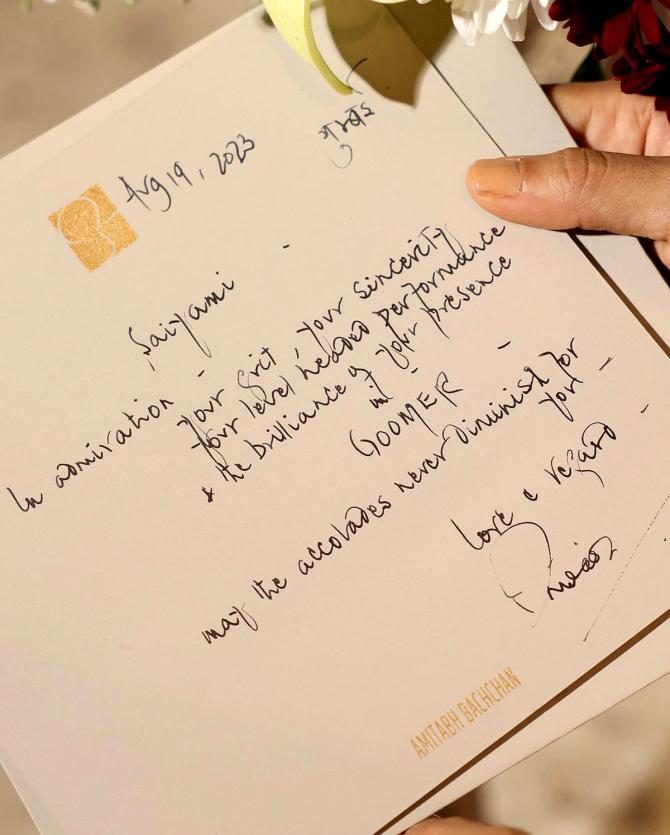 'If there was a contestant who gushed over Mr. Bachchan, Aiedu, my grandmom would sit preening about him. She did this until her last breath.
He was after all from her part of the country. Any compliment to him obviously meant a compliment to her.
He represented the heartlands of our country.
He represented the fulfillment of dreams.
He represented hope.
Since I began acting, there have been many ups and downs. There were so many people who brushed me off telling me I was "hopeless". But I tried keeping my head above the water. While every rejection hurt, every rejection also made me work harder.'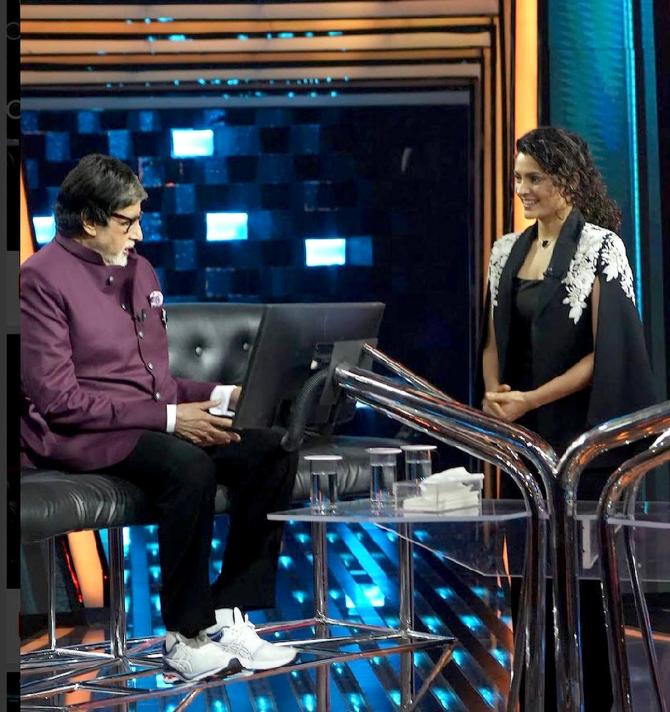 'I've always kept everything bottled up. At the premiere of Ghoomer in Melbourne, everybody was sobbing.
"Show some emotion Kher saab", AB said as he hugged me after our standing ovation. But I stood there seemingly zen about everything. In reel life I can cry buckets, in real life, you will never know how I'm feeling.
Yesterday, as I sat at home pondering my fate, someone rang the doorbell. There was a bouquet of flowers and a handwritten note. My heart skipped a beat. Is this what I think it is? THE stamp of approval which every actor in this country dreams of?
I looked up to the skies and finally bawled, "Look what this is, Aiedu."
Hope. Thank you @amitabhbachchan Sir.'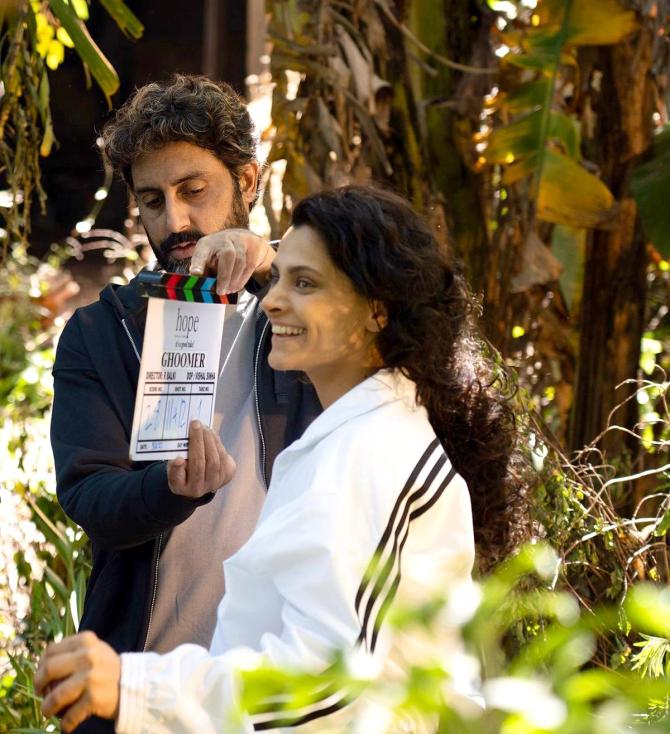 Saiyami is very grateful to her director R Balki as well, who believed in her and gave her a stellar part in Ghoomer.
She writes about him:
'If you had told me a few years ago, that I'd wake up reading the praise which I've received for Ghoomer, I would have never believed you. I didn't have that faith in myself, leave alone anyone else instilling it in me. It's hard to explain what this film means to me.
I was the junglee girl who would bash up boys in school. Who could eat grilled chicken every day. Who aspired to be ambidextrous, because my icon, Sachin Tendulkar was. Who would spend hours in my parent's restaurant trying to make a Rumali roti fly in the air. Whose life revolved around her grandmother. Whose most prized possession was a store-bought Indian cricket jersey. Who hoped that someday, she wouldn't need to buy it. And that, maybe, one day, it would bear her name.
Sadly, that magical moment never came for me.
But I did what I could to create glimpses of that magic in my life. When I was batting, running, swimming, or smashing a shuttle, I was happy. We can't pour from an empty cup. So I filled it up to the brim with sport.'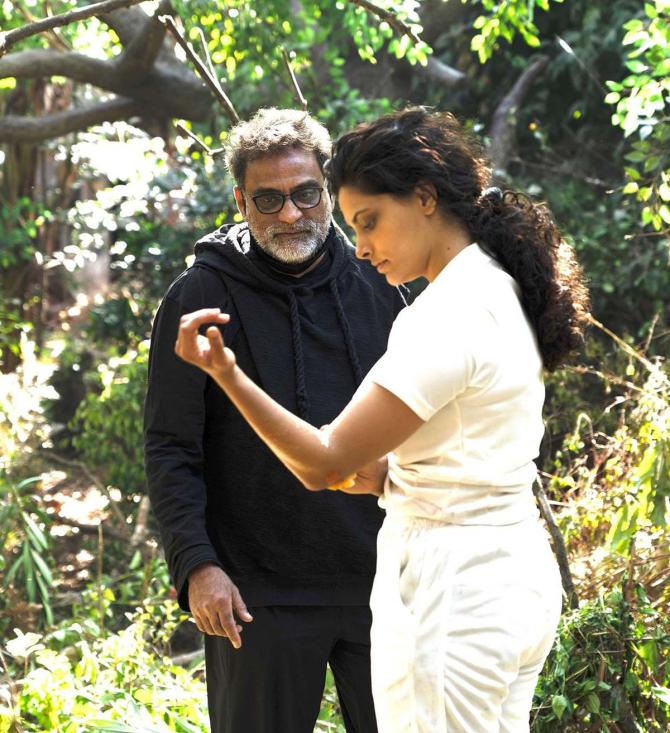 'This "athlete" image didn't go with what a conventional "heroine" was meant to be. Instead of filling the cup, I was told to empty the vessel out of everything it contains. How do I become someone else if I am still holding on to what I am? So pour it all out.
And Balki gave me that. This film has my blood, sweat, tears, and heart. Anina is me, I am Anina. The palindrome extends beyond just a play on the name.
To @anuragkashyap10 who filled my head with logic and brought back my confidence.
To Balki, who filled my life up with magic by giving me this once in a lifetime opportunity.
To AB who taught me kindness.
To Shabana Maushi who showed me the importance of family.
And to Angad, my first friend in the industry; thank you.
To spending a year with one hand tied up. And to realizing that we're stronger than what we think we think we are. To believing in oneself. To Ghoomer.'