'When I was going through a bad phase, my fans would ask why I wasn't working.'
'I didn't have anything to say since no one was offering me work.'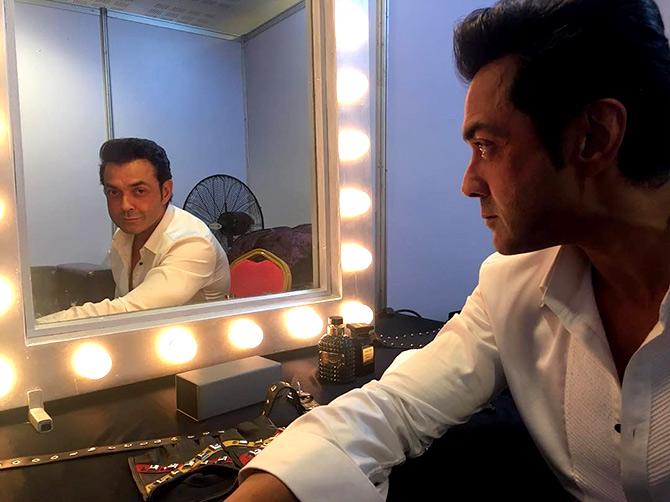 Ever since Bobby Deol decided to make a comeback, he has become unstoppable.
After Race 3, he gave us Yamla Pagla Deewana Phir Se.
Dressed in black trousers and a black shirt -- three buttons open, giving everyone a glimpse of his chiselled chest -- Bobby, who will turn 50 in January, tells Rediff.com contributor Urvi Parikh that he is in a happy space now: "It shows on my face!"
How does this busy phase feel?
This is what I was working hard towards.
It is nice to go for work everyday; that is what my dream has been.
Things are moving in that direction again, so yes, it's good.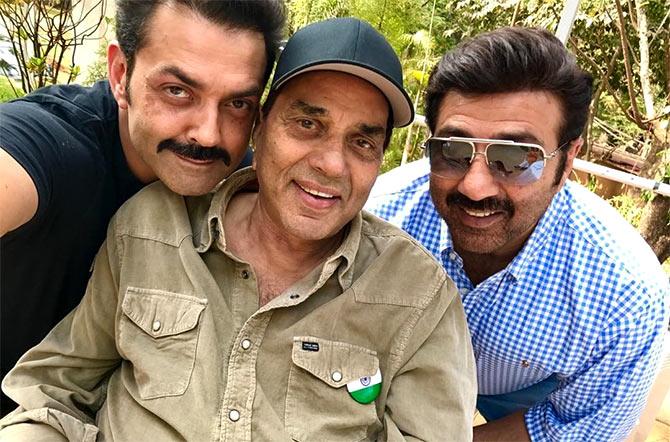 How was it reuniting with your dad Dharmendra and brother Sunny Deol on the big screen?
Working with my father is always a dream.
I worked with him for the first time in Apne.
I wish I had done more movies with him.
Sometimes when I look back, I wonder why I took so long to do Apne.
I am happy and excited to be sharing the screen with him.
Apne was one of the best films to start with my dad because everyone said he made them cry in it.
So dad decided to make them laugh, and that's why Yamla Pagla Deewana happened.
Kriti Kharbanda told us she was intimidated by Sunny Deol, but chilled out with you.
Yeah, because I am chilled out. Not that my brother is not.
But my conversation starts with the potty (laughs).
I break the ice with that.
Aaj pet theek hai, toh mood theek hai (the stomach is fine, so the mood is fine)... that is how my conversations begin.
So it becomes easy for people to talk to me.
I am famous in the industry for stomach problems.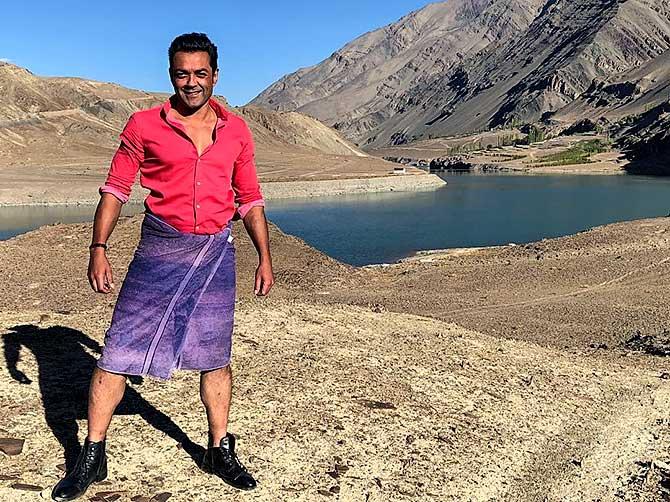 Is it difficult to make a sequel after a gap?
It is always difficult to make people enjoy a film.
When they see the promos, they decide whether they want to watch the movie.
The time gap between sequels doesn't matter.
What inspired you to make a comeback?
I didn't do anything to make my fans happy initially.
When I was going through a bad phase, my fans would ask why I wasn't working.
I did not have anything to say since no one was offering me work.
The love of the fans was my inspiration.
Once I realised what I had to do with myself, I started working hard.
I realised the fans hadn't forgotten me.
You cannot say I am not lucky.
If you don't work towards it, luck won't come your way.
Without hard work and focus, you cannot achieve anything.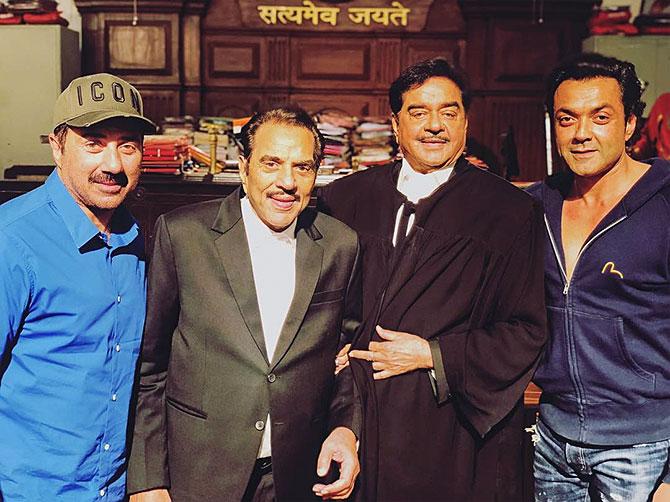 You danced with Rekha, Shatrughan Sinha and Salman Khan in Rafta Rafta.
I was very excited.
I never imagined that I would be in the same frame as Rekhaji and Shatruji.
It is all thanks to Salman Khan.
We wanted to shoot a cameo with him. He worked on the song and decided to get Rekhaji, Sonakshi Sinha and Shatruji.
Shatru uncle and dad have been friends, and the song is one of my favourites.
It has a lot of masti, romance and badmashi.
Dad and Salman have the same characteristics.
When we thought of this song, the first person who would fit in it was Salman Khan.
Do you think today's films lack the emotional connect that films had before?
Everything changes with different generations.
Every generation becomes more intelligent and you have to move with time.
Cinema also changes.
Kids today are so Westernised, we see that coming into the movies.
At the end of the day, movies have to entertain you.
People, who are brought up in this generation, connect better now and feel why people were so melodramatic back then.
Emotions have definitely become shallow and superficial and that may be because people have become like that.
A Dillagi didn't work back then, but today, it is a cult film.
Sometimes, cinema is ahead of its time, and sometimes, it is too old-fashioned.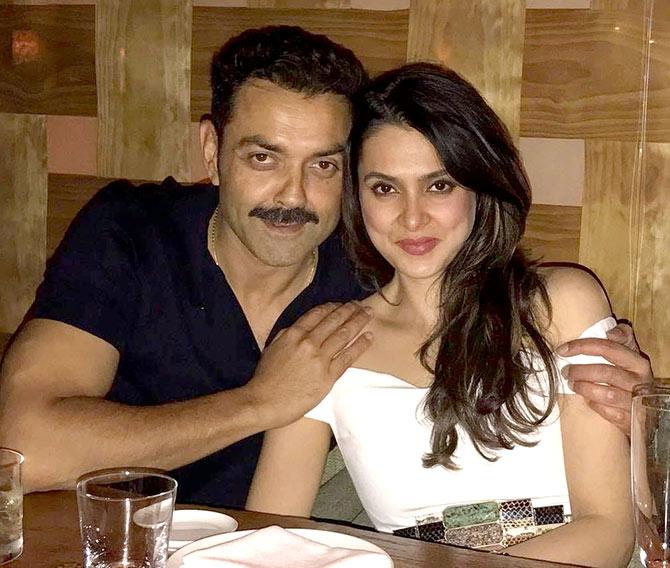 Does the paparazzi culture bother you? Do you consciously keep your kids away from the media?
I have always kept my family away from the media because glamour affects you.
People around you start influencing you and make you feel like a celebrity.
Since a child is young, they have less understanding. So the glamour and limelight can influence negatively.
They should face all this, but at the right time.
When I was missing in action for four years, things were different.
Now that I am busy again, I want my family to be with me.
So yes, I try and avoid them getting clicked every now and then, but sometimes, it is okay.
Are you in a happier space now?
Definitely! And it shows on my face!
I see in everyone's eyes.
I know all of you see my hard work and appreciate it, and that's the best encouragement.
I had gone to a friend's get-together recently and wass waiting for my car. A few young kids walked up to me and said, 'Sir, you look amazing. You are an inspiration to us.'
That is the best thing I can hear from someone.
Which are your best memories of working on YPD 3?
YPD has the best memories.
During the shoot, dad was unwell. But he has so much fire in him to do movies that it made him stronger.
I couldn't handle it, but when I saw his passion, it was amazing.
When we shoot, we get to spend a lot of time together.
Otherwise, all of us aren't home together at the same time; we have different schedules.
So it was great fun.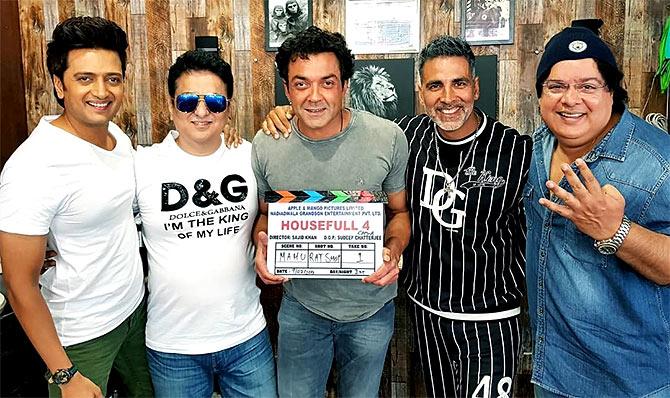 How is Housefull 4 shaping up?
I just shot for 12 days.
We begin again in September till November.
The movie will release in Diwali 2019.
A lot of VFX needs to be done. It is a comedy about reincarnation.
I get to wear these costumes with long hair!
Working with Akshaybhaiya (Kumar) is good.
I call him 'bhaiya' because I did a movie with him years ago, Ajnabee. There was this assistant who would call Akshay 'Ache bhaiya.'
Which of your films would you like to see remade?
Barsaat, Soldier, Ajnabee, Gupt... all of them had great subjects.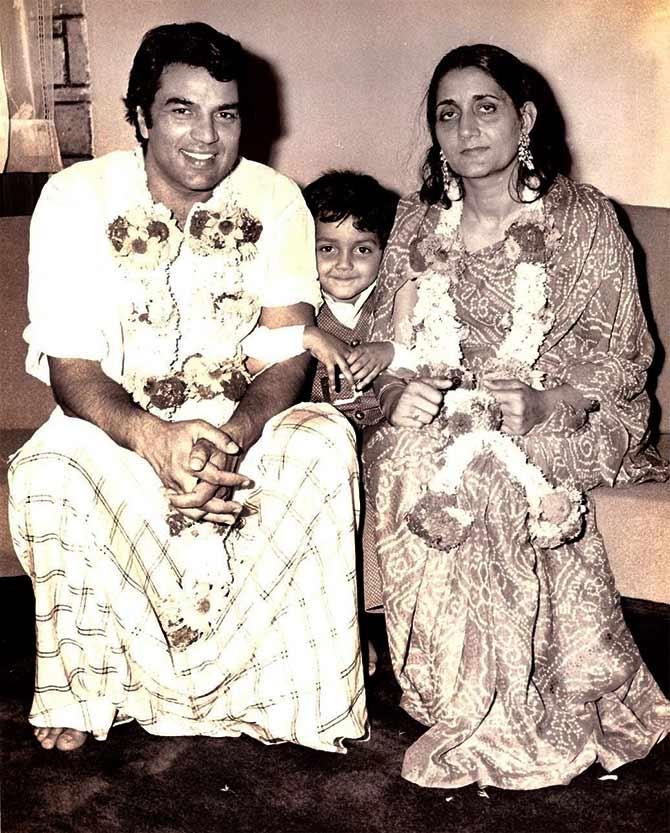 And your father's films?
I really want to remake Pratigya.
Except there should be no daakoos left.