'I couldn't understand why people didn't want to take me in a film or why I was offered the roles that I got.'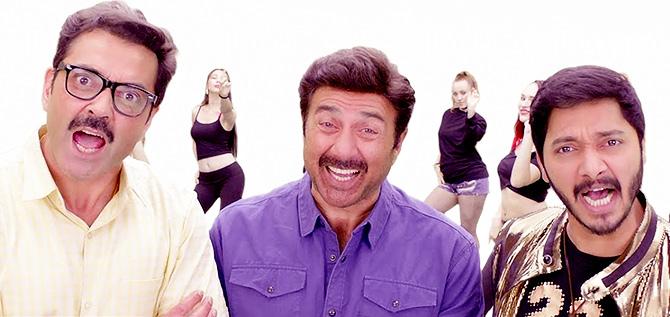 IMAGE: Bobby Deol, Sunny Deol and Shreyas Talpade in Poster Boys.
When you walk into an interview with Bobby Deol, be prepared for two things.
Cigarette breaks and 'susu' breaks.
Bobby asks for both quite frequently as he promotes his new film Poster Boys.
Besides these quirks, Bobby is quite the charmer, discovers Rediff.com's Patcy N.
Were you surprised when this role was offered to you?
I was surprised and excited at the same time because I hadn't worked for so many years.
I was looking to doing something different and interesting.
When I heard this subject, I thought it would be a challenge for me.
First of all, I had to look the part and then I had to perform it.
Shreyas (Talpade, who directed the film) said, 'Don't worry, I believe in you. I said I am on, but we have to do workshops.' He felt the same way.
We did a 10-day workshop. When the shooting started, it went smoothly.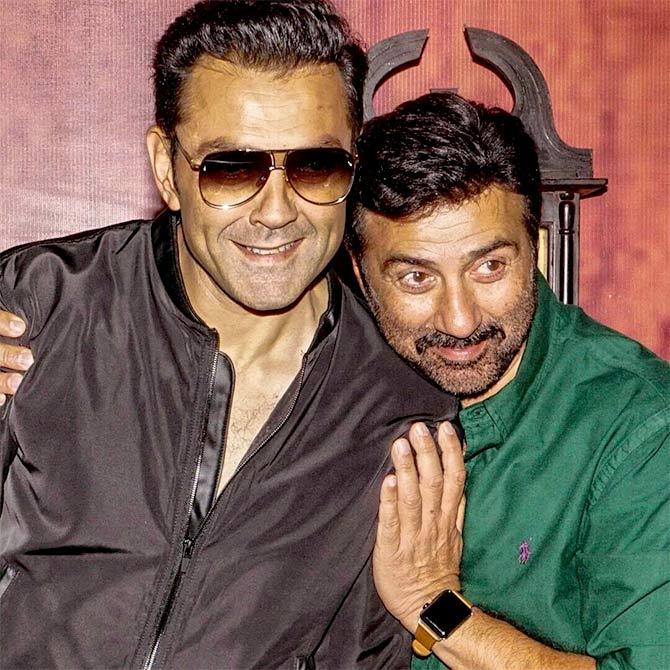 IMAGE: Bobby and Sunny Deol. Photograph: Kind Courtesy Bobby Deol/Instagram
Sunny Deol is old school. Did he attend the workshop?
Every actor believes in his way of performing.
Bhaiya has been in the industry when all this (workshops) were not happening.
I entered later when there were workshops, but not too many.
I wish they were always a part of the industry and the filmmaking process. I really believe in it. It gets the best out of you.
Luckily, Shreyas comes from a stage background, so he definitely believes in workshops.
The workshop was great fun. He made me say the Gayatri Mantra because he felt he would help me say tongue-twisting dialogues. He also tried some Marathi tongue-twisters with me.
I can't speak Marathi so it was very difficult for me.
Shreyas is directing a film for the first time. How did you have confidence in him that he would do justice?
When Shreyas narrated the subject to me, I could see his confidence. I could see that he has it in him to direct.
The only actor-director I have worked with in my career is my brother in his film Dillagi, and he got the best out of me.
I still believe it is the best job I have done in my career.
I hoped it would be the same with Shreyas and it was. I enjoyed working with him. He always knew what he wanted.
A film only works when its content works. The visuals can be breathtaking, but if the content is not good, it won't work.
Poster Boys is character driven. All three characters are very interesting, so it is a great combination of the three of us.
Have you seen the Marathi film Poster Boyz?
No. I didn't want anything to influence me.
Even after the shooting, I didn't watch the original.
What would you like to be a poster boy for?
Right now, nasbandi.
What would you never be a poster boy for?
Tobacco.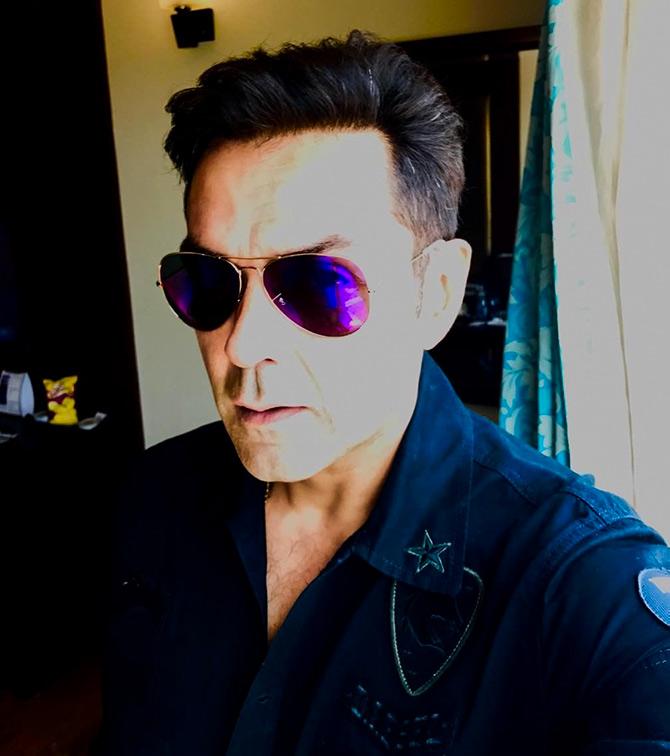 IMAGE: Bobby Deol. Photograph: Kind Courtesy Bobby Deol/Instagram
How do you look so handsome even today?
I am 48 years old. I was born in 1969 so I'm not 50 like it's mentioned on Wikipedia.
I went through a phase where I was low and not looking my best.
I fought my demons and came out of it because that is the only way people will look at you or think about you -- only if you show the positivity in yourself.
I have really worked hard. I have been working out, taking care of myself and being positive.
You should think that nothing is impossible in this life. You should have that attitude. That is how I will be from now on.
What demons did you fight?
I was low. I was fighting everything around me... why is it like this or why is it like that...
There was no good work coming my way. I couldn't understand why people did not want to take me in a film or why I was offered the roles that I got.
Human beings are weak. You give into galat cheez (weaknesses). I went through that and then I realised I was being silly.
You were good in Gupt, Soldier, Barsaat...
That's what I thought. I have the potential in me so why am I giving up? I took a U-turn from all that.
What motivated you?
My wife, my family, my kids... they are my strength and they really motivated me.
You dabbled with DJing.
Social media can blow anything out of proportion.
I went for an event and they made it sound like I was a DJ. Then, people just made fun.
I was never a DJ. I don't know what DJ's do.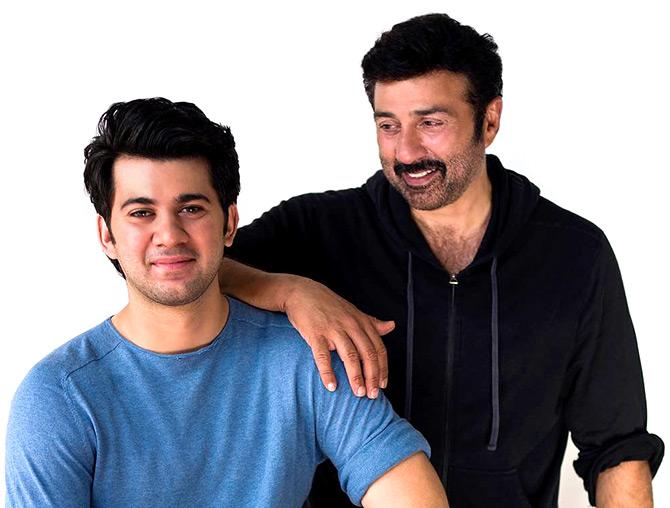 IMAGE: Sunny Deol with son Karan. Photograph: Kind Courtesy Bobby Deol/Instagram
Your kids Dharam and Aaryaman -- do they have any inclination towards acting?
There is no business like show business. More and more people want to get into this business even if they are not from the industry.
I am sure my sons want to be in it. I am sure both of them are inclined.
They are studying now and they are good in their studies.
Education is a must and only after that should you step into a profession.
Your nephew, Sunny Deol's son Karan, will make his debut soon. What do you think of him?
He is a natural.
He is a Deol.
He's like how my brother was when Betaab was being made. He has a lot of potential.
What I love about him is that he is very vulnerable.
He has a quality in him that is missing in actors nowadays because everybody is made perfectly. But he is real.
I believe every actor should be real, not be like mannequins.
Your father Dharmendra and brother Sunny are working with you in Yamla Pagla Deewana Phir Se. What can we expect?
Look for something that was not there in the second one because that wasn't very nice.
We have worked really hard on the script and hope it will make people laugh and enjoy.
After Apne, people said we had made a lovely film, but it was very emotional.
So papa said, 'Don't worry, we will make you laugh in the next one.' So we made people laugh in the next one (Yamla Pagla Deewana). People did not laugh in the next one, so we are trying to make a comedy again.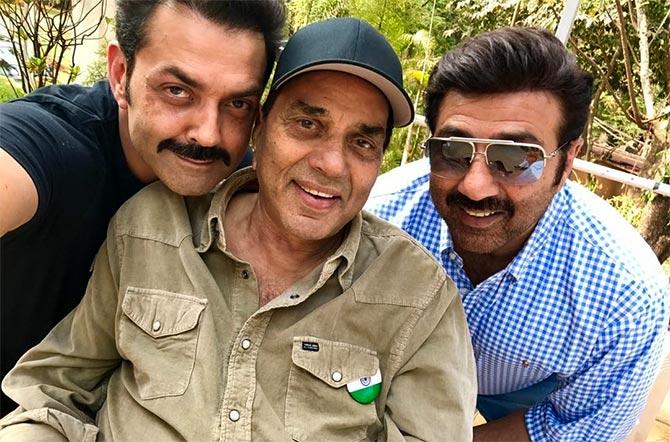 IMAGE: Dharmendra with his sons Sunny and Bobby. Photograph: Kind Courtesy Bobby Deol/Instagram
Dharamji and Sunny are known as action heroes.
My dad has done all kinds of movies -- Haqeeqat, Satyakam, Anupama, Bandini...
In the same year, he has given a romantic film, an action film and a social drama.
But the sad part about our industry is that they give only one image.
He is the most versatile actor in our country. I don't see anyone as versatile as him.
My brother has also done different kinds of films, but yes, his action films have been big blockbusters.
But Gadar was never an action film; it was a love story. It was the biggest blockbuster love story ever made.
What went wrong with your career?
I wish I knew.
How did it affect you?
As I said earlier, I went through a phase. I fought my demons for four years and came out of it.
Now, I am more focussed and fresher. Hopefully, there is a lot I can do.
Do you feel bad you have not lived up yet to your father and brother's expectations?
I never thought about it that way.
I am not them, and they are not me.
They can't do what I can and I can't do what they can, so I never compare myself to them.
You will never be able to be a Dharmendra; there is only one Dharmendra.
No other actor can be a Sunny Deol.
And nobody else can be a Bobby Deol either. (Laughs)
What is it like working with your father and brother?
There is respect. You never cross that boundary.
But when you work as professionals, you don't think about all this.
You work as two co-actors, working together and doing a scene.
I am not nervous when I work with my father or brother.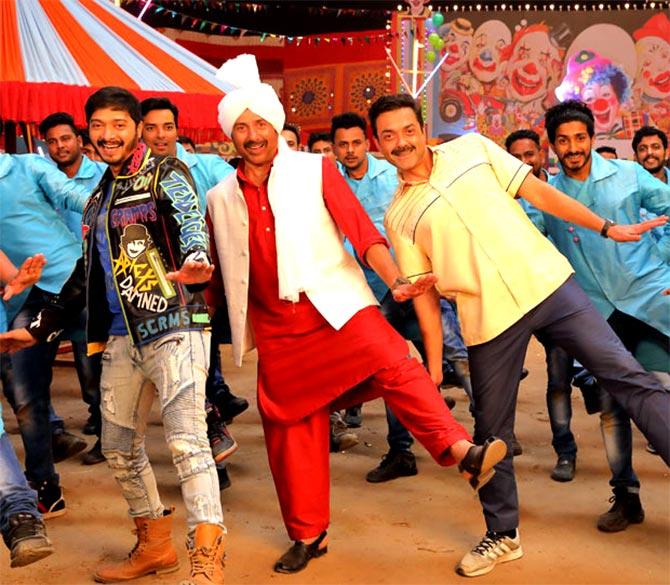 IMAGE: Shreyas Talpade, Sunny Deol and Bobby Deol in Poster Boys.
If you could change anything in your career, what would it be?
I would go back and be more focused and alert than I was.
Which is your favourite Dharmendra and Sunny Deol film?
All of their films are my favourites. There isn't even one that I don't like.
I love my dad and my brother. I look up to them.
What have your films taught you?
Every film is a learning as an actor.
Who is your biggest critic at home?
My wife.
Esha Deol is having a baby. Is there excitement in the family?
We are just looking forward to a healthy child and a healthy mother. What more can you ask for?