'Dharam sir is so chilled; he is like a buddy.'
'I am very scared of Sunny sir.'
'With Bobby sir, I can talk anything.'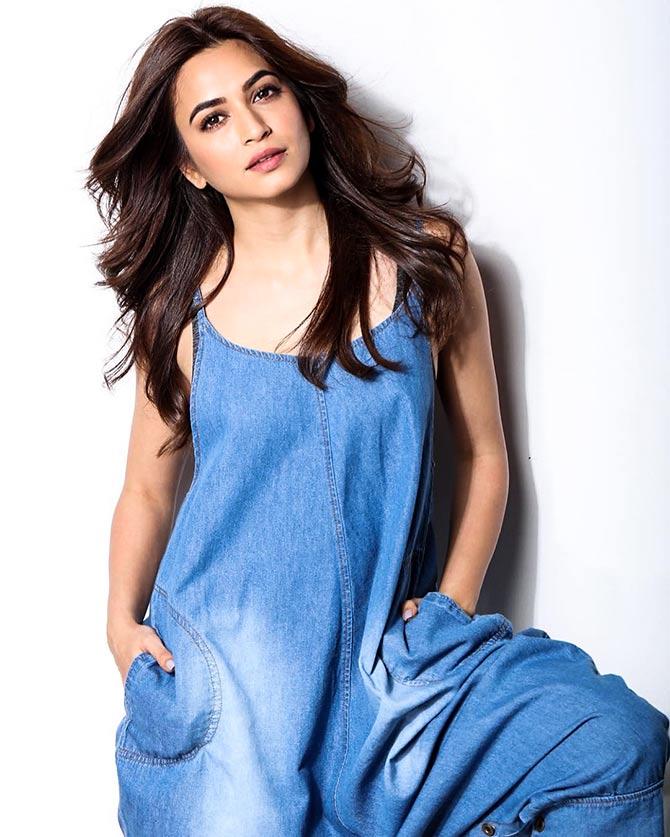 Kriti Kharbanda is a ball of sunshine, as she enters a room full of scribes, waiting to discuss Yamla Pagla Deeana Phir Se.
Dressed in a shimmery beige dress with a plunging neckline, Kriti apologises for coming in late.
She settles down quickly and gets candid about the Deols and her movie choices in no time.
Kriti tells Rediff.com contribtuor Urvi Parikh.
How was it working with Dharmendra, Sunny and Bobby Deol in Yamla Pagla Deewana 3?
The experience was better than I expected.
I was intimidated (initially).
All three of them are big in their respective positions, especially Dharam sir.
I never thought I would get to work with him. I have looked up to him. Chupke Chupke is my favourite film of his.
I have grown up watching Bobby sir's films.
Unko dekh ke fan girl moment hua tha because I remember him in Soldier.
I feel blessed that I got to work with them.
They were welcoming and warm.
Bobby sir is the most fun co-star I have ever had.
I hope the movie works for them as well as for me.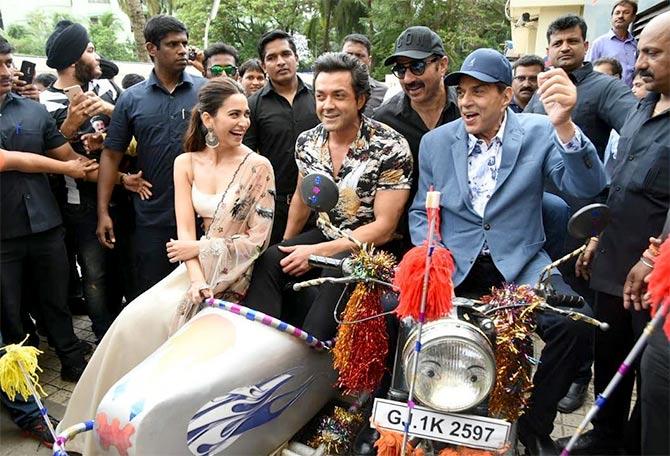 Have you watched the previous two films of the franchise?
I watched the first.
The second, I saw in parts.
I have seen their other films like Apne.
Dillagi is a personal favourite.
My brother wanted to rename himself as either Ranveer or Rajveer (Sunny and Bobby Deol's character names in Dillagi).
I have not mentioned this to Sunny sir.
I am very scared of him.
With Sunny sir, the conversation has been more about him sharing his experiences about his films. He told me about Gadar; how difficult it is to shoot a patriotic film and the risks that come with it.
So those were the serious conversations.
With Bobby sir, I can talk anything.
Why are you scared of Sunny Deol?
Sunny sir has such an intimidating personality.
Dharam sir is so chilled. He is like a buddy.
Did you get any tips from Dharmendra?
He used to tell me to feel that character who is from that time, but do what comes naturally to you.
Dharam sir is very approachable. He gives his inputs.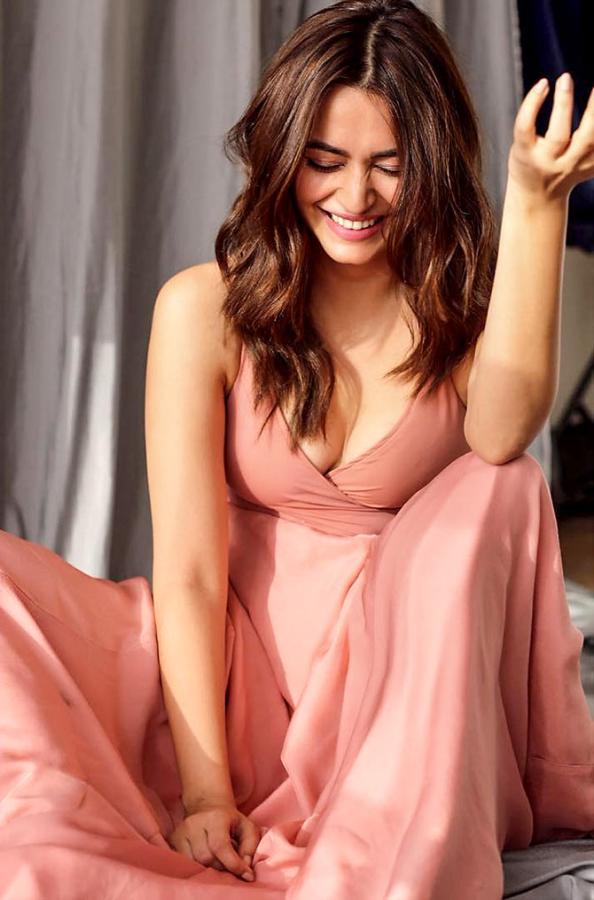 What was the first day of shoot with Dharmendra like?
The first day was supposed to be a solo shoot.
I thought they wanted to ease me on the sets by shooting solo before the big stars come in.
I reached the sets.
Main moophat, idhar-udhar ghoom rahi thi (I was walking around aimlessly).
Suddenly, I see Dharam sir walking in.
I was like, 'You told me I am shooting alone today. Main sir dhank ke nahi aayi hoon (I didn't cover my head)'.
That was our joke.
I was so nervous that I was confused whether I should say Namaste, seek his blessings or say Hi.
So I did all three.
I am sure everyone realised I was nervous.
He gave the first clap, and said 'Best of luck' to me.
He said he likes the charm on my face. I was like Bas aur kuch nahi chahiye life main... Dharam sir thinks I am charming! (laughs).
That is how it started.
The second day, I was working with Bobby sir and Sunny sir.
With Bobby sir, it did not take time to break the ice.
But with Sunny sir, it took me one or two days to be comfortable.
Could you relate with your character Chickoo?
The character contrasts my personality.
Chikoo is a Gujarati character. She's like a coconut -- she has a soft interior with a hard exterior.
To know why she is like that, you will have to watch the film.
I could relate to her character because she is a small-town, middle class girl with big dreams.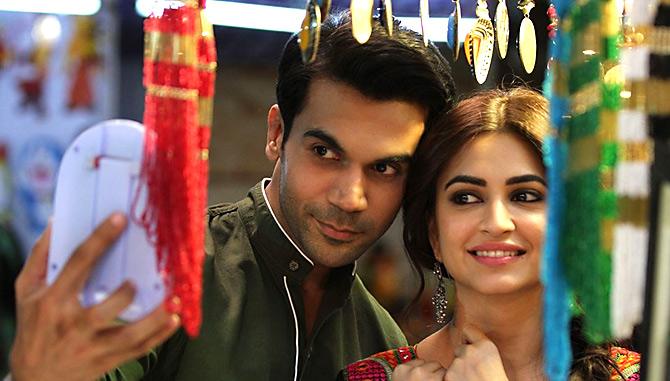 Are you consciously choosing different types of roles for yourself?
After Shaadi Main Zaroor Aana, I got the confidence that I can act well.
I got validation from the industry, critics and the audience.
That is when I realised that I should do good films.
A lot of times, talented people don't get their due because of the kind of films they choose to do.
And that happened with me also.
Housefull 4 was a difficult decision because I have never pulled off that kind of role before.
It's a kind of movie that requires a lot of self-confidence, and I cannot let myself down after going on the set.
Also, you cannot expect to know what is in store for you before you start shooting.
Now, I feel I took a good decision.
As far as Karwaan is concerned, I enjoyed reading the film at the script level.
When he (Karwaan director Akarsh Khurana) explained the character to me, I was game.
Also, I am a big Dulquer Salmaan fan. I loved him in Ok Kanmani.
Plus, it was being produced by Ronnie Screwvala, so I know they are very particular about their films.
I'm confident about YPD3 because I watched the film a few days ago.
I can confidently say that I am not just the glamour quotient of the film nor am I sidelined.
I know how relevant I am in it.
You are paired opposite Bobby Deol.
Yes. Chickoo's character has a lot of layers.
You will not realise who she is until the second half of the film -- whether she is in love or not.
Was it difficult to get the Gujarati lingo right?
It was difficult learning Gujarati.
I had to dub thrice to sound right.
In the film, I speak in Hindi, but there is a scene where I am shown drunk and I have to abuse.
When you are drunk, maa-behen ki gaaliyan come out in your mother tongue only.
So I had to learn them for my character.
I think it was super fun.
Also, my entire team is Gujarati so that helped me big time.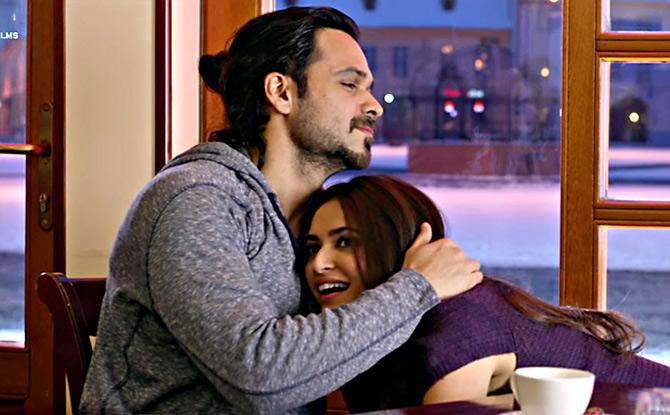 Are you being choosy because you don't want to get typecast?
A lot of people told me that Raaz Reboot was a mistake because I would get typecast, and I did start getting a lot of offers of horror cinema.
It was a conscious decision not to accept them because I didn't want to get typecast.
I want to do cinema, which will break that bracket.
That is what Mukesh Bhatt sir had told me.
They had decided not to offer me a horror film and wanted me to work on a romantic movie next.
Unfortunately, it did not take off.
I hope I can work with them post Housefull 4.
Mukesh Bhatt sir had told me that I would get tempted because of the film, the script, the director, the producer or the money, but I must choose wisely.
I don't want to be typecast, but then again, if I am known as the quintessential girl-next-door, then the challenge for me will be to play the similar characters differently.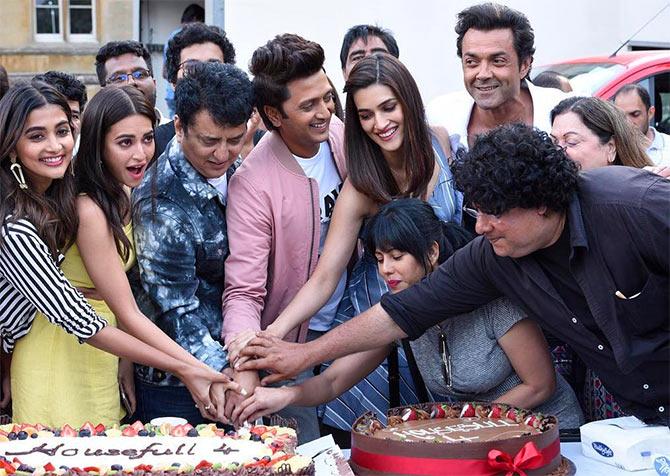 Is there any particular genre that you are waiting to explore?
I would love to do a period drama.
Even in Housefull 4, we have a reincarnation bit, but that is just a part of the film.
Hopefully soon, fingers crossed!
Was it easier to shoot for Housefull 4 since Bobby Deol is also a part of it?
Yeah, that made life easier.
Both of us saw each other and were so relieved.
I have watched and loved all three Housefulls.
In fact, Housefull and Golmaal are my favourite franchises.
So I was absolutely thrilled to be working in the fourth installment.