'There are films that are meaningless, but still do well.'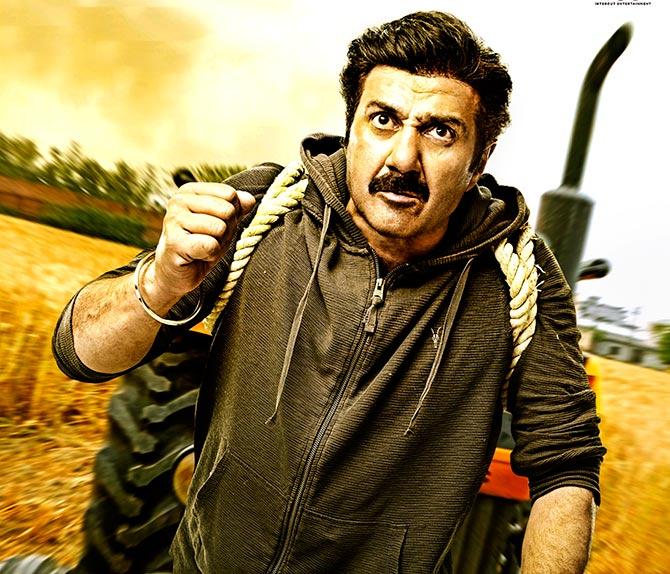 Sunny Deol carries an intimidating aura around him.
But that lasts only until he settles down for a heart-to-heart conversation.
Once he starts speaking, you realise that Sunny is anything but intimidating and the aura around him is the result of the action-packed characters he has played over the years.
Of course, Sunny isn't affected with the 'dhai kilo ka haath' image.
As he gets ready for his new film Yamla Pagla Deewana Phir Se, he tells Rediff.com contributor Urvi Parikh, "the beauty of doing a film is to go full out and just hope that people like it. After that, we don't know what will happen."
How different is the third film from the first two installments of Yamla Pagla Deewana?
It's 'Phir Se' but in a different way because Bob (Bobby Deol) and my character are the only two who are connected together like brothers.
Dad is not a part of it.
We don't play a family in the movie, but the characterisations of Yamla, Pagla and Deewana are the same.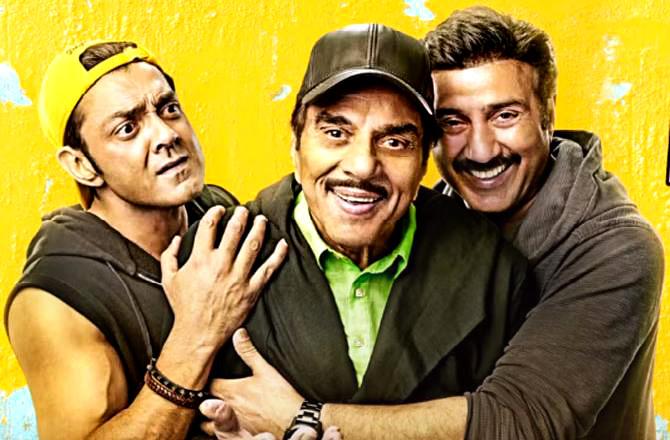 What is the madness level in the third part?
I wish there was some yardstick to measure laughs.
Well, our promos have created a buzz about it.
I am sure there is something nice about it, which people have been liking.
We have done our best for the film.
I felt the earlier one did not have the earthiness like the first.
That's why have based this film in India.
We thought we could link Gujarat and Punjab because both communities are happy and loud (laughs). They are foodies.
The second film didn't do well. Did that bother you while making the third part?
It wasn't a big deal.
Yes, we made it and it didn't do well.
We were a little disheartened, but we did not take it seriously.
We moved ahead with something else.
But at the back of the mind we wondered why didn't it do well?
That was always there, but it didn't stop us from doing another film again.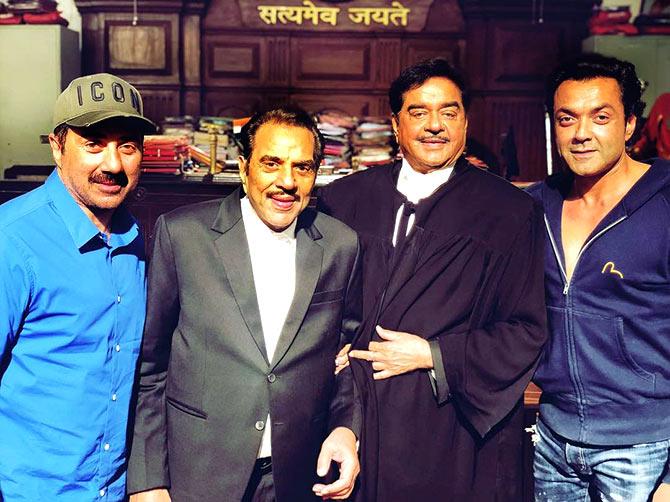 Have you taken any extra precautions this time?
No. We really don't know the recipe of a hit film.
The fun lies in the fact that we don't know what is going to happen.
Suddenly, we will get to know whether people liked or didn't like it.
There are films that are meaningless, but still do well.
So, it's difficult to place it as to how it's going to be.
Do you believe in the Rs 100 crore benchmark? Does the box office matter to you?
I don't look at films from the view that it should make Rs 100 crore or these many crores.
This has become the way of working, but it should not be.
The reason should be to make a good film.
Of late, I have not done such films.
Earlier, we did such cinema and I don't know how many hundreds of crores those films would have made if we put them together.
Even then, I did not know if they would become hits and that people would love it.
So the beauty of doing a film is to go full out and just hope that people like it. After that, we don't know what will happen.
These days, there's a trend to keep talking about the film's opening.
It doesn't make sense to me.
At the end of the day, we do everything not knowing what exactly reaches the people.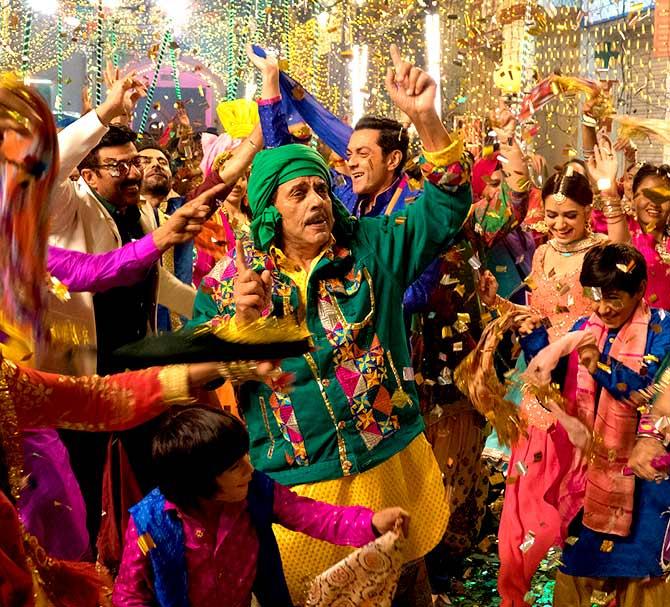 There have been references of 2011's Yamla Pagla Deewana and 2017's Poster Boys. Had this been planned while writing the script?
The director wanted it in the first film, that's why we did it. People liked it.
But I have never been fond of doing these kinds of things.
I remember, during Yamla Pagla Deewana, I said I would not do it. So, Bobby spoke about it in the movie.
How was it shooting a special song with Salman Khan in YPD 3?
Salman Khan is like family. He is very close to us.
I have known him since we did Jeet together in 1996.
Salman shares a deep bond with my family, so it was a lot of fun.
We had a great time shooting for Rafta Rafta.
It was his idea to get Rekhaji in the song.
Dad shares a great equation with most of the industry, so Rekhaji immediately agreed.
The song is amazing.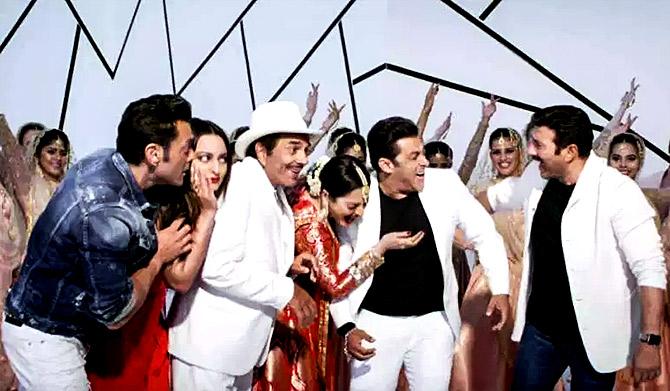 Will we get to see you share screen space with Salman Khan in a film once again?
I don't think any director or producer would want to cast Salman Khan and me together again.
They will not be able to do justice to our roles.
But if someone comes up with a nice script, I am willing to do a movie with anyone. I don't say no to anyone.
Your image of a macho man never changed over the years despite you doing many love stories or comedies. How come?
Somehow, nobody seems to fit there, except me.
I wish there was somebody else, so they could leave me and I could do something else. (Laughs)
Somehow, it stuck and people seem to believe that.
But I don't get bothered about the image so much.
I wish I was born in my dad's era, so that one could do these films also and great directors would give you other kind of cinema as well, which is what is lacking now.
Dad did such variety (of films) like Phool Aur Patthar, Satyakam, Chupke Chupke, Bandini and Mera Gaon Mera Desh.
He had everything because there were such subjects then.
It is the story that gives an actor the capability to overcome the image.
If there is no story, they can't get across.
Like Tom Hanks did in Sully.
It's a true character.
But when we play a real character, it becomes something like Bhaag Milkha Bhaag.
We don't get into the character of Milkha Singh.
We are more interested in making his body, how we run, and what the camerawork is going to be.
We are not getting into the essence of the character.
There are so many things our writers and directors don't believe in.
We aren't getting into the soul of the characters.
Do you think that era will come back?
No. It won't unless we get to the essence of it.
Like, I did Ghatak. I was playing a guy from Benares.
It wasn't Sunny Deol; it was that character.
Since there is a trend of biopics, are you open to making a biopic on your journey?
Not really. I am not into it unless it is made in a realistic form, if there is something to it and not just because it is a trend... biopic chal raha hai toh karlo.
The funda of biopics is very different now.
How about a biopic on the life of your father?
It cannot be random.
There should be a writer who will invest time on it.
It will not be easy because my father will be involved.
Since everyone knows everything about him, it must be put out in a nice way.
The research will not be a problem because my father is there to share the story.